Convenient Payment Options
At Direct Liquidation, we offer our customers the convenience of paying through a variety of payment methods. We know everyone works differently and we're here to help facilitate the smooth operation of your business.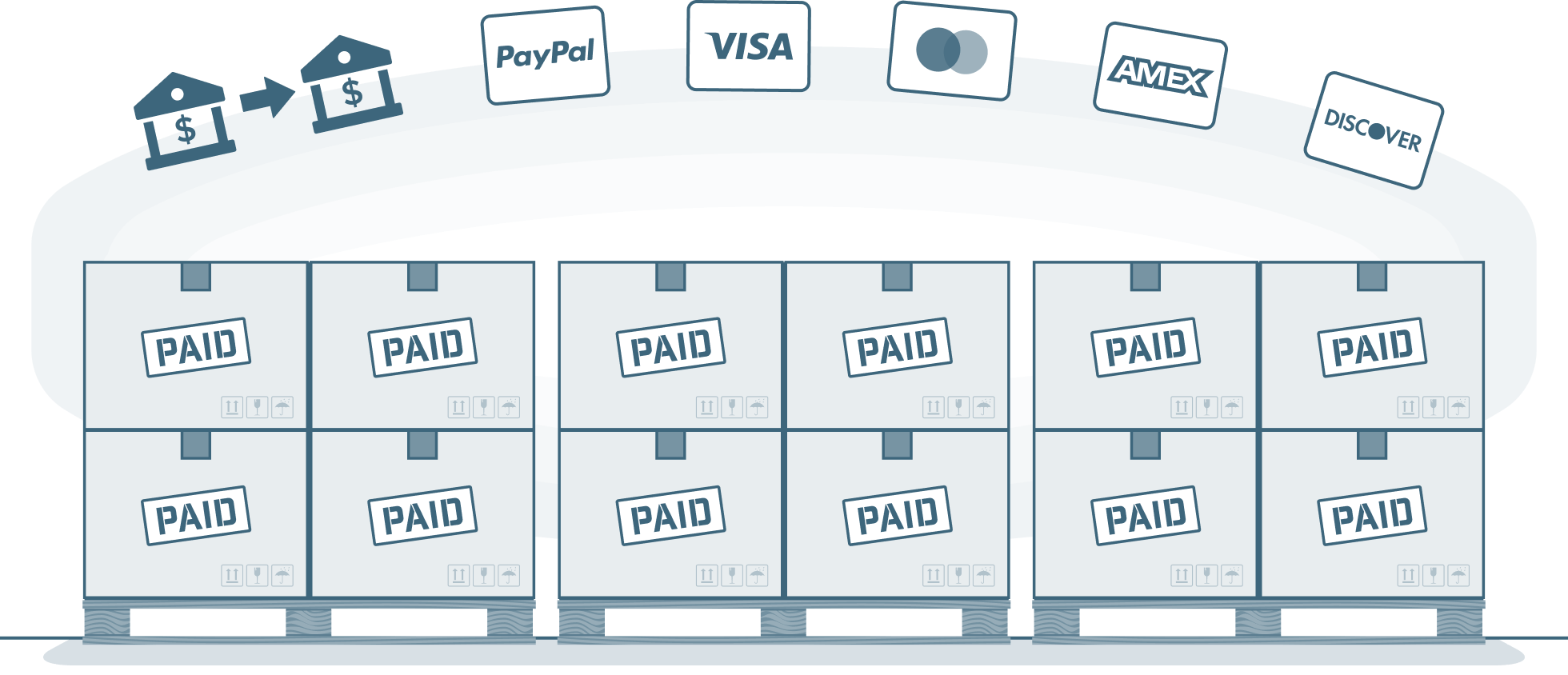 The Checkout Process
Win an auction
or
Select buy now listing
Proceed to checkout
Fill out contact and
shipping information
Select a payment method
(Credit card, PayPal or
Bank Wire)
Review details and
complete checkout
Paying with Credit Cards or PayPal
After completing the checkout process and issuing a payment via credit card or PayPal, your order will immediately become eligible for shipment preparation. The maximum transaction size for credit card payments is $10,000, otherwise, you will need to pay by bank wire. If using a credit card, please ensure it is enabled by your bank for online purchases. Please note, all credit card transactions are subject to a fraud check analysis by a 3rd party service and that some transactions may be declined.
Paying with a Bank Wire
After completing the checkout process and selecting bank wire, you will have three (3) business days to issue the wire payment for your order. You can find bank wire instructions on your order's invoice.
When sending a bank wire, please ensure the bank wire comes from the same name or company name that is on your Direct Liquidation account, or your wire will be rejected.
Once we have received your bank wire payment and payment has been applied to your order, you will receive a confirmation email and your order will become eligible for shipment preparation.
Download bank wire instructions
Important Details for Bank Wire Payments:
You have three (3) business days to issue the payment
The customer name on the bank account wire must match the company name used when placing the order
Please send a wire transfer (or Behalf* payment) only, we do NOT accept ACH payments
lease include the Order ID on the reference of your wire. If paying for multiple orders, please include all Order IDs
Once the payment is applied by our billing department, you will receive an email confirmation
*Note: We currently accept Behalf payments in addition to bank wire payments. If you are a Behalf account holder, you can send payment to "Direct Liquidation" through the Behalf platform. During the checkout process on Direct Liquidation, select "Bank Wire" as your payment method and proceed to Behalf.com to issue payment for your order. Please make sure to include your Order ID with your payment through Behalf.
Penalty for Non-Payment
Customers have three (3) business days to issue payment for their order. If payment is not received within this time period, then the unpaid order will be canceled, and the customer's account will be disabled from placing additional bids or orders.
Sales Tax Exemptions
Businesses with a valid reseller's certificate can upload this certificate to their account. Once your reseller's certificate is validated, you will be eligible for sales tax exemption during checkout.