Where to Buy Furniture Liquidation Pallets Online
Where are the best places to buy furniture liquidation pallets online? Is it a good idea to buy pallets of liquidated furniture? Let's explore.
The Advantages Of Buying Furniture Liquidation Pallets From Direct Liquidation
A wide variety of furniture to choose from.
Furniture sourced from some of the biggest retailers in the United States.
Furniture available to buy from live auctions or for a fixed price at well below Manufacturer Suggested Retail Price (MSRP).
Opportunity to save money by shipping with Direct Liquidation.
The 2021 U.S. New And Used Furniture Market
The amount spent on furniture per person in the United States has risen steadily since 2015. Across the States, monthly spending on furniture has been between $8.2 and $11.2 billion since January 2017. In 2020, sales as of November were $10.7 billion. It seems the appetite for new furniture couldn't be stopped by a global pandemic, with the average American spending $521 a year on new furniture.
When it comes to the secondary furniture market, the global market is set to grow to be worth a whopping $16.55 billion by 2025, with living room furniture occupying a 30.4% share. Why such a huge growth in a global market that was worth $9.96 billion in 2017? Well, there are several factors at play. Statista conducted a survey in 2019 asking Americans if they prefer to buy new or used furniture. 50% of those who responded said they preferred to buy new, leaving plenty of room for customers interested in second hand or what's known as liquidated furniture.
Money also plays a factor, especially now that many who faced economic hardships during the height of the pandemic are still rebounding in its aftermath. There are also environmental concerns to take into account. Many consumers are realizing that buying anything new comes with an environmental cost, and are choosing to buy used over new as they try to play their part in saving the future for their kids and grandkids.
These factors are all contributing to a growing secondary market, and that includes increased customer interest in liquidated furniture such as customer returns, overstock and closeouts.
What Are Customer Returns, Overstock And Closeouts?
Below we offer a breakdown of the different categories of furniture you'll find on Direct Liquidation's online live auction marketplace:
Customer Returns
By far the biggest category of furniture we sell here at Direct Liquidation is customer returns. Every year across the country, customers return items of furniture bought from physical stores and online stores for a variety of reasons. These reasons range from the furniture not turning out to be the right color (a problem faced by many online retailers), the furniture not blending in to a customer's home surroundings in the way they'd hoped, the furniture being found to be faulty or damaged in some way or the furniture simply being returned because a customer changes his or her mind and sends back brand new, unused furniture to the retailer. Customers also now find it much easier to return items thanks to retailers offering much more forgiving returns policies.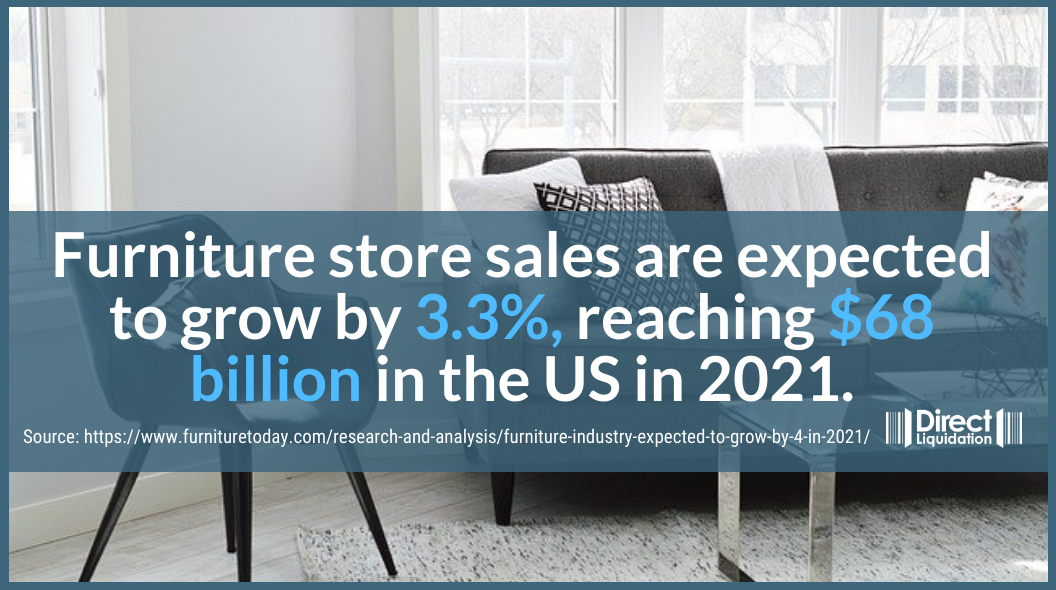 Whatever the reason for the return, the result is the same – the retailer is left with large items it sometimes can't reintroduce to a store, even when the furniture is brand new. With the volume of returns continually mounting throughout the year, a solution must be swiftly found to deal with these products before the furniture takes up huge amounts of space in a retailer's warehouse.
That's where liquidators and high volume wholesalers step in. They take furniture returns off the retailers' hands for a low price and then resell them to businesses who in turn sell them at a discounted price to their customers. Because the retailer wishes to liquidate their returns quickly, the liquidators buy these returns at a vastly reduced price and then pass those savings on to their business customers, making wholesale furniture returns bought from liquidators some of the cheapest furniture available to resellers.
Overstock
As well as customer returns, we also sell overstock furniture at Direct Liquidation. This is furniture that usually comes from stores that have over ordered particular lines of furniture, or it's display furniture that is now surplus to a retailer's requirements. As a result, the vast majority of overstock furniture is brand new and can be sold at a premium price due to its condition.
Closeouts
'Closeouts' is the term applied to merchandise that's coming from stores that are closing down or are being restructured. Again, like overstock, this tends to mean the furniture is either brand new or ex-display models that, depending on condition, can be sold for a reasonably high price.
A Huge Range Of Furniture To Choose From
You'll find a huge range of customer returns, overstock and closeouts to choose from at Direct Liquidation. We sell furniture in the following range of categories:
Bedroom, Dining Room & Kitchen, Kids, Office, Patio and TV Stands, Wall Mounts & Entertainment Centers.
Register for an account
It's free to get started. Get access to surplus inventory from top US retailers.
The vast majority of the furniture we sell comes from some of the biggest retailers in the United States such as Walmart and Lowe's. This means you'll not only find popular own brand furniture such as Walmart's Mainstays range on our online marketplace, but also furniture from major manufacturers such as Better Homes & Gardens, Diamond Multimedia, Fleximounts, Igloo, Lifetime, ProForm and Teamson Kids.
You'll find a huge range of furniture that will satisfy the needs of most furniture resellers, such as mattresses and beds, office desks and chairs, living room mats and rugs, kid's vanity sets, mattress toppers and protectors and a huge range of TV stands, wall mounts and entertainment centers, to name but a few of the lines of furniture we carry. We also stock a wide variety of patio and garden furniture for those resellers specializing in selling outdoor products.
Buying Furniture Liquidation Pallets From Direct Liquidation
The furniture we sell comes in a variety of conditions ranging from 'as new', to slightly or very visibly damaged to 'untested'. You'll typically find that about 70% of the contents of each pallet of the latter category is 'retail ready', while the rest will either need some attention before it can be resold, or it'll be scrap that needs to be disposed of.
For those resellers looking to purchase pallets of wholesale furniture from Direct Liquidation, we offer a range of options. Most of the pallets of furniture we sell are sold via live auctions which take place on our online marketplace on a daily basis. Bidding on pallets of furniture is easy. Simply identify the pallet of liquidation furniture you wish to buy, sign up for a free account here and then enter bids on the pallet while it's live on the site. Once the auction comes to an end, we'll notify you if you're the successful bidder; if you are, all that's left to do is pay for your goods and arrange shipping.
Of course, not all resellers have the time nor the inclination to buy from auctions. For those customers, Direct Liquidation offers businesses the option to buy pallets of wholesale furniture for a fixed price that's still well below its MSRP value. If a pallet on our site has a 'Buy it Now' button, it means it can be bought for a fixed price straight away. Simply click on the button and you'll be taken straight through to payment.
Finally, we're always happy to hear from our customers if they have a specific price in mind. If that's the case, get in touch with your price offer and if we like what we hear, that's the price you'll pay.
Whichever method you choose to buy from Direct Liquidation, you can rest assured that the pallets of liquidation furniture you buy from us will be sold at a price that will leave plenty of room to make a healthy profit.
Save Even More Money Shipping With Direct Liquidation
As well as the huge savings you'll make buying pallets of furniture from us, we also offer competitively-priced shipping. If you happen to live close to one of distribution centers located throughout the United States and Canada, you're welcome to come and pick up the furniture you buy from us in person, which will usually just require hiring a truck, thus eliminating shipping costs.
If you live farther away, you'll probably need to pay for shipping. But before you employ the services of a third party courier, make sure to check out what Direct Liquidation charges for shipping as we often ship for less than other couriers. Check out the shipping calculator that accompanies most of the lots on our site to see if we can save you even more money.
Selling Liquidation Furniture Online And Offline
So, where should you be selling your furniture liquidation merchandise once you've purchased it from Direct Liquidation? Here are a few suggestions for selling furniture both online and offline.
Selling Online
There are plenty of places to sell the furniture you buy from us online. Of course, the two biggest outlets are Amazon and eBay. There are 220 million digital shoppers in the United States and that number is growing every year. Amazon and eBay claim a huge slice of that pie, with around 290 million unique visitors to their sites every month. That's an enormous potential customer base, and it's why most online sellers have a presence on these sites. That includes furniture sellers.
You can open up your own stores on both Amazon and eBay for a monthly fee, or you can keep to being an individual seller. For high volume sellers, this second option is not recommended as having your own store on both sites brings many benefits not available to individual sellers with free accounts. Whatever you decide, having a presence on Amazon and eBay is a no-brainer as they have by far the biggest customer bases.
That said, unless you're an established seller with great customer ratings and an ability to regularly win the Buy Box on Amazon and achieve Top Seller status on eBay, you might struggle to attract customers until you're in a position to do so. That's why many sellers also take advantage of the host of smaller eCommerce sites out there, such as BigCommerce and Wix.
These online marketplaces allow you to set up furniture sales stores on their sites for a small monthly fee and reach a select amount of customers who are looking for a (supposedly) less corporate shopping experience. Best of all, most of these smaller eCommerce sites offer free trials, so you can see if they're a good fit for your business before you sign up.
As well as a presence on these sites, other online outlets to consider are sites such as Facebook Marketplace, Craigslist and OfferUp where you can sell direct to customers for free, usually with many customers located in your local area coming to pick up directly from you, cutting out on shipping costs.
Finally, it's also useful to have your own website to sell to customers as this allows you to control all aspects of the sales process from special promotions to customer service – plus you keep 100% of the profits. Your website can also be integrated into your other online enterprises such as social media, eCommerce sites and Amazon and eBay, meaning you can sell through multiple channels attracting the most amount of customers.
Selling Offline
There are also opportunities to sell offline too. If the numbers add up, you might want to consider opening up your own bricks and mortar store, especially when selling furniture. Despite the clamor for online sales, there are still plenty of customers who wish to see the furniture they plan to buy in person, which is why there is still a demand for discount furniture stores throughout the country.
As well as your own store, another avenue to consider is selling the furniture liquidation merchandise through local classified ads. These are usually cheap to take out and can bring customers straight to your door and help spread the word in your local area that you're a good source of inexpensive furniture.
Finally, you should also consider renting space at your local flea market. Some of the furniture you'll buy from Direct Liquidation will be in a lower cosmetic condition than the 'as new' items, and flea markets are ideal places to sell this type of merchandise as they attract customers who are on tighter budgets and bargain hunters looking for cheap deals who don't mind the furniture not being in pristine condition.
Selling liquidated furniture online and offline can be a great way of making money, especially as more and more customers are waking up to the financial and environmental benefits of not buying new. To take full advantage of this growing customer base, you'll need a reliable source of cheap liquidated furniture, and for that you should check out what Direct Liquidation can do for your business.
Jordan currently works as a sales representative for Direct Liquidation, assisting businesses with product sourcing of liquidated merchandise from the largest retailers in the world. Whether you are looking for a pallet or a truckload Jordan is here to help you grow your business.
View Jordan's Bio on YouTube.