Where to Buy Furniture Liquidation Pallets Online
If you're a reseller specializing in selling furniture or you're considering getting into the business, where is the best online outlet that can supply you with pallets of discounted furniture and will leave you with the best chance at profiting? The answer is to buy furniture liquidation pallets from Direct Liquidation.
The Advantages Of Buying Furniture Liquidation Pallets From Direct Liquidation
A wide variety of furniture to choose from.
Furniture sourced from the biggest retailers in the United States.
Furniture available to buy from live auctions or for a fixed price well below Manufacturer Suggested Retail Price (MSRP).
The 2021 U.S. New And Used Furniture Market
The amount spent on furniture per person in the United States has risen steadily since 2015. Across the States, monthly spending on furniture has been between $8.2 and $11.2 billion since January 2017. It seems the appetite for new furniture hasn't been slowed by a global pandemic, with the average American spending $521 a year on new furniture.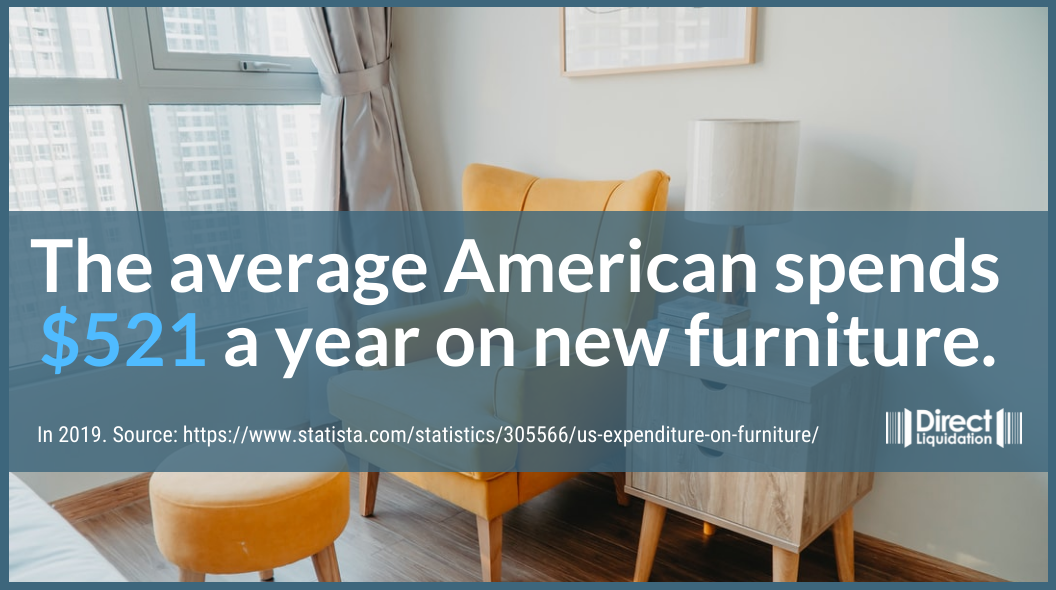 When it comes to the secondary furniture market, the global market is set to grow to be worth a whopping $16.55 billion by 2025, with living room furniture occupying a 30.4% share. Why such a huge growth in a global market that was worth $9.96 billion in 2017? Well, there are several factors at play. Statista conducted a survey in 2019 asking Americans if they prefer to buy new or used furniture with 50% of respondents saying they preferred to buy new.
Money also plays a factor, especially now that many who faced economic hardships during the height of the pandemic are still rebounding in its aftermath. There are also environmental concerns to take into account. Many consumers are realizing that buying anything new comes with an environmental cost, and are choosing to buy used over new as they try to play their part in saving the future for their kids and grandkids.
These factors are all contributing to a growing secondary market, and that includes increased customer interest in liquidated furniture such as customer returns and overstock.
What Are Customer Returns and Overstock?
Below we offer a breakdown of the different categories of furniture you'll find on Direct Liquidation's online live auction marketplace:
Customer Returns
By far the biggest category of furniture we sell here at Direct Liquidation is customer returns. Every year across the country, customers return items of furniture bought from physical stores and online stores for a variety of reasons. These reasons range from the furniture not turning out to be the right color (a problem faced by many online retailers), the furniture not blending in to a customer's home surroundings in the way they'd hoped, the furniture being found to be faulty or damaged in some way or the furniture simply being returned because a customer changes his or her mind and sends back brand new, unused furniture to the retailer. Customers also now find it much easier to return items thanks to retailers offering much more forgiving returns policies.
Whatever the reason for the return, the result is the same – the retailer is left with large items it sometimes can't reintroduce to a store, even when the furniture is returned basically brand new. So what do retailers do with this returned merchandise?
Typically, retailers will liquidate this furniture by the truckload to a reseller who will in turn sell the items at a discounted price to retail customers. Since retailers need to liquidate their returns quickly, liquidators buy these returns at vastly reduced prices and then pass those savings on to their customers.
Overstock
Overstock furniture comes from stores that have excess inventory they need to liquidate. Overstock furniture is in brand new condition and can be sold at a higher price than customer returns.
Wide Range Of Liquidation Furniture
You'll find a wide range of customer returns and overstock to choose from at Direct Liquidation. We sell furniture in the following categories:
Bedroom
Dining Room & Kitchen
Kids
Office
Patio
TV Stands, Wall Mounts & Entertainment Centers.
The furniture we sell comes from the biggest retailers in the United States such as Walmart and Lowe's. This means you'll not only find popular in house brand furniture such as Walmart's Mainstays range on our online marketplace but also furniture from all popular manufacturers.
Buying Furniture Liquidation Pallets
Pallets of liquidation furniture are sold via live auctions which take place on our marketplace daily. Bidding on pallets of furniture is easy. Simply identify the pallet of liquidation furniture you wish to buy, sign up for a free account here and then enter bids on the pallet while it's live on the site. Once the auction comes to an end, we'll notify you if you're the successful bidder; if you are, all that's left to do is pay for your goods and arrange shipping.
Of course, not all resellers have the time to participate in auctions. For those customers, Direct Liquidation offers the option to buy pallets of liquidated furniture for a fixed price. If a pallet on our site has a 'Buy it Now' button, it means it can be bought instantly without having to participate in an auction. Simply click on the button and you'll be redirected to the checkout.
Selling Liquidation Furniture
So, where should you be selling your liquidated furniture once you've purchased it from Direct Liquidation? Here are a few suggestions for selling furniture both online and offline.
Selling Online
There are 220 million digital shoppers in the United States and that number is growing every year. That's an enormous potential customer base, and it's why most more and more retailers have a presence online. That includes furniture sellers.
eBay
eBay is also a platform that has a large global reach with 182 million users worldwide and some 23 international marketplaces. On top of this, eBay is built for everyone to be able to sell on, with a very user-friendly interface, listings are easy to create, there are plenty of tools to help you and relatively low fees compared to some of its competitors. On eBay, and all of the other platforms mentioned below, you should always fully disclose the condition of the furniture you are selling.
Facebook Marketplace
Listing on Facebook Marketplace is a popular way to advertise products to sell locally. The transactions are done in person. Selling products locally reduces or completely removes shipping fees, allowing you to sell your products at a lower price than you can on other platforms, that would require you to ship your products.
The big selling point for Marketplace is that, unless you use additional plugins or tools, it is completely free to use. This means listing without any risk of losing money if the item doesn't sell, and keeping more of the profits with no listing fees, or percentage-of-sale fees. If you use Facebook's Commerce Manager to manage your listings, there is a flat 5% fee on the final sale price to cover transaction processing.
OfferUp
OfferUp is a platform developed for mobile users that favors in-person transactions. It allows you to list items instantly by simply taking a photo of the item. The app is renowned for its ease of use, and is a great option for anyone selling furniture locally.
Craigslist
Tried and tested, Craigslist is a platform launched back in 1995. The platform has over 60 million users and around 50 billion pageviews per month. Craigslist is an online platform that lets potential buyers look through classified ads in their city. It is currently available in 570 cities in 70 countries, and can be used to reach many potential customers. There are around 80 million ads posted on Craigslist each month worldwide. Just as with Facebook Marketplace
There are plenty more platforms to consider. We have put together a guide: Where to Resell Online – The Top 25 Platforms. 
Selling Offline
There are also opportunities to sell offline too. If the numbers add up, you might want to consider opening up your own bricks and mortar store, especially when selling furniture. Despite the clamor for online sales, there are still plenty of customers who wish to see the furniture they plan to buy in person, which is why there is still a demand for discount furniture stores throughout the country.
Buying liquidated furniture pallets can be a great way of making money, especially as more and more customers are waking up to the financial and environmental benefits of buying used. To take full advantage of this growing customer base, you'll need a reliable source of low-cost liquidated furniture, and for that you should check out what Direct Liquidation can do for your business.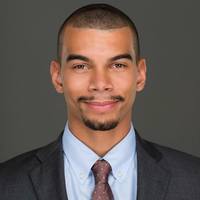 Henley currently works as a sales representative for Direct Liquidation, assisting businesses with product sourcing of liquidated merchandise from the largest retailers in the world. Whether you are looking for a pallet or a truckload Henley is here to help you grow your business.
View Henley's Bio on YouTube.