Exporting Liquidation Merchandise from Texas to Mexico: What You Need to Know
Texas is in an ideal position to host businesses buying liquidation merchandise to export to Mexico. Texas exported $109.7 billion in goods to Mexico in 2018, representing 35 percent of the state's total goods exports. This article will explore what liquidation merchandise resellers need to do to export products into Mexico from Texas.
There were 6,959,384 commercial freight crossings at the US-Mexico border in 2021.
3 of the top 4 gateways into Mexico by traffic are in Texas: 
Laredo, TX
Otay Mesa, CA
Hidalgo, TX
Ysleta, TX
Texas is also home to many of the nation's largest retail distribution centers, including centers for Amazon and Walmart. These logistics hubs are used as collection points for customer returns and overstock inventory that need to be liquidated which gives Texas resellers a unique advantage when considering buying this product to export to Mexico.
Starting a Business in Texas: How You Can Profit from Liquidation
Exporting to Mexico: The USMCA
On July 1, 2020, a new trade agreement between the United States, Mexico, and Canada went into effect known as the United States-Mexico-Canada Agreement, or (USMCA). Liquidation merchandise purchased in Texas for export to Mexico falls under this agreement.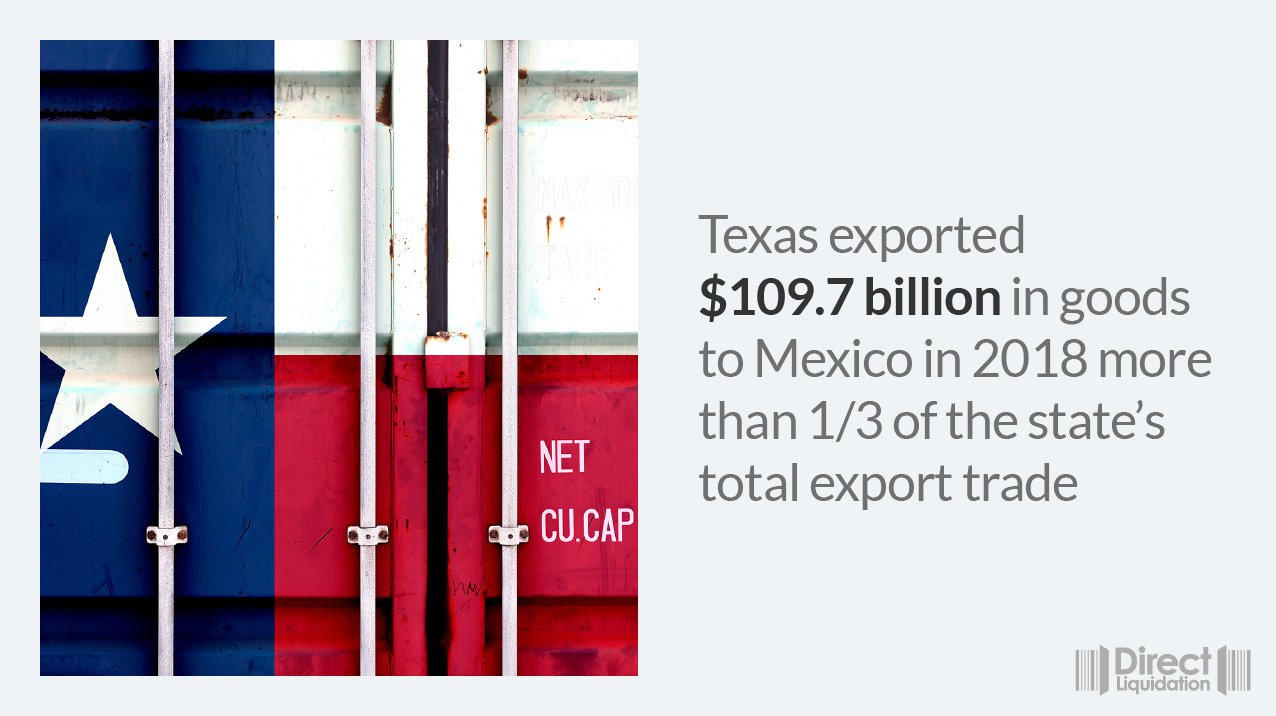 Source: Texas Government, 2022.
Certifying Product Origins
A certificate of origin, or COO, is necessary for any shipment into Mexico valued at more than $1000 (though some shipping companies will require one for a shipment below this amount).
You can use a pre-written form, or create your own, but it must contain this information:
Who is the certifier (importer, exporter or producer)
Certifier name, address including country and contact information
Exporter name, address and contact info (if different than certifier)
Producer name, address and contact info (if different than certifier)
Importer name, address and contact info (if different than certifier)
Description of goods
Blanket period (certificates may be for a specific shipment or multiple shipments. Certificates issued for multiple shipments will include a date range, during which certification will be valid. Date ranges can be up to 12 months)
In addition, the certification must be signed and dated by the certifier and accompanied by the following statement:
"I certify that the goods described in this document qualify as originating and the information contained in this document is true and accurate. I assume responsibility for proving such representations and agree to maintain and present upon request or to make available during a verification visit, documentation necessary to support this certification."
Source: Bureau of Transportation Statistics, 2022.
For loads with less than $1000 of value, you do not need any of the 9 points above, just simply a signed statement:
"I hereby certify that the goods covered by this shipment qualifies as an originating good for the purposes of preferential tariff treatment under USMCA/T-MEC/CUSMA."
Customs Duties and Taxes
Under the United States–Mexico–Canada Agreement (USMCA), products made in the US that meet the rules of origin requirements are not charged tariffs when imported into Mexico.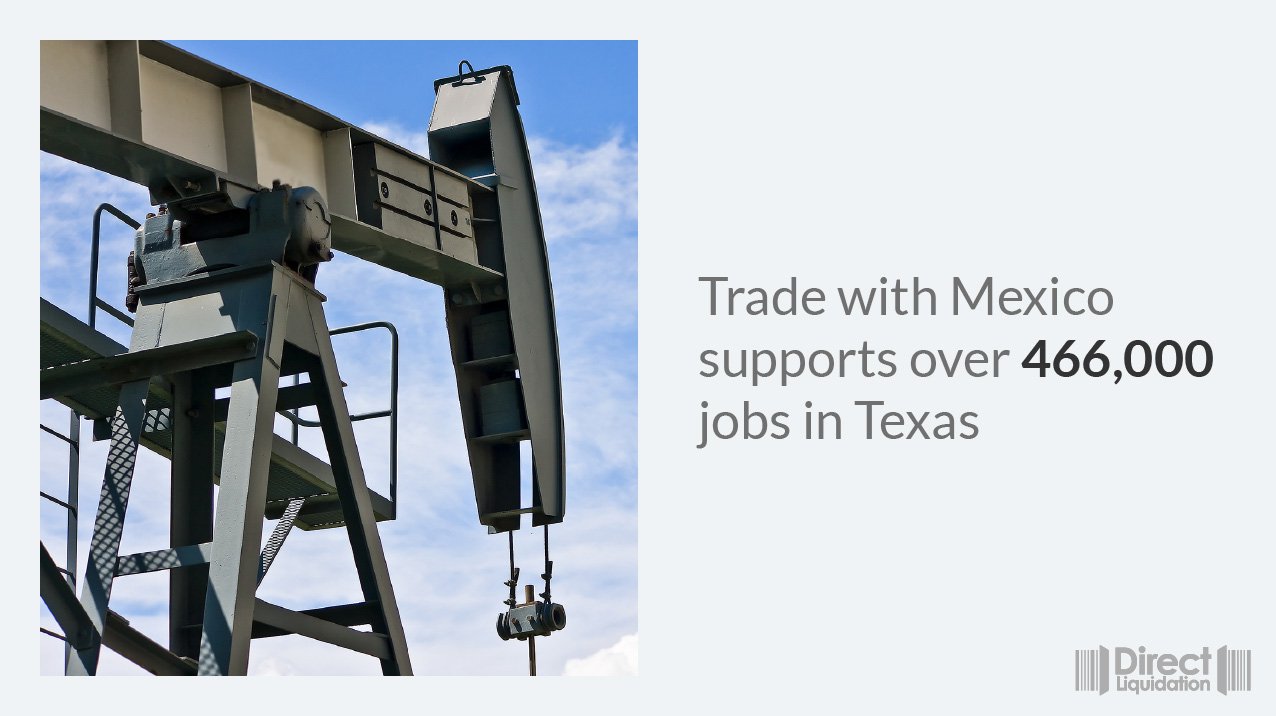 Source: Government of Texas, 2022.
Import Restrictions
There are no commodity restrictions specific to USMCA. The current commodities prohibited from import into Mexico still apply, e.g. firearms, weaponry and parts, perishable foods, money, live animals, and items resembling a bomb. However, Mexico does have some restrictions on merchandise commonly found in liquidation pallets:
Electrical Items – Electrical Products to Mexico require a 'NOM-003-SCFI-2014, ELECTRICAL PRODUCTS-SAFETY SPECIFICATIONS' certificate. The merchandise, according to its physical, technical and use characteristics, as well as according to the field of application of the aforementioned norm, if it is subject to compliance with that norm by presenting a certificate issued by an accredited laboratory.
Computers – Computers can be imported no matter if they are used or new but they need to comply with a Mexican regulation on shipments above $1000 if applicable. Printers, monitors, mice, CPUs, keyboards, memory units, readers, and scanners are allowed in for repair only. In case your computer is transported with a lithium battery, it has to be shipped as a hazardous material.
Software – To import software valued over $1000 into Mexico, a sectorial register is required (Padron Sectorial). This is a national registry of importers and exporters. The importer of record must be registered in the appropriate sector. For software under $1000, the importer must present an RFC number.
Used Clothing – Used clothing can be imported only if the consignee left clothes behind in another country or territory while traveling, and the used clothing is for personal use. The consignee must present an airline ticket or passport to demonstrate that he or she has recently returned to Mexico from traveling abroad.
New Clothing – When importing clothing with a declared value of $1001 or greater, the consignee must have the following requirements in place to import textiles:
Padron de Importadores: Your customers' importer registration with the Mexican Customs Authority (SAT). This is completed on the SATs website.
Padron Sectorial: An additional certification on the importer's registration allowing them to import textiles. This is completed on the SATs website.
Normas de Etiquetado: Labels/Markings in the textiles comply with Mexican marking laws, or, if goods are not for resale, a letter from the importer advising the goods will not be re-sold.
Toys – Toys for children under 3 years of age. The consignee must be a registered importer with Mexican Customs and specify that he or she is importing toys and the origin country or territory. The broker must be authorized by the Mexican government to clear toys. Electronics or electronic-mechanism toys are allowed in Mexico regardless of origin country or territory.
Note that this list is not exhaustive. Read more here.
The Process of Crossing the Border from Texas to Mexico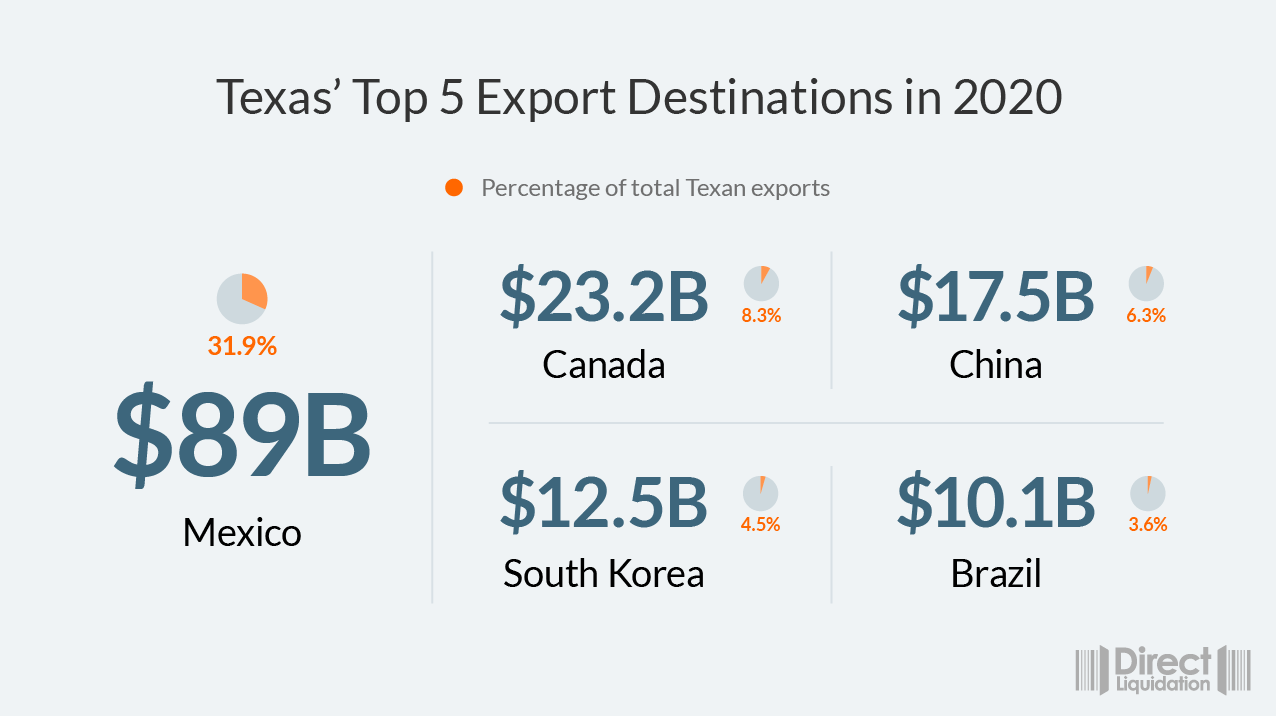 Source: Worlds Top Exports, 2022.
When crossing a land border into Mexico, you do not need to declare any goods that are part of your personal luggage. You are also allowed to bring in other goods up to a value of $300 per person. If the total value of the goods exceeds this allowance, you need to join the Declaration Lane (Caril de Declaracion) and pay customs duties on everything that exceeds it.
If you are bringing in products with a value of over $3000, you are legally required to contact a Mexican consulate or a professional customs broker. A customs broker will facilitate your merchandise's transit through Mexican Customs, which are very strict in enforcing absolute compliance with the requirements.
To import merchandise into Mexico, you will need the following documentation:
Customs Declaration Form for customs clearance (Pedimento de Importación).
Commercial invoice (in Spanish).
Bill of Lading.
Documents showing guarantee of payment for undervalued products (if applicable).
Documents showing compliance with Mexican regulations regarding product performance and safety (if applicable).
Mexican importers need to get registered in the Padrón de Importadores (the official register of importers), kept by the Finance and Public Credit Secretariat of the Mexican government. This is only available to companies that are already registered for tax purposes. For certain sectors, you may need to register in the special sector registries.
Source Liquidation Merchandise Near Fort Worth, Texas
Direct Liquidation allows you to purchase liquidation merchandise sourced directly from the biggest retailers in the United States – with no middlemen or broker markups. We are happy to announce we now operate a liquidation warehouse near Fort Worth, Texas.
Check out liquidation pallets for sale in Texas.