Amazon Return Pallets: How to Buy & Sell
So, you're interested in Amazon return pallets? Buying and selling Amazon return pallets can certainly be lucrative. As Amazon's sales continue to grow and record numbers of items are returned to them, the opportunities to buy and resell a huge variety of products also continue to multiply.
This article will explore why merchandise is returned to Amazon, and what types of products are returned. We will also explain how it is possible to start and grow a business selling these items and where you can source them.
Why are Items Returned to Amazon?
More people than ever before are purchasing online, exacerbated by the pandemic, and Amazon is hugely benefitting from this. Amazon revenue for 2020 is up 38% to $386 billion. This is a yearly increase of over $100 billion. Net profit was up 84% for the year 2020 vs. 2019. By the start of 2020, there were 150 million Prime subscribers, a 50 percent increase from 2018. This massive increase in customers and sales has also led to an increase in the number of returns.
The Top Reasons Consumers Return Products Bought Online
20% received a damaged product
22% received a product that looked different from the online listing
23% received the wrong item
35% stated other reasons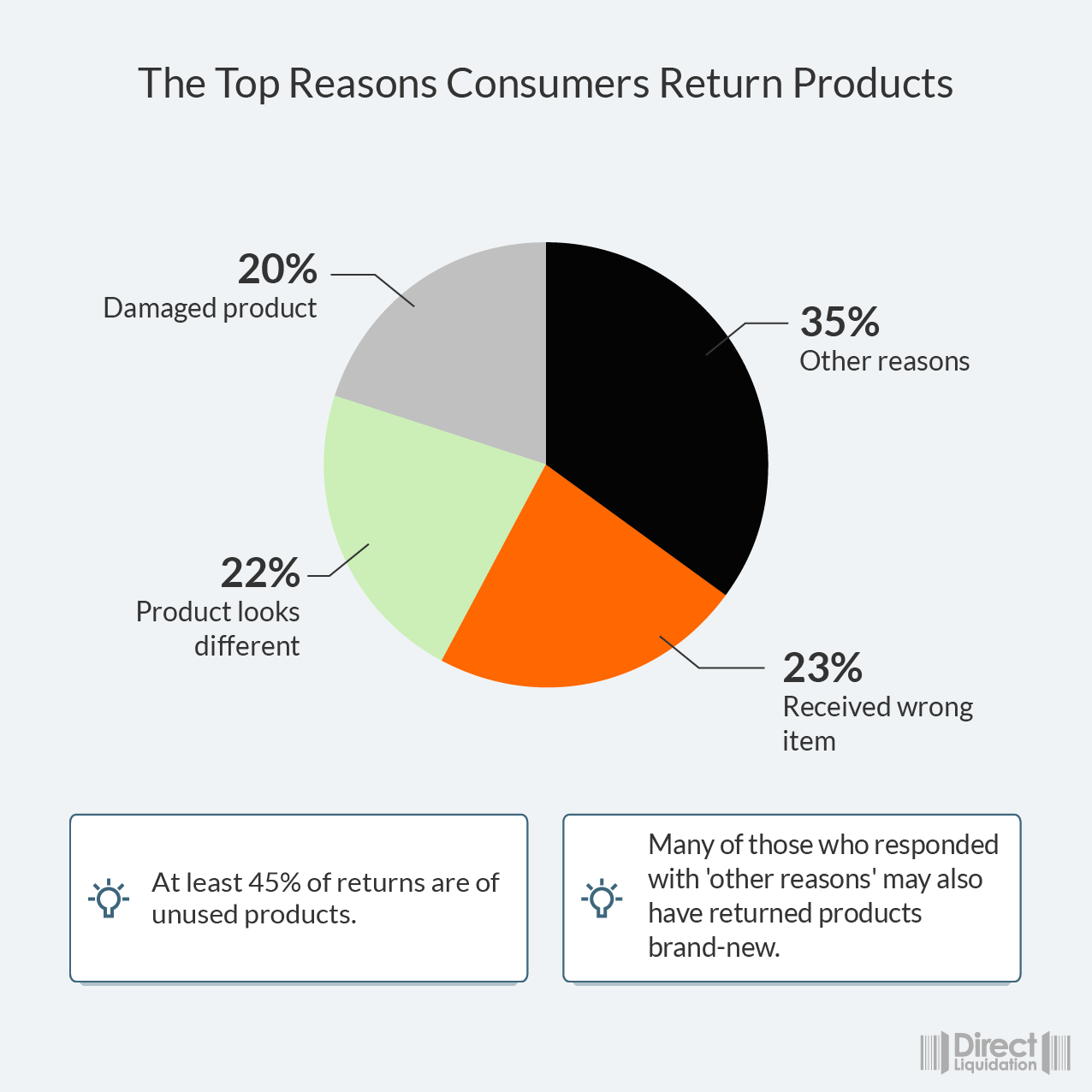 What does Amazon do With Returns?
Many electronics returned to Amazon are inspected, repaired if necessary, and listed on Amazon Renewed. Here customers can buy returned items in the safe knowledge that the product they are buying is guaranteed to be working as new, for less than the price of buying a brand-new item.
However, not every item makes it onto Amazon Renewed. Third-party Amazon sellers, in particular, may struggle to sell on Amazon Renewed due to the strict nature of who can sell these items. There is little in the way of rules as to who can sell new items on Amazon, however, to sell refurbished items, the seller needs to follow all of these additional rules to qualify:
Supply invoices for a minimum total value of $50,000 in refurbished purchases during the previous 90 days (or 180 days, for Home, Tools, or Lawn & Garden, Kitchen items).
For existing Amazon sellers, an ODR of 0.8% or less in the previous 90 days.
To list factory refurbished items (with no manufacturer warranty), submit a minimum of 8 images of a sample unit for product and packaging review.
Your company is responsible for all refurbished products claims under the Amazon Renewed Guarantee.
To sell any Apple products, you need invoices dated from the previous 90 days totaling $2.5 million in Apple refurbished products.
On top of this, Amazon Renewed is only for electronic items. What about clothing, books, furniture, and everything else? Well, that's basically up to the seller. Both third-party sellers and Amazon itself will view some types of products as not worth the time, effort, and space requirements to sort through, repackage and re-list. Some items may need cleaning; others will be missing accessories, etc.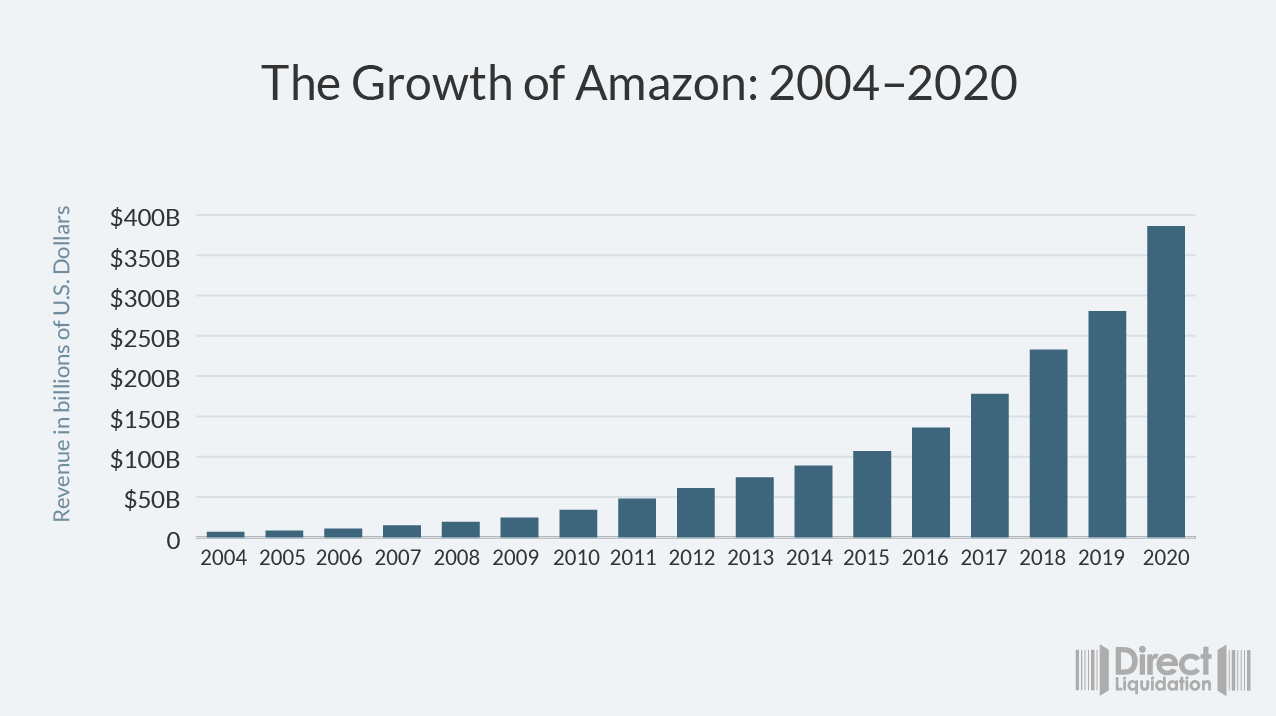 So what happens to all of these returns that are not re-sold through Amazon? Like many retailers, much of this merchandise is palleted up and sold to liquidators. Small businesses and resellers can then go to online liquidation marketplaces, which give them easy and convenient access to all of this affordable branded and unbranded merchandise.
Why Buy Amazon Return Pallets?
Buying Amazon return pallets is a great way to start your own business – these pallets can be split into individual items that can be resold for profit. Best of all, you can start with as little as $100 and build your business by reinvesting profits. This type of business has numerous advantages:
Run your business from home – It's your business; you can run it from home or anywhere you like.
Set your own work schedule – Complete flexibility over setting your own hours; you can work on this business once you're back from the office, on weekends, or any other spare time you have.
Minimum investment required – Start from as little as $100, reinvesting your profits to help your business grow.
You can use your knowledge and expertise – know anything about fixing electronics? Knowledgeable about clothing or toys? Do you have experience in marketing or customer relations? There are a whole host of ways your experience can help you out.
You can do it while still keeping your day job – Start small, don't risk your day job for an untried business venture. Invest only the money you can afford to lose, and you can take much of the stress out of starting a new business venture.
The more time and effort you put in, the more you can earn – The more time and effort you put in, the more you can earn from this. If you're working around a full-time job etc., you're limited in what you can do. Still, with reinvesting profits to scale up your operation, researching the best resale markets, gaining experience, and treating your venture professionally, you can help your business to grow.
Your whole family can help – Buying Amazon return pallets for resale can be fun! Get the kids involved in sorting through what you have, let them help with repacking, and take them along to flea markets. Work alongside your husband or wife to build something together, or bring a friend on board to be your business partner.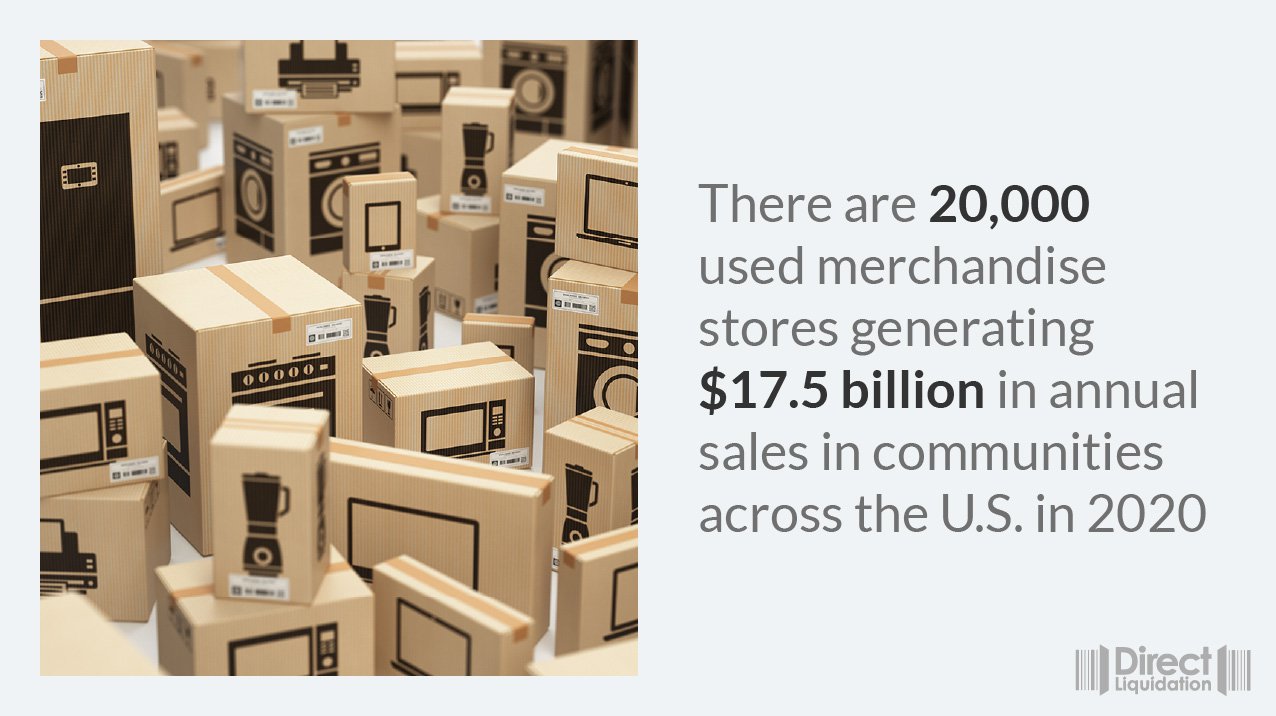 You can buy liquidated merchandise for very low prices and in whatever quantities you need: a single box, a couple of pallets, or a full truckload. You can start by working with general merchandise, testing what works best for you and your customers, or you can specialize in a particular category.
Many people have built up large businesses from buying a single pallet, reinvesting profits, and building up large enterprises with employees working out of multiple locations. Done right, with a business like this, the sky's the limit.
Where to Buy Amazon Return Pallets?
As we have mentioned, the easiest way to get Amazon return pallets affordably and reliably is from an online liquidation marketplace. Direct Liquidation is a Better Business Bureau accredited marketplace with more than a decade of experience. We also work with many of the top retailers in the US, alongside Amazon – including Walmart, Target, Lowe's, and Kohl's, among others.
Registering on our site only takes minutes. Then you just need to find the pallet of merchandise you are interested in. Then, just like in other auctions websites, you can simply place your maximum bid and let the auction run its course. In some cases, there will be a Buy-It-Now option, which allows you to purchase the lot outright without going through a bidding process. You can find details on the registration and auction process here.
To get an estimated price for shipping, all you need to do is input your zip code into the shipping calculator on each listing. You may also be able to pick up the merchandise yourself in person – saving on shipping costs. Direct Liquidation charges no fees for this. But bear in mind there might be vehicle restrictions. You can find details on shipping and pickup on the left-hand side of the auction page.
What to Expect When Buying Amazon Return Pallets?
There are four main types of Amazon returns truckloads: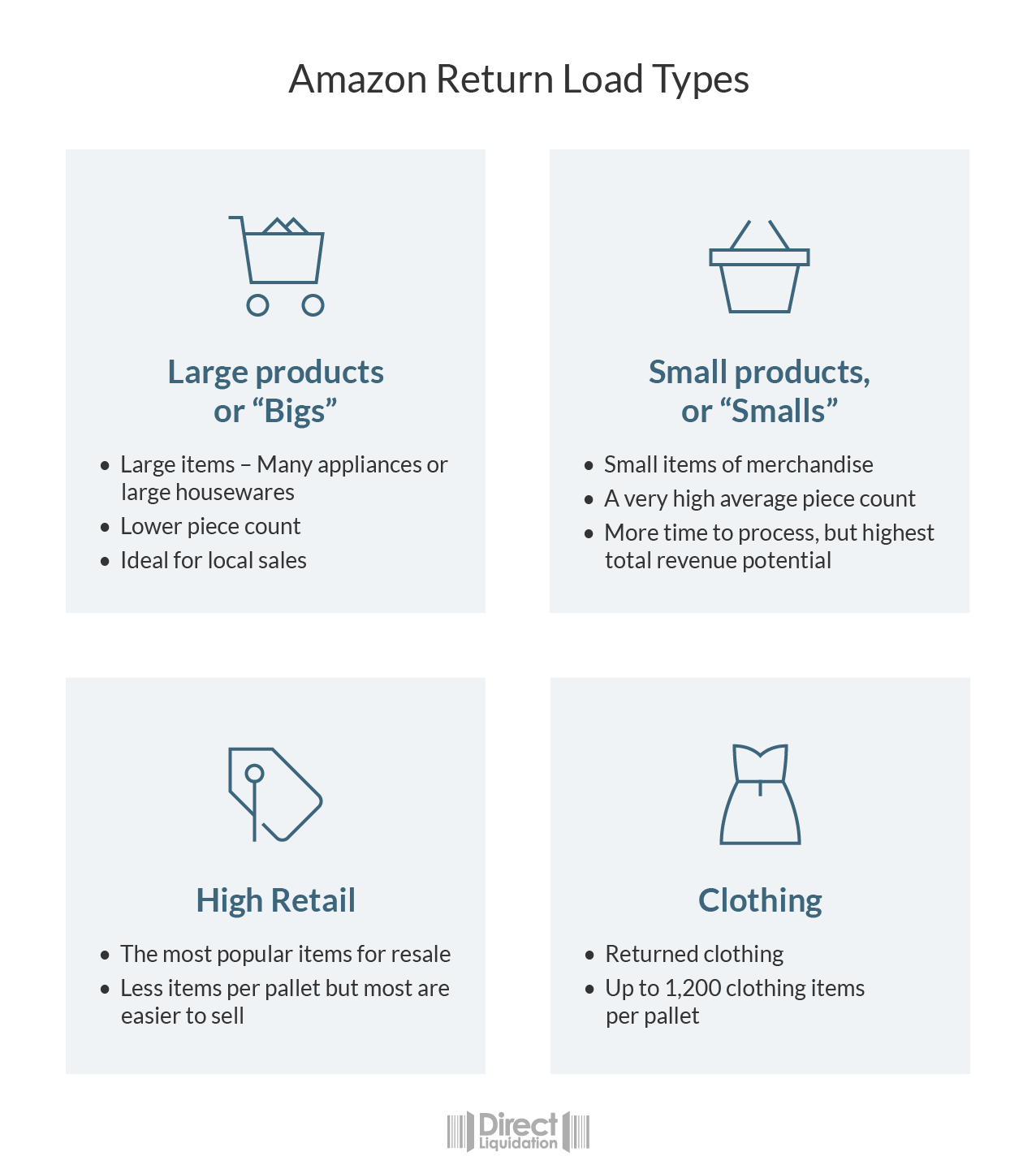 Large products, or 'Bigs'
These truckloads contain 26 tall pallets, mainly large items. These are ideal for larger retail stores.
Small products, or 'Smalls'
These contain large amounts of smaller items of merchandise. They may be very time-consuming to process, especially for listing online. Some of this smaller merchandise can be very valuable and the most significant profit potential. This type of merchandise is perfect for bin stores and online sales. They may be very time-consuming to process, especially for listing online.
High Retail
These truckloads contain 26 pallets, with a lower item count than smalls truckloads. These contain the most popular items for resale but in lower quantities. They are particularly sought after by online sellers since they contain some of the best-selling stock available from Amazon.
Clothing
Each of the 26 pallets in these lots can contain up to 1200 items of clothing. You may find a lot of designer clothing and accessories. Clothing lots tend to be mixed between items for clothing for men, women, and children. Some lots may contain baby items.
What Else Do I Need to Know About Buying Amazon Return Pallets?
Budgeting
Buying the Amazon return pallets themselves will not be your only cost. You need to factor in your expenses when budgeting and planning out your business model.
For example,
What storage space will you use? Will you need to rent a storage unit?
Where are you going to sell your items from? Will you rent a storefront or a booth at a flea market or farmer's market?
What about setting up a website? Think about domain name costs, the fees for e-commerce plugins, and fees for payment companies such as PayPal.
If selling on a website like eBay or Shopify, factor in any fees you need to pay.
Will you be using any tools, such as market research websites?
Think about repackaging; you may need to replace the packaging on the merchandise to resell it.
There may be costs associated with repairing items to make them saleable. You may also need to replace accessories such as power cables to get the most resale value.
Shipping Considerations
Are you planning on picking up the merchandise yourself or having it delivered to you? Both methods will incur costs. If you're picking the merchandise up, do you have a suitable vehicle, or can you rent one? Have you factored in gas costs?
If you're traveling a long distance or having merchandise shipped by a courier, can you save by buying multiple lots at the same time, rather than buying at different times?
Buying by the truckload is the most cost-effective way of reducing the shipping costs per pallet however you plan to ship them.
What You Buy is What You Get
When buying Amazon return pallets, you need to always remember that what you buy is what you get – there are no warranties, no guarantees on the condition of anything you receive. There will be items that don't work, there will be items that need cleaning, and there will be those missing parts, accessories, and/or packaging. If you're a handy person, you may be able to repair some of the merchandise. You can take apart two non-working products, using one as a parts donor to fix the other.
Some merchandise will not be repairable – these may be good to save as parts donors for the future or to separate the parts and sell them individually as spares. You need to plan for the time, effort, and additional cost that this will involve.
How to Make Money from Amazon Return Pallets?
Sort and Bundle
The first thing you need to do is to sort through your pallet to see what you got in the lot you purchased. Some items can be sold straight away, while others may need some attention. Some items may sell better if offered to customers as a bundle.
Repair and Refurbish
Since many returned items may be faulty, it is important that you try to repair and refurbish as many as you can. You can either do it yourself (if you have the know-how) or use a third party. Many faults are easy and inexpensive to fix, and doing this may add considerable value.
Components can be taken from one item and used to repair another item of the same model. That's why you should keep hold of products that cannot be repaired or refurbished as they can often be used as sources for spares.
Re-Accessorizing
Missing accessories such as chargers or headphones are usually easy and cheap to replace. A complete accessory list adds value to a product.
Repackaging
Replace damaged packaging with original packaging. Otherwise, repackage the product. Poor packaging can affect the value of the product. That's why you should always package items in good quality original packaging or pristine plain packaging.
Selling your Amazon Returns
Let's start by looking at where you can sell your merchandise online. Websites like Craigslist allow you to advertise your goods locally. Doing this will allow you to target local customers, who usually come to collect their purchases from you, saving you postage and packaging costs.
If you are considering setting up a store online, you may be tempted by one of the big marketplaces like Amazon or eBay. While excellent, these sales platforms are also crowded and charge upfront or back-end fees. If you are only a reseller part-time, smaller store-hosting sites such as Wix and Shopify may be a better option for you, though you will need to think about how you will generate traffic. You may be able to take advantage of the free trials offered by most of these smaller websites so that you won't have to spend more money than is necessary when checking them out. However, in order to drive traffic, you will need to plan for marketing, be that handing out flyers in your local area, or paying for online ads, you will not generate any sales without it.
Finally, take advantage of the vast potential reach of social media. It is relatively inexpensive to place adverts on Facebook, while Facebook Marketplace lets you sell directly to local customers.
With Instagram, you can show off what you have to offer, while Twitter is an excellent place to let customers know about your products. Social media can be a potent tool and contribute to the growth of your business.
We have put together a list of where to resell online – the top 25 platforms.
Another inexpensive option is to rent a stall at a flea market. This is a great way of targeting customers on tighter budgets, as well as bargain hunters.
If you have access to a retail space, or know someone that does that will be willing to work with you, utilizing it is an obvious place to start selling your merchandise, without the need for any additional marketing. However, when starting out in this business, building up a profitable enterprise first is advisable due to the high overhead costs of renting a retail space.
So now you know how and where to buy Amazon return pallets, why the merchandise has been returned in the first place, and how to add value to the items allowing you to build a profitable business. Why not take a look at the merchandise that we can offer you today.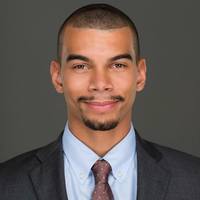 Henley currently works as a sales representative for Direct Liquidation, assisting businesses with product sourcing of liquidated merchandise from the largest retailers in the world. Whether you are looking for a pallet or a truckload Henley is here to help you grow your business.
View Henley's Bio on YouTube.