Buying Liquidation Pallets in Indianapolis: The Definitive Guide
Buying liquidation pallets to resell can be an inexpensive way to start a business. Our guide to buying liquidation pallets in Indianapolis will explain what liquidation pallets are and where you can buy them. It will also give you helpful information about the market for liquidation merchandise in the city and the wider region.
Why Start a Business in Indianapolis: The Numbers
The Market for Discount Merchandise in Indianapolis
Indianapolis is a huge state commercial hub, with a large population. On top of this, large segments of the population are low-earners, and this is a natural market for discount merchandise.
The Indianapolis-Carmel-Anderson metropolitan area had a total population of 2,050,933 in 2020. This is more than one-third of the entire population of the state. 11.6% of this population lives below the poverty line. That equates to approximately 238,000 people. This is close to the average poverty level of 11.9% across Indiana. The city of Indianapolis itself has an even higher poverty rate, at 15.8% in 2019. This represents huge numbers of potential customers looking for discounted merchandise.
However, the poverty rate is much higher in many of the city's neighborhoods. One-fifth of the region's residents live in low-income neighborhoods—census tracts with poverty rates of 20 to 39 percent. 80,000 residents live in areas of concentrated poverty, with poverty rates of at least 40 percent. The highest levels of poverty can be found in interstate neighborhoods on the east and west side of Indianapolis.
The demographics aren't the only draw point for a potential discount business selling liquidation merchandise in Indianapolis.
In close-knit communities, customers seek out smaller local businesses to support. 91% of the time, consumers will choose small businesses when convenient, and 74% look for ways to support small businesses even if it's not convenient. Once you combine this with fewer small businesses being created across the area, your startup discount retail business selling liquidation merchandise will be in a stronger position than if it was created in other major US cities.
When starting a liquidation business, you do not need a huge amount of capital to get started. Full pallets of merchandise can be bought for as little as $250. When you are first starting out you can store the merchandise in your home or garage. If you are looking for a higher initial investment, such as setting up a retail store, renting more storage space, or starting with higher-volume orders, then there is potential funding available in Indianapolis through Angel Investors.
Source: City-Data, 2022.
An angel investor is a wealthy individual who invests their personal finances in a startup, typically in the beginning stages, and Indianapolis has a network of large numbers of these individuals looking to help new businesses get started in the area:
Compared to other American cities, the city is also inexpensive to live and do business in. The city ranks 12th nationally for most affordable housing costs, closing costs, and property taxes in a survey of more than 150 U.S. cities. Taxes overall are 12.47% lower than the national average.
When looking to start up a new business, especially with a limited startup cost, you can do much worse than buying liquidation pallets to resell in Indianapolis.
As you can see, Indianapolis is a great place to set up a discount goods business. But what are liquidation pallets, how can they help a discount sales business, and where can you stock up on this merchandise?
What Can You Expect from Liquidation Pallets?
Liquidation merchandise can be described using the following broad categories:
Customer Returns
Customer returns are products bought by a customer, either in-store or online and subsequently returned. This could be for various reasons, such as buyer's remorse or the item not working. When a product is returned, if it can not be put back on the shelves (or relisted online), the retailer is left with little choice but to liquidate it. Typically this inventory requires the buyer to invest time and labor to make it saleable. This extra effort translates into a lower acquisition cost making it perfect inventory to acquire for a discount retail business.
Overstock
Overstock is brand-new stock that has never been sold to customers, often due to seasonality or version upgrades. These are also known as 'store stock' liquidations.
Shelf Pulls
Shelf pulls are products that have been taken off store shelves to make room for new merchandise. Shelf pulls consist of seasonal items, older versions, or end-of-life items as with overstock. Some liquidators call these 'jobouts.'
Closeouts
Closeouts are items taken from stores that have closed, moved, or are being renovated. This merchandise is brand-new.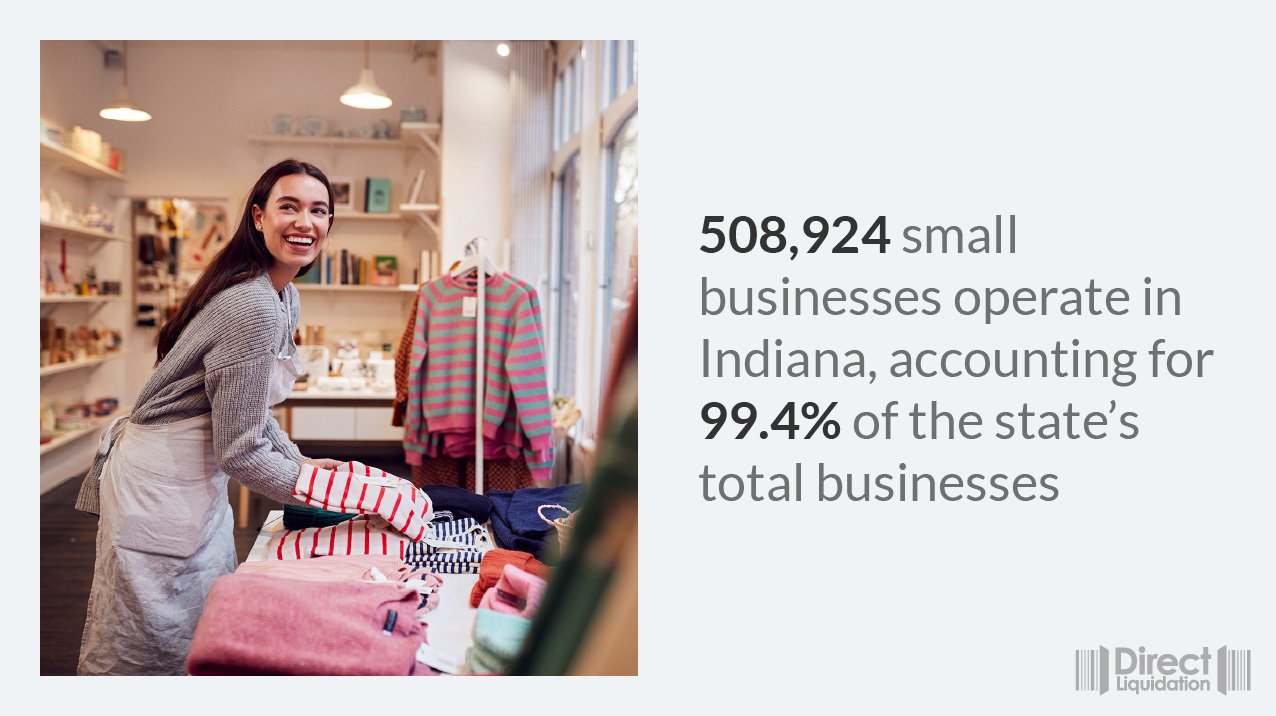 Source: Chamber of Commerce, 2022.
Where to Buy Liquidation Pallets Near Indianapolis
Direct Liquidation – Greenfield
6719 W 350 N, Greenfield, IN 46140
Direct Liquidation – Whitestown
5102 E 500 S, Whitestown, IN 46075
2222 Hillside Ave, Indianapolis, IN 46218
4701 Rockville Rd suite b, Indianapolis, IN 46222
5208 Commerce Square Dr. Suite B, Indianapolis, IN 46237
2201 N Meridian St, Indianapolis, IN 46208
545 Christy Dr, Greenwood, IN 46143
Commercial Liquidators – Indianapolis Auctions
301 S Lasalle St, Indianapolis, IN 46201
5402 W 38th St, Indianapolis, IN 46254
J&M Wholesale Pallet Liquidation
190 Old Farm Rd, Danville, IN 46122
545 Christy Dr, Greenwood, IN 46143
5210 W Washington Center Rd, Fort Wayne, IN 46818
American Pallet Liquidators, Inc.
252 America Pl, Jeffersonville, IN 471300
BBR IMPORTS Pallet Liquidation
1015 W Wiley Ave, Bluffton, IN 46714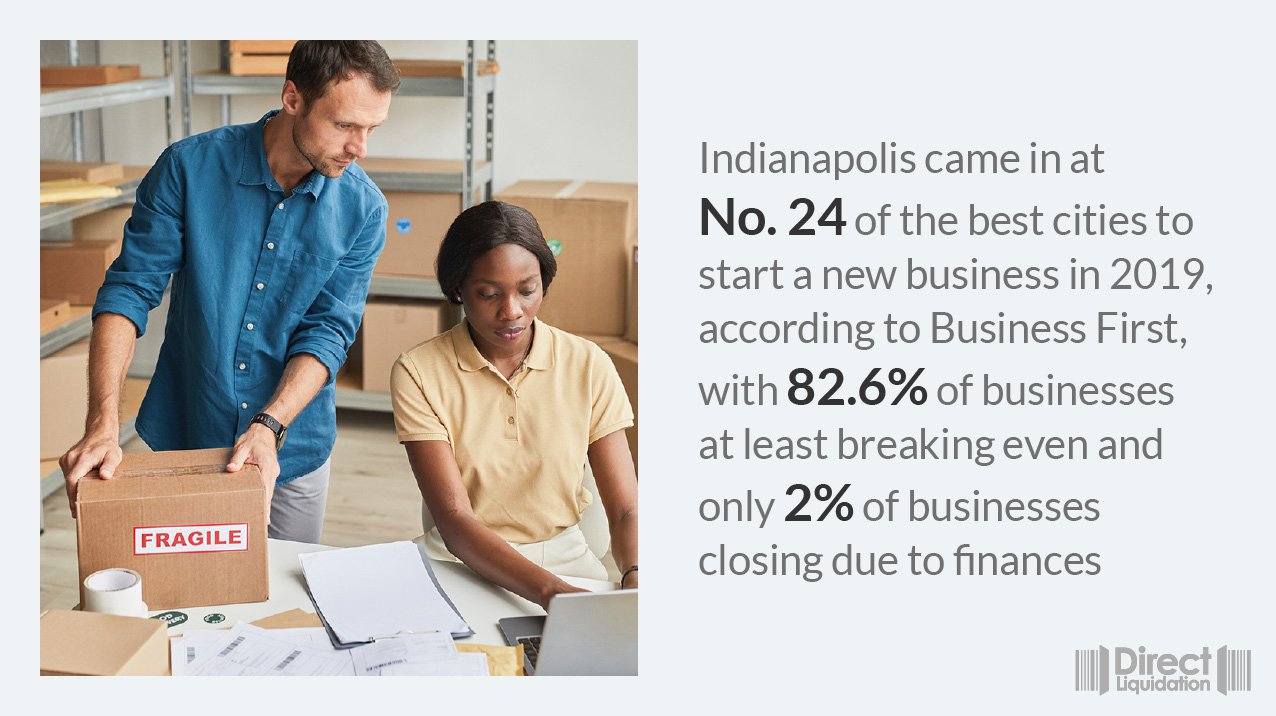 Source: Business First, 2019.
Top Flea Markets and Swap Meets in Indianapolis
Flea markets are regular events in Indianapolis, and Indiana more widely, Rents for booths or stalls are relatively inexpensive, especially compared to commercial retail space. Flea markets are ideal places for selling discounted goods, due to the lower costs and the fact flea market visitors are generally looking for a bargain. We've listed some of the top flea markets in and around the city:
South Side Flea Market
3825 S East St, Indianapolis, IN 46227
Website | 1 317-414-5533
Irvington Flea Market
6301 Washington St, Indianapolis, IN 46219
Website | 1 317-375-1885
Emporium 40 Flea Market
1225 S High School Rd, Indianapolis, IN 46241
Website | 1 317-241-1865
Shadeland Peddlers Flea Market
3440 Shadeland Ave, Indianapolis, IN 46226
Website | 1 317-755-3184
Trader Buck's Flea Market
150 S Girls School Rd, Indianapolis, IN 46231
Website | 1 317-362-0911
The Farmer and The Flea Outdoor Market
1125 E Brookside Ave, Indianapolis, IN 46202
Website | 1 317-965-6626
Emporium 31
11 Declaration Dr, Greenwood, IN 46143
Website | 1 317-865-1865
Treasures Indoor Flea Market
13615 E Allison Rd, Camby, IN 46113
Facebook | 1 317-831-9154
Freeman's Super Sunday Indy
10747 US Hwy 136 #101, Indianapolis, IN 46234
Website | 1 317-296-0336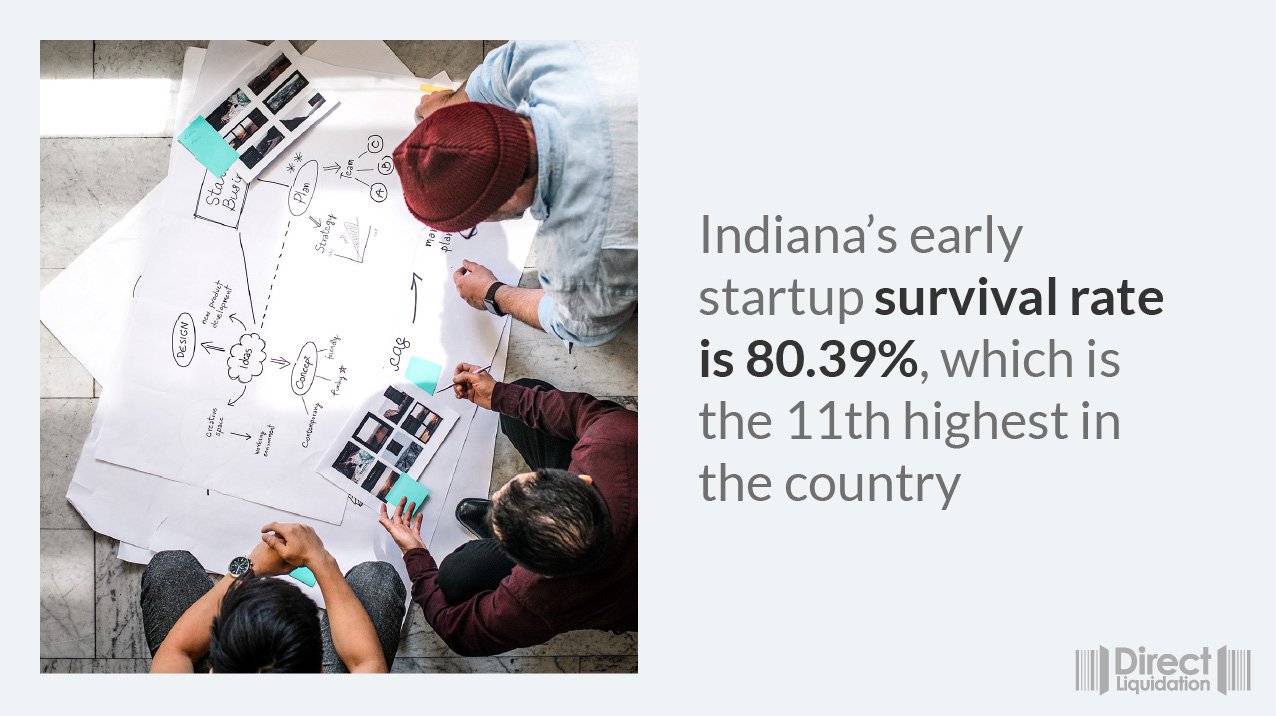 Source: Chamber of Commerce, 2022.
Storage Units in Indianapolis
When buying liquidation pallets in Indianapolis, you need space to store your merchandise. If you're just starting out, you can just use a spare room or garage to keep your costs down. If you need more space but aren't ready for a full warehouse, you'll be happy to know there are plenty of storage units in the city. We've listed 5 of the least expensive:
The Store House
2715 Madison Ave, Indianapolis, IN 46225
Pricing
5'x5': $15 /month
10'x10': $42 /month
10'x20': $71 /month
Smith Valley Storage
1614 W Smith Valley Rd, Greenwood, IN 46142
https://www.smithvalleystorage.com
Pricing
5'x5': $50 /month
10'x10': $75 /month
10'x20': $125 /month
Beech Grove Storage
4850 Emerson Avenue, Beech Grove, IN 46203
https://www.beechgrovestore.com/
Pricing
10'x10': $75 /month
10'x20': $110 /month
38KeyStorage
3820 N Keystone Ave, Indianapolis, IN 46205
Pricing
10'x10': $99 /month
10'x20': $149 /month
Pleasant View Self Storage
12359 Southeastern Ave, Indianapolis, IN 46259
https://www.pleasantviewselfstorage.com/pages/contact
Pricing
10'x10': $78 /month
10'x20': $114 /month
The greater Indianapolis metropolitan area is home to more than 2 million people, more than a fifth of the entire state of Indiana's population. A significant part of the population lives below the poverty line, and are natural customers of discount goods.
On top of this huge market, Indianapolis boasts a high success rate for startup businesses and offers a favorable tax environment. Buying liquidation pallets in Indianapolis to resell as discount merchandise is a fantastic way to tap into this market.