Craigslist: Guide to Reselling Liquidation Merchandise
Craigslist is a great online platform to use to sell liquidation merchandise. You can sell locally and without paying any fees for your listings. And since you're catering to the local market, your customers can come to you, saving you money on shipping. We are going to look at how Craigslist works, how you can post your liquidation merchandise listings and what types of merchandise sell well.
What is Craigslist?
First launched in 1995, Craigslist soon became one of the most popular venues for placing classified ads, with millions posted every month. The classified section lets users post information, join discussions, and buy and sell goods.
The vast majority of ads can be posted for free on the platform, with only a few selected categories (such as job ads in major cities) being charged a fee. This makes the platform ideal for reselling liquidation merchandise risk-free in your local area.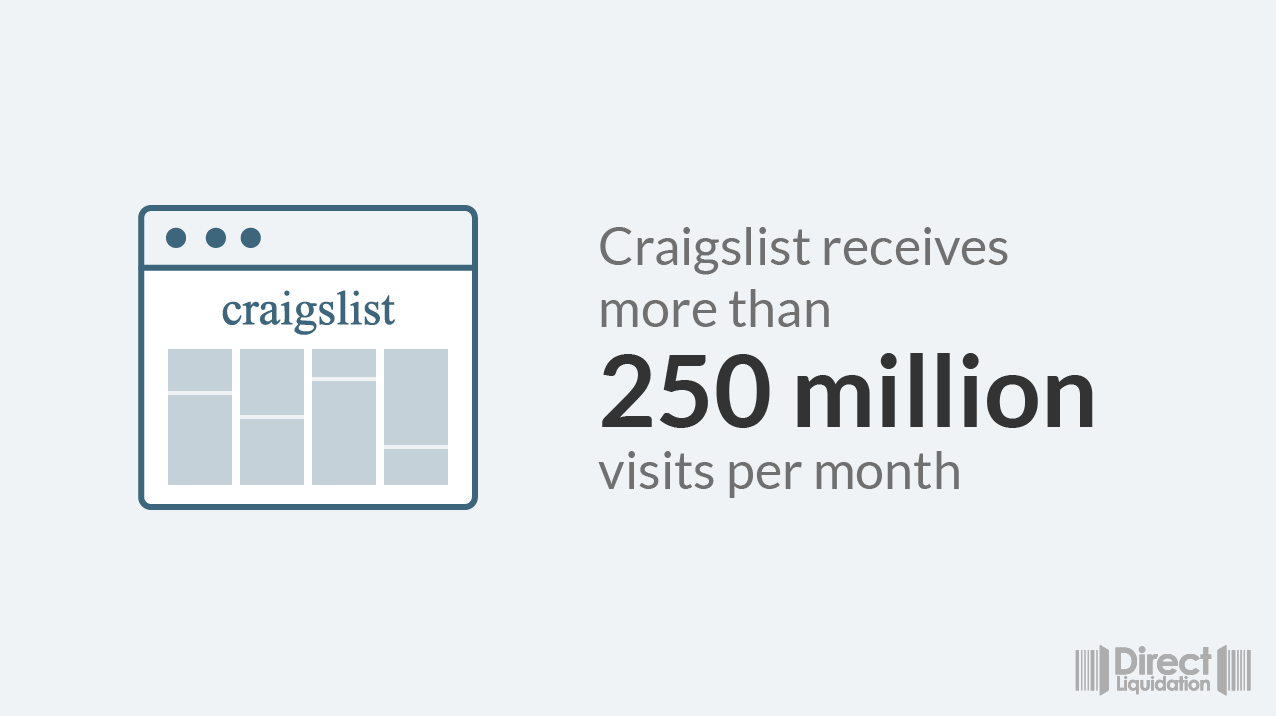 Source: First Site Guide, 2022.
What Sells Best on Craigslist?
According to research done by USA Today, the best-selling items on Craigslist include:
Laptops
Televisions
Home goods
Fashion
Pet supplies
Baby items
Yard and specialty tools
Outdoor recreation items
Video games
Furniture
Jewelry
Collectibles
Vehicles
Buyers use Craigslist to buy items in-person locally. That is why many of these items (televisions, baby items, furniture, tools) are bulky items that buyers do not want to pay shipping costs for, on top of the purchase price.
Other items such as pet supplies, used video games, and clothing are lower-value items that will also have disproportionately high shipping costs compared to their value when sold on other platforms.
The remaining items on this list, such as jewelry, collectibles, and vehicles, are the types of merchandise buyers want to see in person before purchasing.
Selling Liquidation Merchandise on Craigslist
Most liquidation merchandise is in a used condition, which is ideal for Craigslist sales. Unlike users of other sales channels, those looking to buy through Craigslist ads are looking for used merchandise and are unlikely to be filtering out your listings.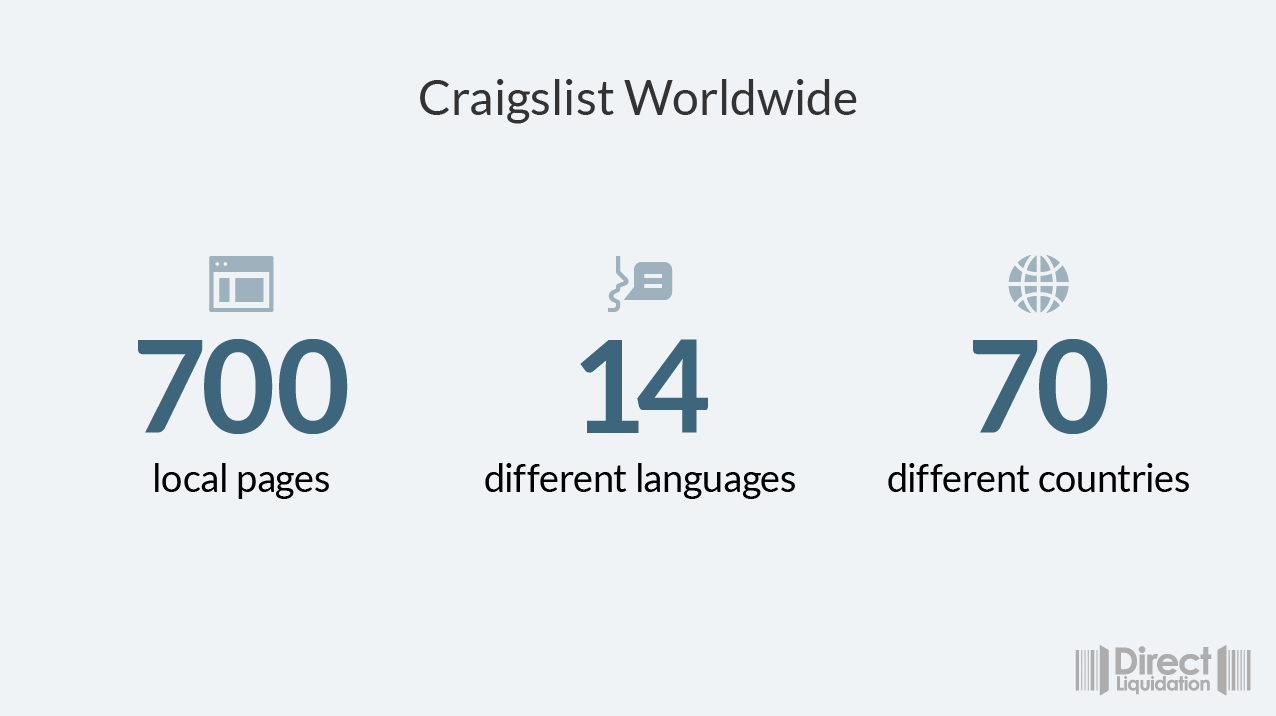 Source: First Site Guide, 2022.
Craigslist has at least 60 million monthly users in the United States, and Craigslist's website drives 50 billion page views each month. But how can you take advantage of Craigslist's popularity? You need to check the "Wanted" section to find out what items are most in demand in your local area. Use that as the basis for your next purchase. Additionally, try to source liquidation merchandise that best fits the top selling list above.
If you source your inventory locally and use Craigslist to sell it locally, you will not have to spend much on shipping costs which can substantially add to your profits. This is one of the greatest benefits to selling your liquidation merchandise through local channels such as Craigslist and Facebook Marketplace.
Selling liquidation merchandise through Craigslist isn't as simple as just taking a couple of photos and adding a one-line description. Let's examine the top tips to help sell this merchandise quickly.
Top Tips to Help You Sell Your Liquidation Merchandise on Craigslist
Overprice Your Items
The rule of thumb for pricing your items is to determine what would be the lowest price you'd accept and add ten to thirty percent, depending on how fast you want to sell it. On Craigslist, haggling is expected, so don't be surprised if you get a lower offer. Take that as an invitation to negotiate.
If you're not getting any responses after a couple of days, you need to consider dropping the price. This depends on how long you can afford to keep the items. If your business revolves around quick turnovers, you will need to start dropping the price of your listings within the first couple of days and continually dropping them until you reach a level at which you will be making losses.
If your business model allows you to keep the merchandise for longer, if, for example, you have no storage overhead costs, then drop prices more gradually to achieve the best return possible on your investment.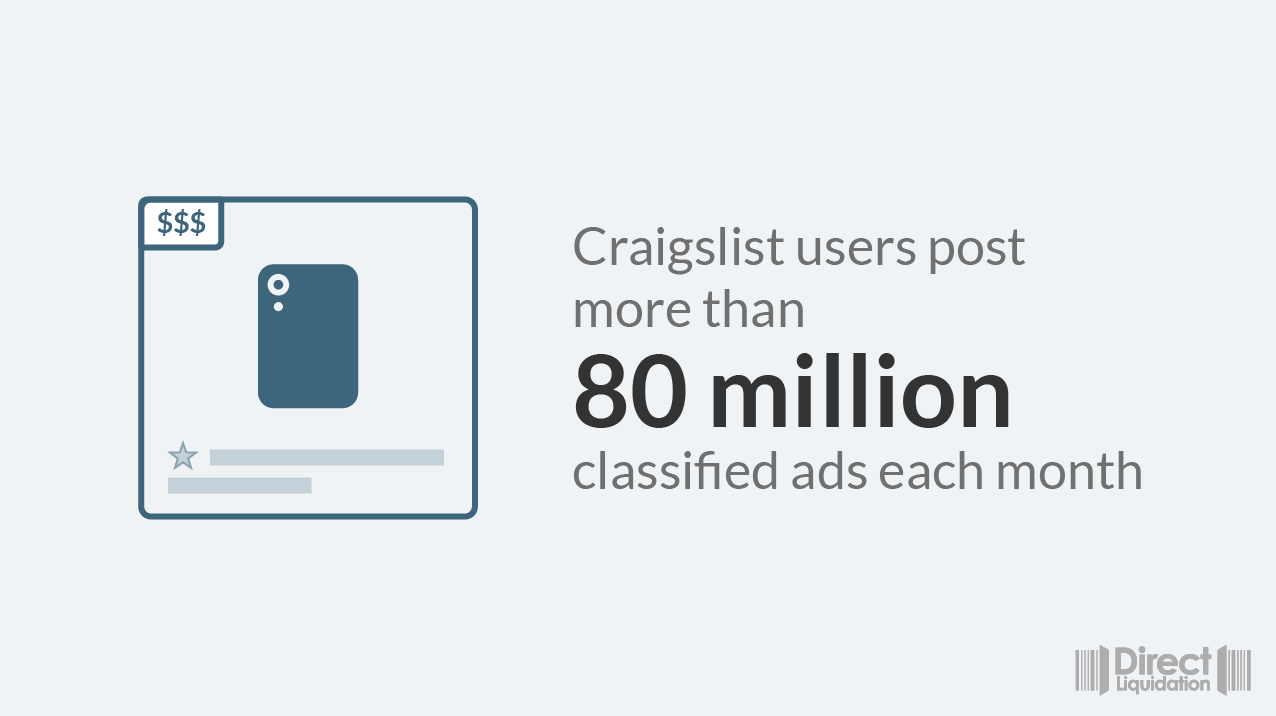 Source: First Site Guide, 2022.
Clean the Item and Take Pictures
You need to clean your item so that it presents well. Do what you can to make the item as attractive as possible to a potential buyer.
Always include multiple pictures of your item. This will help attract buyers. Choose a background to highlight your item to make the most out of your pictures. Ensure there is plenty of light and take photos from every angle, doing close ups on any special features.
Don't Hide Damage and Imperfections
When selling liquidated merchandise, you're often going to be selling items that aren't in mint condition.
It is natural for buyers to feel wary of buying used goods from strangers. So to build trust, be forthright about any imperfections of the item in the description and take close-up photos. Use captions that reference those imperfections. This makes you more trustworthy to buyers and will save you time during negotiations.
Repost Often
Repost or refresh posts frequently to avoid your ads getting buried. This is easier if you have an account and will help keep your posts near the top.
Write Long Keyword-Rich Descriptions
Give your buyers as much information as you can without making the ad overwhelming to read. Provide long descriptions with lots of keywords, including model numbers and long product names. This will help prospective buyers searching for these items find your listing.
At the end of the description, include the specs copied from the manufacturer's website. When possible, link to the manufacturer specs for the product, which gives the prospective buyer the chance to learn more about the product. If you are selling furniture, include dimensions. Always include an item's color, age, and condition.
Register a Google Voice Number 
It's a bad idea to publish your private phone number online – you can almost guarantee that it will be picked up by malicious software to be used and sold for marketing, spam, and fraud. Save yourself from these issues by registering for a Google Voice number, so you can still be contacted by phone by potential customers. Google Voice is a free voice over Internet protocol (VoIP) phone service that gives you a new phone number that you can use purely for posting on craigslist – keeping your personal number private. Read more about Google Voice and how it works in this guide.
Only Accept Cash
Only accept cash for the deal, and never give any prospective buyer your bank account details. Only part with your merchandise when you have cash in hand.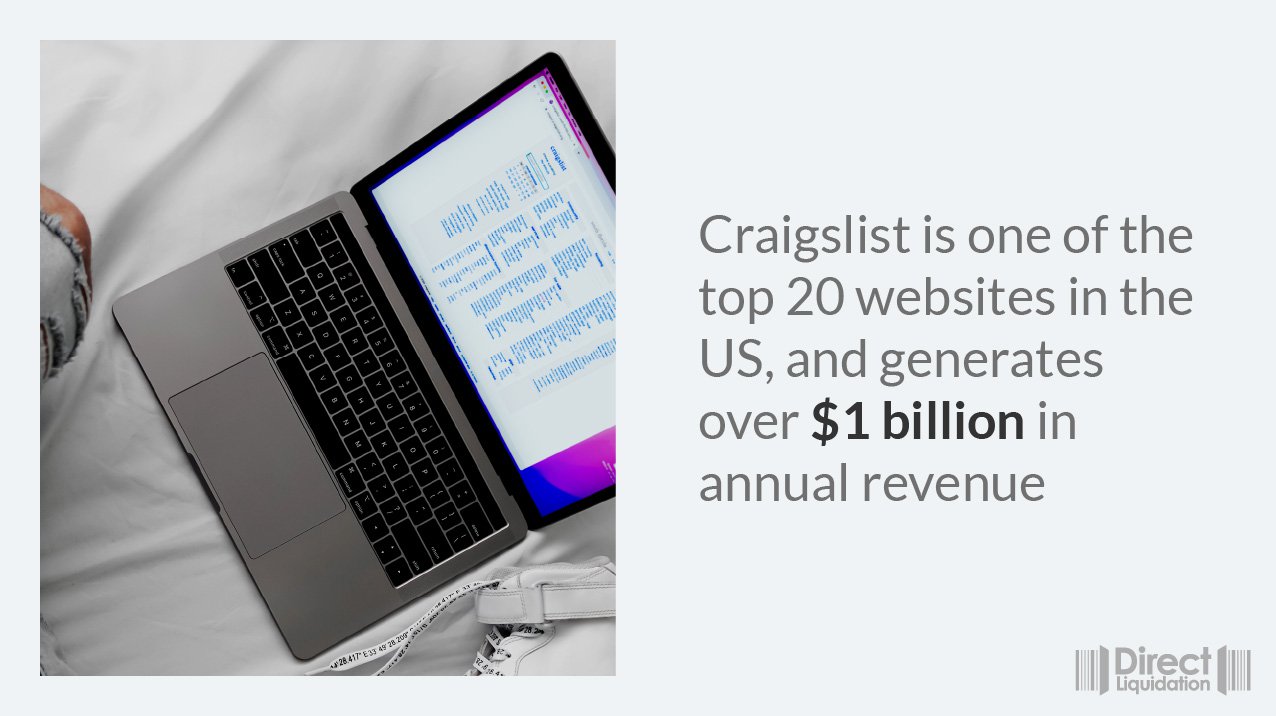 Source: Business Insider, 2021.
Don't Use Your Real Email Address
When using Craigslist, you can use either your actual email address or a Craigslist-provided proxy email address, which protects your actual address from spammers. The proxy email address lets you post ads without revealing personal information apart from your first name. However, when responding to an ad, the seller can see any personal information in your email's signature. If you include this information, you may want to consider using a disposable e-mail address to conceal your identity.
How to List an Item for Sale on Craigslist
Open the Craigslist website. Your own location is the default, but you can change it by choosing another from the list on the right side of the page. Go to the bottom of the list to browse by city or state.
On the left side, click "create a posting." Fine-tune the location, choosing the sub-boards in your city that best suit your needs. Answer the question, "what type of posting is this." Choose the category of the item you want to sell. Check the list of prohibited items.
Input as many details as possible on the form. Use a descriptive title, add the price, and describe the item. Enter your email address as "contact info" – this is where Craigslist will direct replies. For your security and privacy, do not share your phone number.
Fine-tune your location on the map, e.g., entering a major cross street to help buyers locate you.
Add good quality pictures using the "Add images" button. Drag images around to change their order. Then click "done with images."
Once everything is done, click "publish." You will see the message: "Important – Further action is required to complete your request!"
You will then get an email from Craigslist. Click the link in the email to confirm the posting. The ad appears on Craigslist within about 15 minutes. Keep this email to find the online ad again when you want to update, refresh, or delete the post.
Does Craigslist Charge Fees?
Posting on Craigslist is free in most categories. You can advertise the liquidation products you want to resell for free. For some categories and locations, Craigslist does charge a fee. For example, an ad to rent an apartment in Boston costs $5, while posting job offers may cost between $3 and $75. In most cases, the platform only charges fees for ads from auto dealers or realtors in commercial real estate as well as job opportunities.
Craigslist: The Numbers
Sourcing Liquidation Merchandise to Sell on Craigslist
Direct Liquidation has been selling liquidation merchandise for more than 10 years. When you source liquidation merchandise at Direct Liquidation's online marketplace, you acquire products sourced directly from the country's largest retailers. Direct Liquidation has multiple warehouse locations across the country, so you can choose merchandise from the location closest to you, reducing shipping costs.
Check out the current liquidation pallets and truckloads available for sale right now.