Facebook Marketplace: Guide to Reselling Liquidation Merchandise
If you're looking for an online platform to sell your liquidation merchandise, you can do a lot worse than Facebook Marketplace. The website allows you to sell your merchandise locally, allowing your customers to come to you – and best of all, if you don't opt for certain features, all your listings and sales will be free. Let's explore how Facebook Marketplace works, how to post listings, and what additional features are available to you.
What is Facebook Marketplace?
Facebook Marketplace is Facebook's classified ads service that allows sellers to list products for free. The listings can include photos and descriptions and are tagged to a specific location. Facebook Marketplace is very convenient to use and has a very large potential customer base.
Facebook Marketplace is targeted toward local pick-up sales. Shipment sales are a new feature for which a selling fee is charged (see below). These sales have to be listed through Facebook's Commerce Manager.
You can use this platform for advertising to potential local customers, allowing you to test your local market and find out what sells with very low risk.
Facebook Marketplace: The Numbers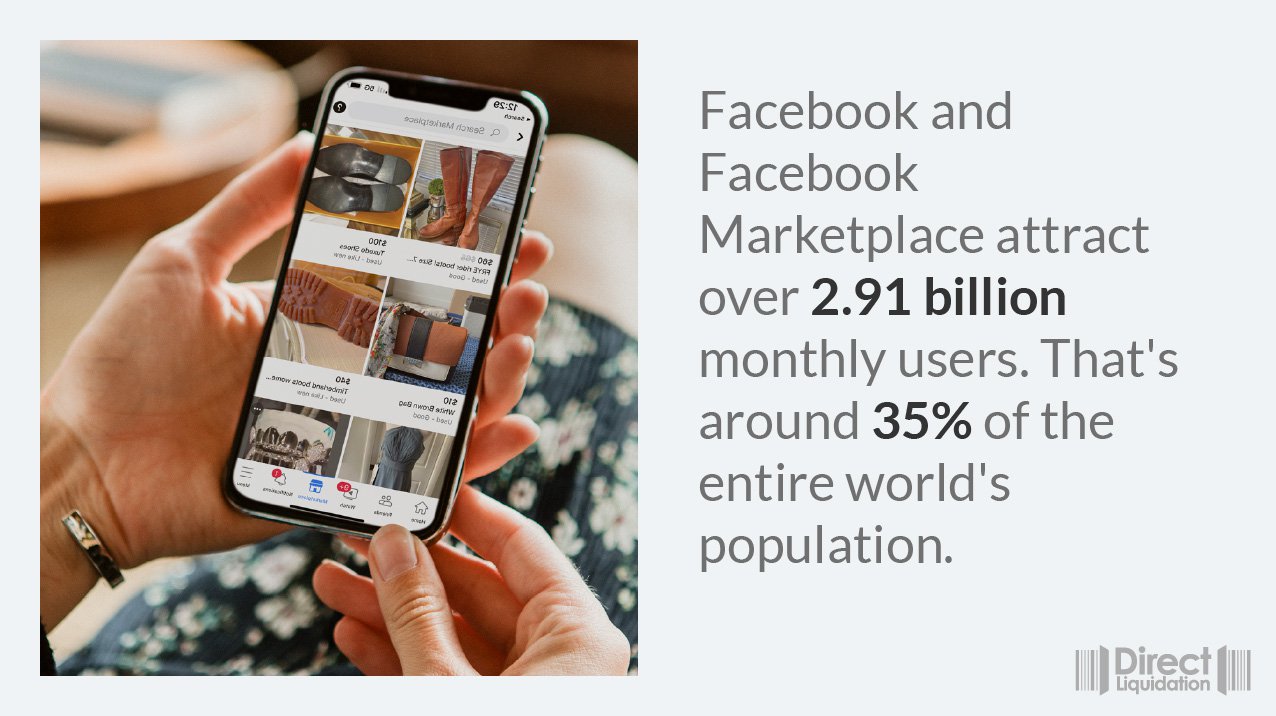 Source: Thrive My Way, 2021.
What Sells Best on Facebook?
Facebook Marketplace is an excellent platform for pick-up-only sales, targeting only your local area. This makes it particularly suited for listing items like:
Goods that are generally in high demand, like game consoles, TV sets, and sofas.
Items not worth the potential shipping costs, like paperback books, baby clothes, or old DVDs.
Bulky or breakable goods, like large pieces of furniture.
Products for children – since parents' groups are very active on Facebook.
Less popular items on Facebook Marketplace:
Rarer and more expensive items like art, designer clothing, or spare parts for expensive cars.
Clothing for adults, due to size differences.
Why Use Facebook Marketplace to Sell Liquidation Merchandise?
First of all, you can sell pretty much anything on Facebook Marketplace, no matter the condition – so long as you are clear about what you are listing.
You don't need to pay fees when you sell your items for local pick-up trading. This cuts out shipping costs. You can set your location and radius from 1 to 500 miles. Consider how far you're willing to travel and ship items. You don't need to worry about onward shipping costs if you do local meetups.
Communication with prospective buyers is instant and effortless if you have Facebook Messenger installed, and you can even share photos and answer any queries instantly.
If you're selling your liquidation merchandise out of a commercial location, these online listings increase foot traffic, and your linked Facebook page increases the friendly image that your store gives to the public.
Most Facebook Marketplace customers are looking for discounted goods (as many sellers on the platform are private individuals selling their used goods) – this is an ideal place to highlight your liquidation merchandise to your local community for free.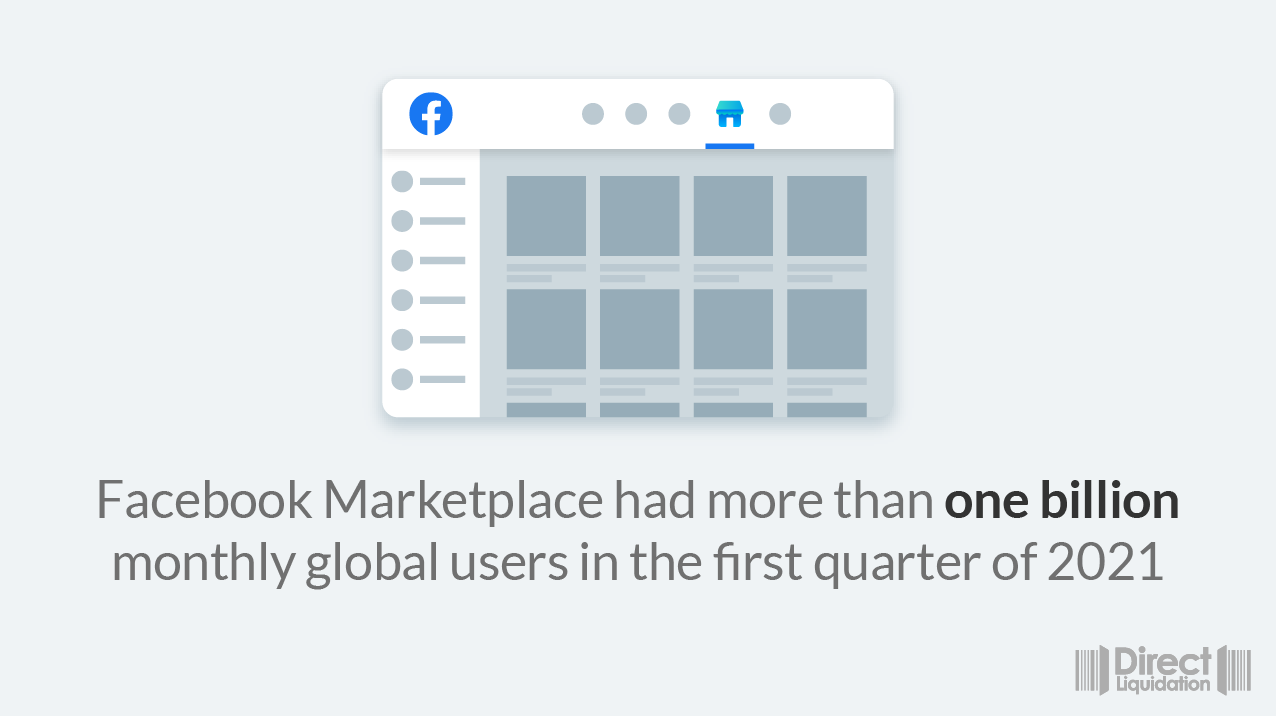 Source: Statista, 2021.
How to List an Item for Sale on Facebook Marketplace
It's easy to post on Facebook Marketplace.
Click the Marketplace icon, and then click 'Create new listing.' Chose the kind of item, take a photo of the item (more than one, if you want), and upload it by clicking the 'Add Photos' option.
Insert title, description, and price for the item; include all relevant details.
Choose a category for the item, which will help buyers filter listings.
Confirm your location. This will give buyers an indication of where you are selling from, although you can rest assured that no-one will know your exact address.
Finally, you can choose to post to any specific buying and selling group you belong to while you list on Marketplace. This will boost the visibility of your item.
You can find all the info about your sales under the 'Your items' tab, including offers and messages received from interested buyers.
When you get an offer or message from a prospective buyer, you should check out their profile to make sure you are comfortable selling to them. Then you just need to agree on the payment and collection details. If your item did not sell, you could try posting to another group or reducing the price.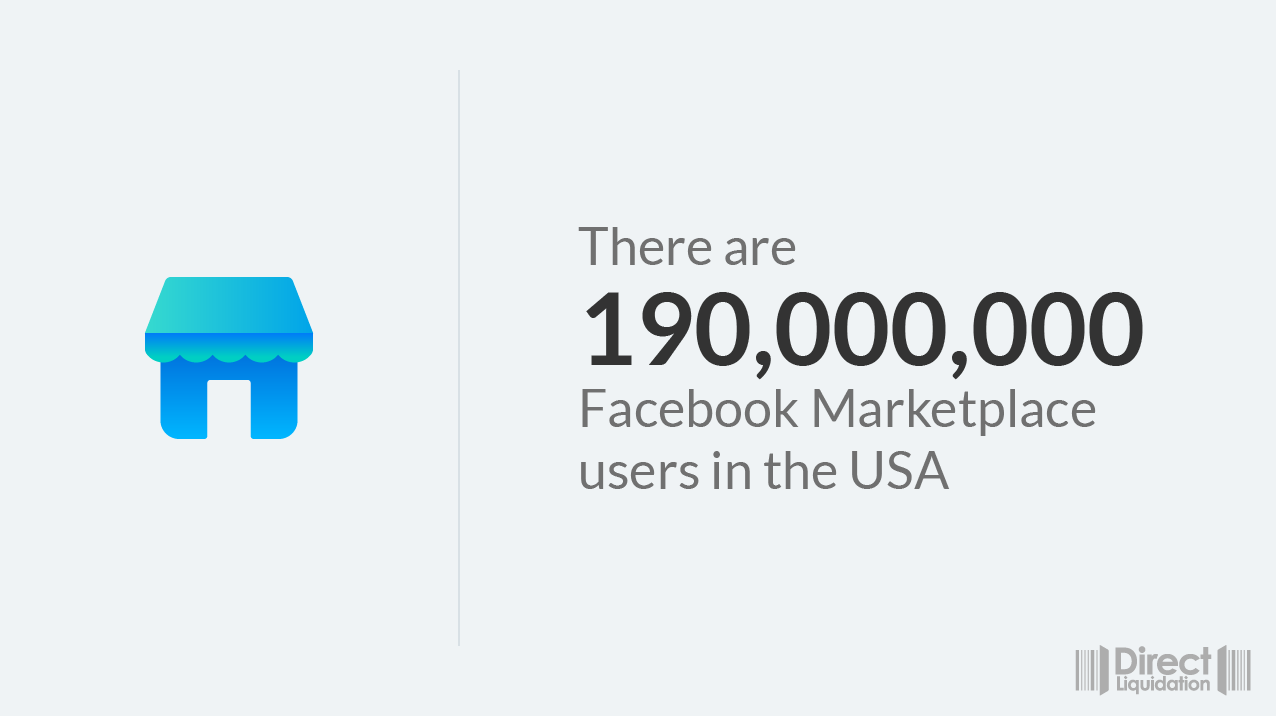 Source: Thrive My Way, 2021.
Selling Fees on Facebook Marketplace
Pick-up sales are entirely free on Facebook Marketplace. If you make a shipment sale, a selling fee is automatically deducted from your payout, which is made through the platform.
If you want to sell items to post out, you need to register for Facebook Commerce Manager.
A Commerce Manager account allows you to set up a Facebook Shop – a digital storefront on Facebook – and create catalogs for your items. With Commerce Manager, you also get secure onsite checkout, inventory management, and payout tracking, giving you an easy way to track orders, returns, taxes, and other financial reports. You can also use it with Instagram (owned by Facebook) and sync it with Shopify.
This fee can be either a 5% fee per shipment or a flat fee applicable to shipments of $8 or lower. No other fees are charged. The selling fee includes taxes and payment processing.
With this fee, you also get purchase protection. As for shipping, you can use a prepaid shipping label from USPS or your own shipping label.
Top Tools to Help You Sell on Facebook Marketplace
We've looked into the top on and off-platform tools that will help you streamline your selling experience on Facebook Marketplace and help you transfer your sales listings to other platforms with ease.
Advertising your products can help your business reach more shoppers. Facebook has an in-built manager to help you promote your listings to more users. Advertisers show a significant increase in conversion rates compared to standard placements.
You can choose between Automatic or Manual Placements. With Manual Placements, you get to choose where you place your ads. With Automatic Placements, the delivery system does the work for you by allocating the budget you set through several placements and placing ads where they are likely to perform best.
Follow the on-screen prompts to choose your intended audience and goals (e.g., increase brand awareness, improve conversions, increase store traffic, etc.) and let Facebook's algorithms calculate the best places to advertise. You'll also be asked to set a spending and time limit.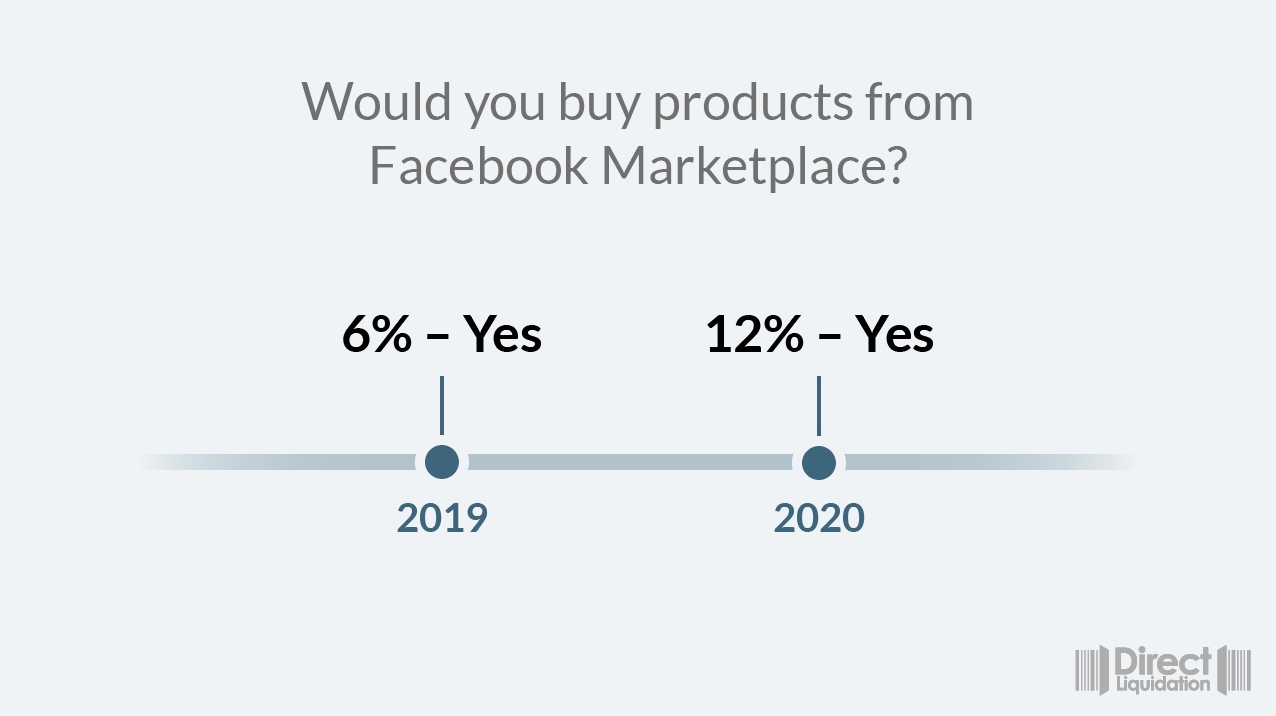 Source: Modern Retail, 2021.
Ecwid's 'Sell on Facebook' makes selling and advertising much easier. The app allows you to upload and sync your Ecwid product catalog to your Facebook business page's "Shop" section. It includes dynamic advertising and customer support through Facebook Messenger integrated into your store.
Ecwid's Facebook Shop lets you add a Shop section to your Facebook business page. It also allows you to sell products on multiple platforms at once. Your Facebook store can also be synced with Marketplace, saving you the trouble of creating and updating listings manually.
The software will also allow you to automate ad posting, integrate sales information with Facebook Messenger, and more.
Facebook and Instagram Shopping by CedCommerce (a Shopify App)
This Shopify App allows easier multiple-lot uploads to Facebook Marketplace and Instagram simultaneously and allows you to create personalised interfaces for messaging, checkout, and product highlights.
If you're already running sales through Shopify, this app can automatically list your offers onto Facebook's platforms effortlessly and synchronises sales across channels, as well as help you with cross-channel sales accounting and trend monitoring.
Sourcing Liquidation Merchandise to Sell on Facebook Marketplace
Direct Liquidation has been selling liquidation merchandise for over 10 years. When you source liquidation merchandise through Direct Liquidation's online platform, you get products sourced directly from the country's largest retailers.
Direct Liquidation also has multiple locations nationwide, allowing you to choose merchandise from the closest location to you – cutting down on shipping costs. Why not check out what Direct Liquidation has for sale right now?