Flea Market Sales: Guide to Reselling Liquidation Merchandise
In this guide, we will explore how to find flea markets near you, as well as identifying the top liquidation merchandise you can sell at these markets. We will also explain how to source this liquidation merchandise, and share some top tips for selling at flea markets.
Customers at flea markets are looking for bargains and great deals and are less concerned with the condition of the goods they purchase. This means that flea markets can be the ideal channel to sell your liquidation merchandise.
Flea markets are bigger businesses than most people realize:
Flea Markets vs. Swap Meets
Swap meets used to be places where sellers would meet up and strictly exchange used merchandise. Nowadays, swap meets have become the same as flea markets as less and less merchandise gets traded for other goods rather than money.
Flea markets have always been places, almost always outdoors, where sellers gather to sell their (usually used) items for profit.
As flea markets and swap meets have become interchangeable, usually the only difference is regional – with one term being more popular in a city or state than the other. As such, when looking for flea markets near you, include the term "swap meets" in your searches.
Finding Flea Markets Near You
Start with directories such as Fleamapket , Flea Market Insiders, or Flea Market Zone – These directories list the major flea markets by area, or on a map.
Your next move should be through internet searches, on a search engine such as google.
Using a search engine, such as Google.com will allow you to search for the websites, Google My Business listings, and Facebook pages for flea markets and swap meets in your area.
What to search for:
To find local flea markets try searching "flea market near me" or "swap meet [city]".
To find lists of flea markets try using a search for "flea market directory [state]" or "swap meet directory [state]".
Use Google Maps. If you're signed in, the map will automatically show results for "flea markets" in your local area. If you're not logged in, or have your location turned off, simply move the map to cover an area near you, choose the scale, and at the bottom of the screen select "search this area".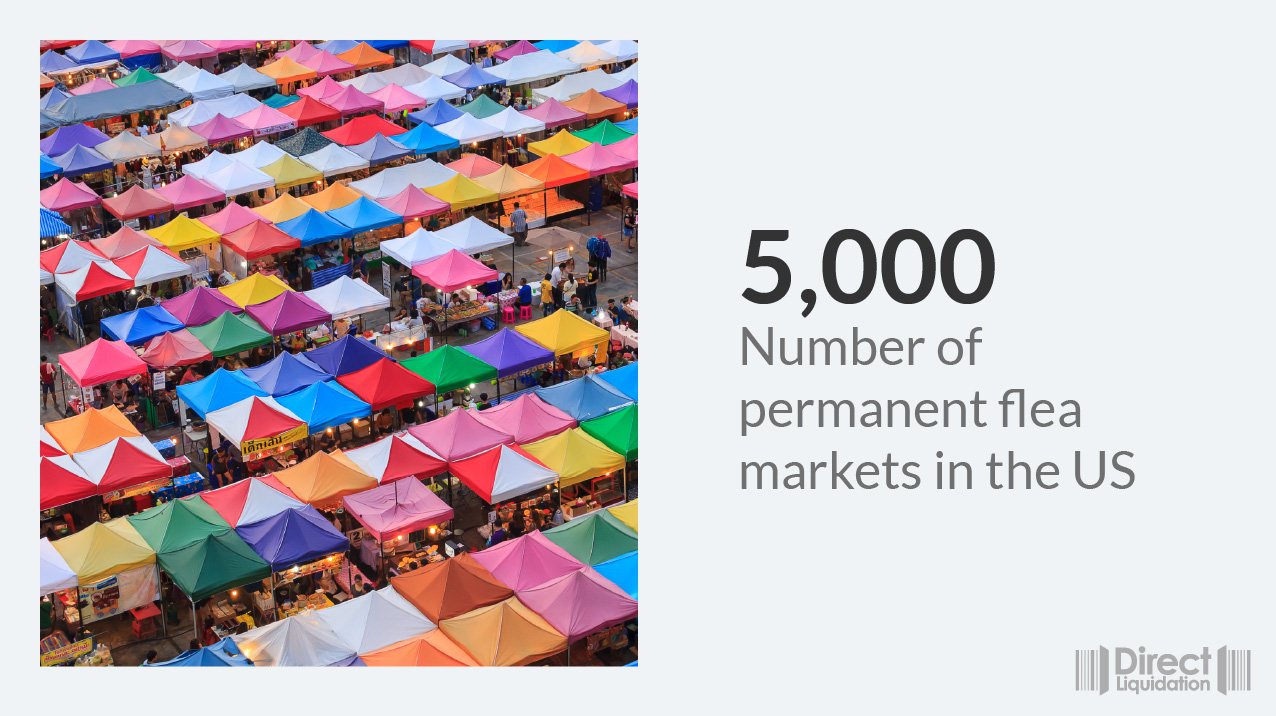 Social media sites such as Facebook allow you to find and directly reach out to flea market/swap meet organizers, through the profiles or groups they run.
Social media groups can be a great way to interact with other flea market vendors, and stay up to date with meet dates and times.
Finally, contact The National Flea Market Association and ask about flea markets in your area.
What Types of Merchandise Sell Well at Flea Markets?
When trying to identify the type of merchandise that will sell well at flea markets, there are several things you need to keep in mind:
Buyers at flea markets are looking for bargains – they expect much of the merchandise sold will be used, and priced accordingly.
Large items, such as furniture, sell well as these items are expensive to ship. Customers will arrive in their own vehicles and will be able to take the items home with them.
High-value items such as electronics will be harder to sell, as customers making big-ticket purchases need the reassurance of warranties and guarantees afforded by shopping at retail stores, either in-person or online.
Unusual items, or upcycled items, tend to stand out more, and are popular with flea market buyers.
Yard and Power Tools
Always in demand for DIY and trade use, tools always sell well at flea markets. Complete sets, as well as pressure washers, leaf blowers and brand-name tools retain their values well.
Furniture
Mid-sized furniture in particular is always sought after at flea markets. This is because these items are big enough to make shipping not cost effective, but small enough for most customers to fit the items in the back of their own car.
Try upcycling liquidation furniture by making repairs, re-painting or completely repurposing the item to add value.
Patio furniture is always in demand in the spring and summer.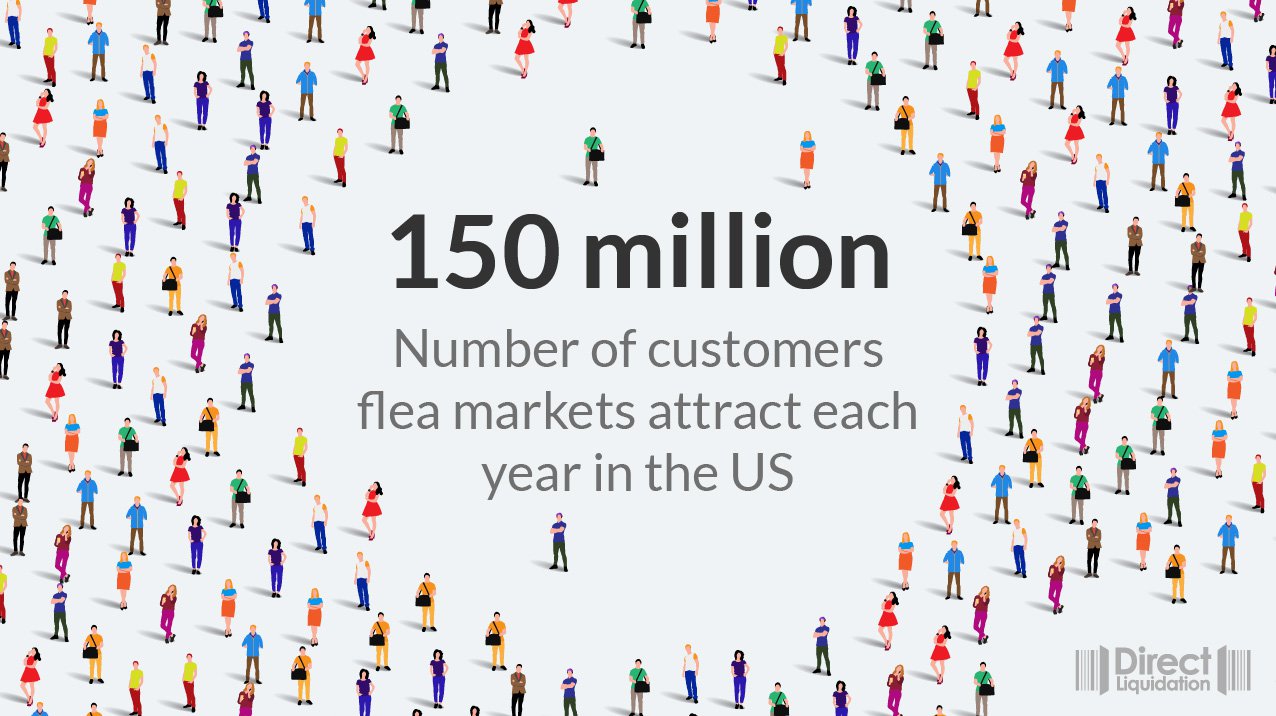 Appliances
Similar to furniture, appliances are always in demand, and mid-sized appliances such as coffee makers, microwaves, food processors etc. will be easier to sell to customers with their own car than washing machines and freezers.
Electronics
Electronics are also always in demand, and customers at flea markets are expecting to look for non-new models. Be honest about the conditions. Old video games, headphones, chargers, and other small electronics do particularly well.
Even non-working models can sell, if you're honest about the problems, as customers look for spare parts, batteries, etc.
Clothing
Discounted clothing, especially from known brand-names sell well at flea markets, though don't expect a big markup. Baby and children's clothing often sells best, especially if you're near a big city.
Baby Items
Strollers, cribs and toys for small children are always in demand, and young families look to save on these usually-expensive items where possible. As above, these items sell better in cities with a young demographic of growing families.
Sourcing Liquidation Merchandise for Your Flea Market Sales
Look for local auctions of government surplus, seized and forfeited cargo, unclaimed merchandise and airport luggage, abandoned freight, as well as storage unit auctions.
Find store closures or relocations in your area and propose to buy their closeout inventory.
Contact traders as trade shows are closing down. Many traders do not want to take their display items back, giving you the chance to make an offer at a good price for them.
Search Facebook for liquidators to find liquidation companies close to you.
Use Facebook Groups to interact with local liquidators.
Join a liquidation marketplace and bid or buy pallets & truckloads of merchandise.
Top Tips for Increasing Your Flea Market Sales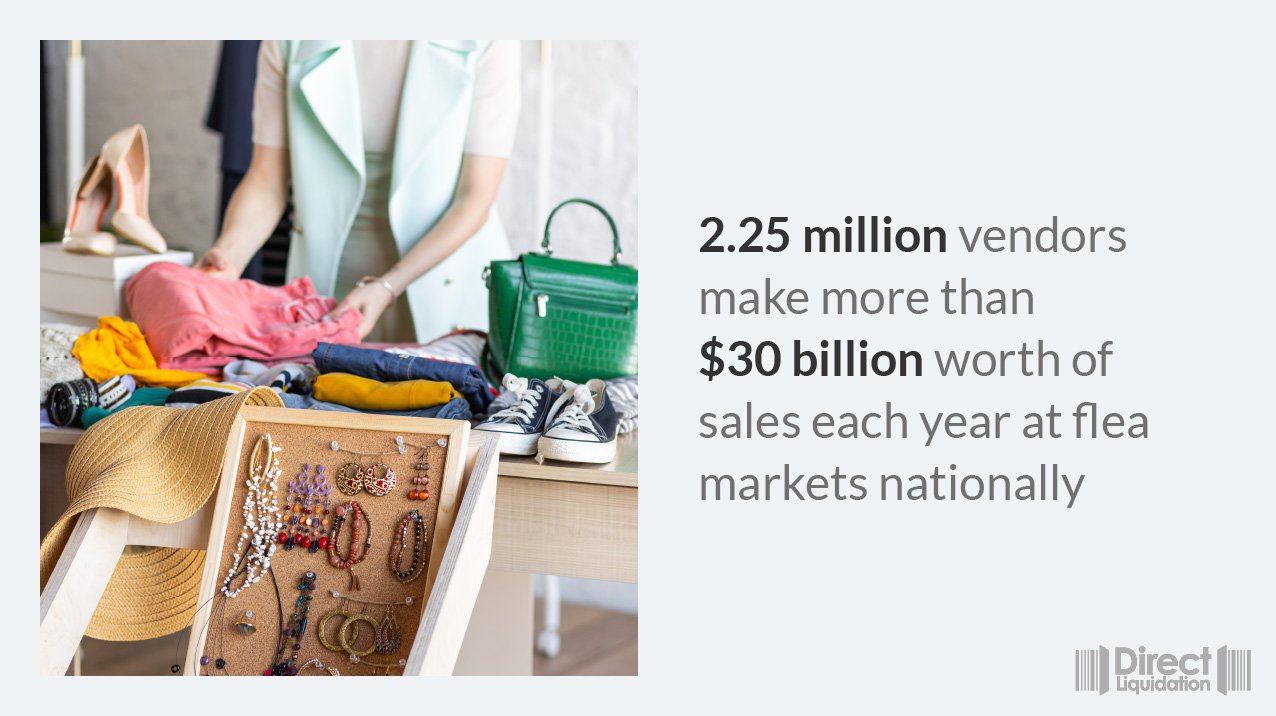 Choose The Right Flea Market
Visit several markets in advance before deciding on which one to set up in. There are several factors you need to consider: foot traffic, booth location and costs, distance from your location, and what other vendors are selling.
Show Up Early
Early morning hours are peak times for flea markets. So you need to set up your booth quite early to take advantage of early customers. Experiment with where you place your products over time and advertise your business name, giving out business cards. This will give potential customers the chance to check out your online store afterward.
Be Engaging
Personal connections matter in flea markets. Be approachable and chat with your potential customers without being pushy. This will make customers feel welcome and motivate them to buy from you. Haggling is normal at a flea market, so you need to know how low you are willing to go regarding prices. Be ready to negotiate and settle for a price that will leave both parties happy.
Make Payments Easy
At flea markets, cash is still the most common payment method. So make sure you have change for your customers. But facilitating electronic payments will help you attract more customers, especially if you are selling more expensive goods like antiques and furniture.
Time to Get Started
Flea markets and swap meets are ideal locations to sell discount merchandise – meaning they are perfect for making profits from liquidation merchandise. Buying pallets of liquidation merchandise is easy, can be done completely online, and allows you to start a resale business with a low investment outlay.
Check out what liquidation merchandise we have available right now, and get started on your flea market business.