OfferUp: Guide to Selling Liquidation Merchandise
OfferUp is a sales platform that focuses on in-person transactions. It attracts millions of visitors every month. On top of this, standard 'pickup' listings are free. This fact alone makes OfferUp a perfect place to sell liquidation merchandise for profit, advertising to your local area, completely risk-free.
In this guide, we will show you how to list and sell liquidation merchandise through the platform, what the top-selling items are on OfferUp, explore why the platform is perfect for liquidated items, and explain how promoted listings work.
What is OfferUp?
OfferUp is a consumer-to-consumer marketplace primarily based on a mobile app. Established in 2011, it has since become a strong competitor to Craigslist, eBay, and Facebook Marketplace as it features a mobile-friendly user interface as well as ratings of sellers and buyers. It boasts over 20 million monthly active users.
The marketplace features large photos of items, which can be searched by geo-location nearest the buyer. You can also filter searches by price, distance, and category. Sellers only need to upload a photo of the product from their smartphone. The platform prioritizes the highest bid and allows you to contact potential buyers before finalizing the deal in person.
What Sells Best on OfferUp?
According to 'This Work From Home Life,' OfferUp is particularly good for selling small to mid-sized items, such as clothing, tools, and furniture. The good news is that all of these items are commonly found on an online liquidation marketplace.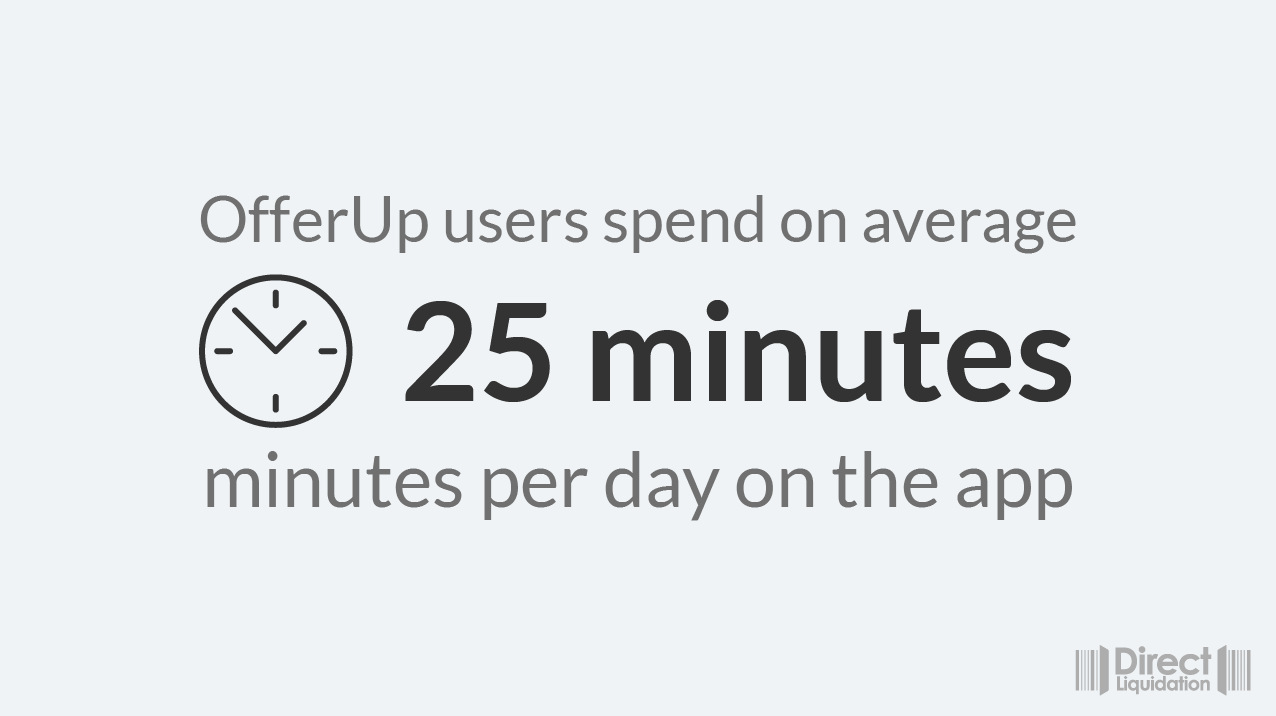 Source: Expanded Ramblings, 2022.
Clothing
Brand new clothing such as activewear, designer clothing, and accessories have strong demand on OfferUp, especially if shipping is also offered. Your best option is to sell clothing from brands familiar to your prospective buyers.
The rule-of-thumb is to price your items at half of the retail price, but also find out what prices were achieved for similar items in the past on OfferUp, before choosing your list price.
Popular brands to sell on OfferUp include: Air Jordans, Coach, Dior, Levis, Louis Vuitton, Michael Kors, Nike.
Power Tools
People are always looking for power tools for trade or DIY. These are easy to sell through OfferUp. Having the original receipt will add value to your listing as you can prove that the item is not stolen.
Popular tools on OfferUp include: Complete tool boxes and sets, drills, generators, leaf blowers, pressure washers, saws, and more. Brand-name tools will always sell better than generic counterparts.
Furniture
The market for discounted furniture on OfferUp is strong. This is particularly true if you live in a large city or a college town. Furniture sells quickly, within a day or two, if priced appropriately.
If your liquidation furniture is damaged, this is a great opportunity to try refurbishing furniture and reselling it for higher profits.
Patio furniture is always in demand in the spring and summer.
Appliances
Appliances also sell very well on OfferUp. As with tools, buyers look to save money by buying high-quality appliances used rather than new.
Washers, dryers and dishwashers are sold quickly, as long as they are in working order and you are honest about their condition and provide all the information the buyer needs. Note that Items such as camping stoves, outdoor grills, and air conditioning units will command higher prices in the summer.
Electronics
There is always a demand for electronics, and your liquidation stock will sell well on OfferUp. Just be honest about the condition of the items, and take plenty of photos. You can even sell used and broken electronics also, as these can be flipped or used as sources for parts to repair other units.
Old video games, headphones, chargers, and other small electronics do particularly well.
Baby Items
One of OfferUp's most popular categories is 'baby and kids'.
This type of merchandise, if in good condition can sell on OfferUp for around 50-70% of retail. Bulk-selling clothes of the same size can be a good way to sell your liquidation merchandise quickly and efficiently.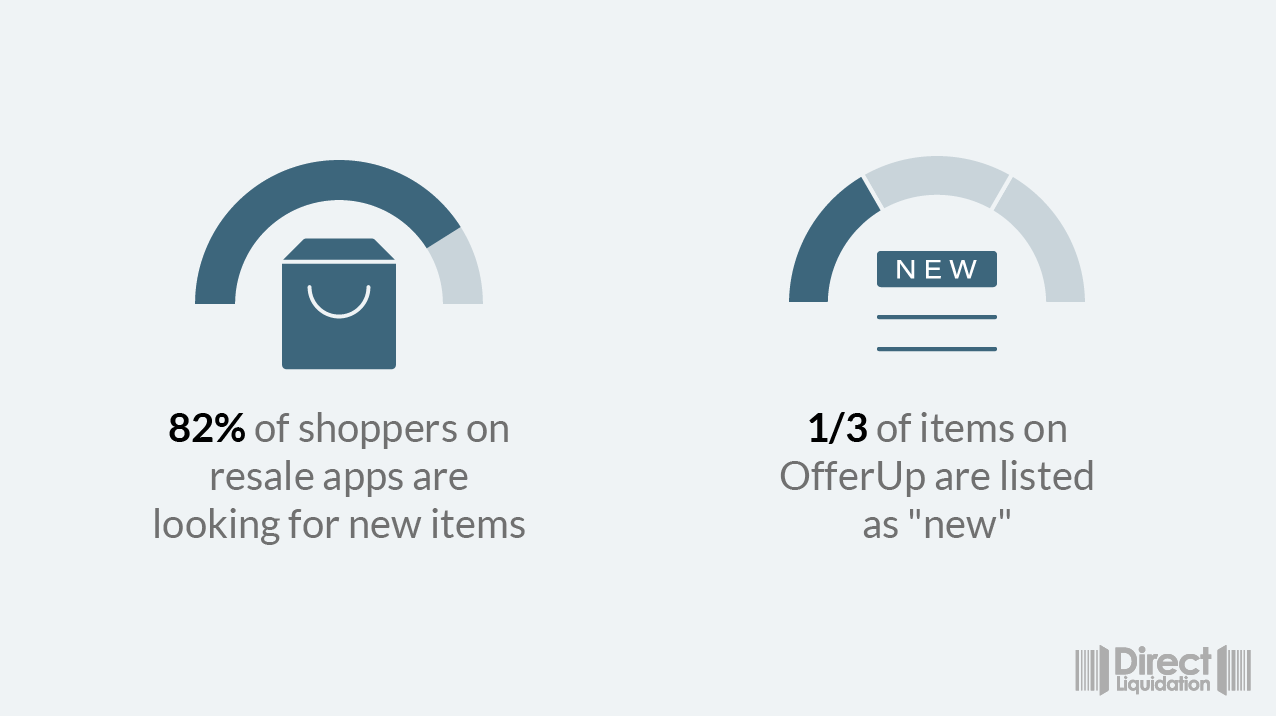 Source: PR Newswire, 2022.
Why Sell Liquidation Merchandise on OfferUp?
OfferUp is now the largest mobile marketplace in the United States, with a vast and growing community of buyers. The app boasted more than 20 million users at the start of 2022 and is only available in the United States. OfferUp users spend, on average, 25 minutes per day on the app. This represents a huge market, and you're bound to have users in your area, especially if you live somewhere urban.
Listing on OfferUp is free, though some paid plans help get your merchandise noticed. More on this later.
If you source locally and then sell through local channels such as OfferUp, Craigslist and Facebook Marketplace, you will be able to save on shipping costs, which will add to your profits.
There are practically no restrictions on what you can sell on OfferUp, regardless of the condition – provided that you are clear about what you are selling.
You can communicate effortlessly and instantly with potential customers through the app, sharing photos and answering questions instantly.
Sales for local pick-up are not charged any fees, cutting down your shipping costs. You can also save on shipping costs by doing local meetups.
Since most OfferUp customers are looking for discounted goods, you can use this place to make your liquidation inventory known to your local market for free.
'TruYou' Verification
OfferUp's profile verification requires a driver's license and phone number. Another alternative is to sign up via Facebook. Verification takes less than a day. A verified account is signaled by displaying a badge.
Verification is not required to use the website, but it helps you choose the customers you want to deal with, adding security and trust to the service.
Pay attention to any red flags. If your customer wants to communicate in a different channel, pay by check or wiring service, or through a third-party app, it is likely to be a scam. If something doesn't feel right, always decline the offer.
OfferUp: Fees and Listing Promotion
The registration is simple, and listing is free; there are no costs to posting standard listings for customers to pick up the item in person. However, sellers must pay a service fee when shipped items sell. The fee is either a minimum of $1.99 or 12.9% of the sale price. Estimated costs are shown when the listing is created.
There are two paid plans to help promote listings: Promote and Promote Plus.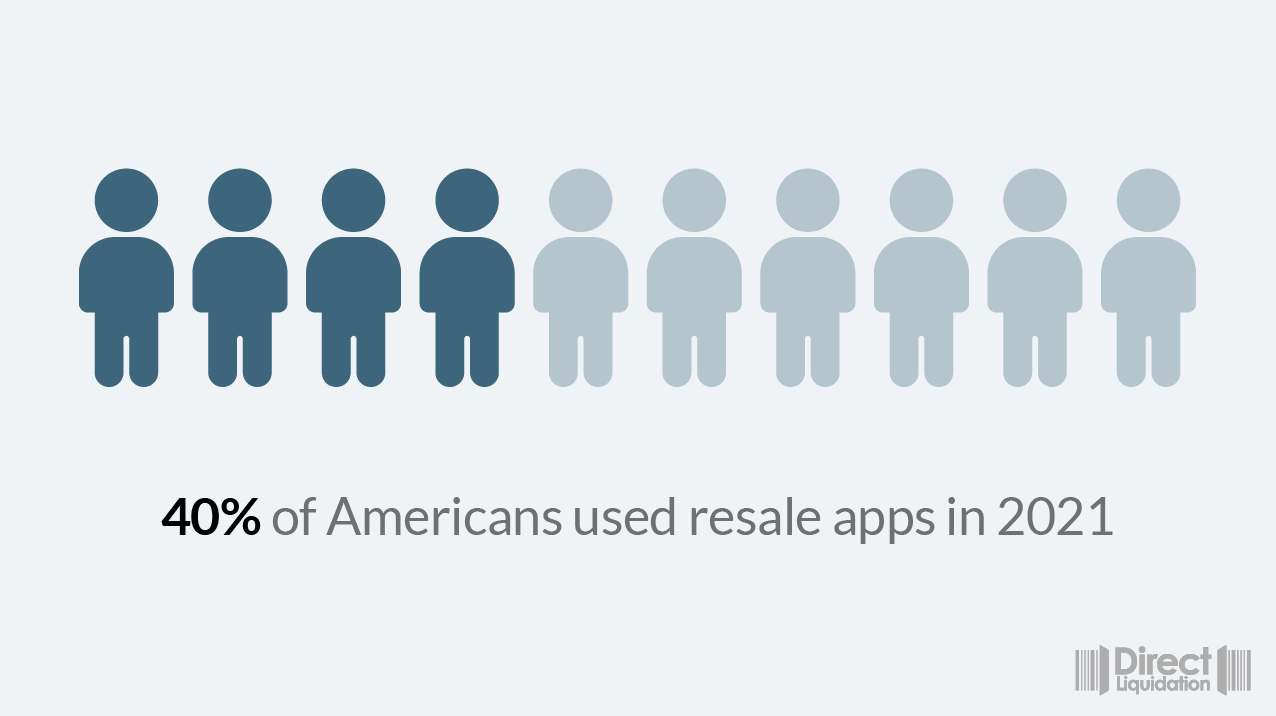 Source: OfferUp, 2022.
Promote
The Promote plan helps you boost your views an average of 14 times. Promoting your listing will feature it among the top 50 items in search, browse, and category results, allowing potential buyers to find your listing more quickly. You can set the length of time for your promotion at 1 ($3.99) or three days ($7.99).
Promote Plus
Promote Plus offers the same features as the Promote plan but lasts for a whole month and allows you to change the products you're promoting. It costs $19.99.
How to List an Item for Sale on OfferUp
Listing an Item for Sale
Once you have downloaded the app and created an account, tap the camera icon at the bottom of the screen- this opens the 'Post an Offer' page.
You can upload photos or take new photos with your phone camera.
Scroll down and enter a descriptive keyword-rich title.
On the next screen, select a category that best describes your item. Many buyers browse by category, so this is important to get right.
Drag the slider to the right if the item is om great condition or left for items in worse condition.
Enter a keyword-rich description. Include descriptors such as measurements.
Enter a price. Note OfferUp allows potential buyers to negotiate. If you don't want to negotiate, select 'Firm on Price.'
Set your location, then use your current device location (if your device permissions are set to allow this), or enter your zip code. There is also an option to 'Sell and ship nationwide' – if you select this option, you'll be asked for an estimated weight so that delivery charges can be estimated.
Your listing is complete – select 'Post' to put your listing live.
Selling Your Item
Select Offers (at the bottom of the screen), and select 'Selling.' This page will show all the items you currently have listed for sale. If you click on any items with notifications, all messages from potential buyers will appear here.
Select the person's name to view their profile, which contains their ratings. Stars indicate average rating, with a number adjacent to show how many reviews the user has.
Accepting an offer:
Local: confirm the sale price and choose a place and time to meet. Choose a public location during daylight for security, and allow the buyer to inspect the item to avoid problems later.
Shipping: Select 'Accept' on the offer. The buyer will add their payment details to the system on their end (you'll be paid three days after they receive the item). You'll then be able to see the buyer's address. Enter your address, and OfferUp will create a shipping label. This will be emailed to you so that you can print it. Once ready, package and ship the item via USPS.
Once you've sold the item, mark the sale as complete within the app – open the Offers tab and then 'Mark Sold' on that item. If you shipped the item, this happens automatically. This means you won't continue to get messages and offers about this item and allows you to receive feedback from the buyer.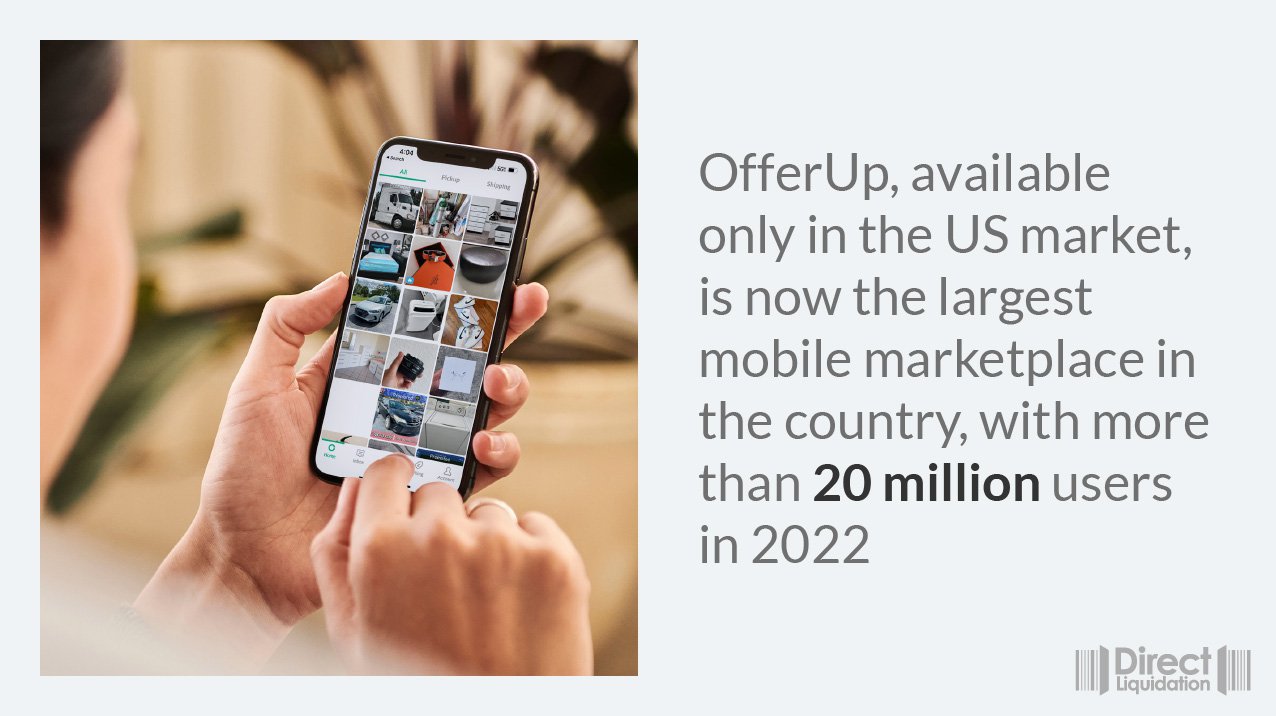 Source: Forbes, 2022.
OfferUp: The Numbers
Sourcing Liquidation Merchandise to Sell on OfferUp
With over 10 years of experience, Direct Liquidation is a reputable and trustworthy company where you can buy liquidation merchandise sourced from the biggest retailers in the country.
When you buy from Direct Liquidation's online marketplace, you can take advantage of the company's multiple locations by getting merchandise from the one closest to you, further cutting down on shipping costs.
Check out what liquidation pallets and truckloads are available for sale now.