How Retailers Liquidate Surplus Inventory
Retailers often find themselves with surplus merchandise which can take various forms including; customer returns, overstock, shelf pulls and end of life product.
So, what options do retailers have to liquidate this surplus merchandise? The merchandise can be sold through liquidation marketplaces, direct sales or through various in-store techniques. We will explore these options below.
Selling Through Liquidation Marketplaces
Liquidation marketplaces are platforms through which retailers can list pallets or truckloads of surplus inventory. Typically, retailers will have their own mini site or account on the platform, allowing them to directly sell into the secondary market.
Selling surplus merchandise in bulk, whatever the condition, through liquidation marketplaces helps retailers liquidate inventory quickly and efficiently.
Sales through these marketplaces can take place through an auction or through a simple one-click, buy-now format and varies from one marketplace to the next. Each marketplace will also have its own criteria for vetting buyers.
Large retailers have to liquidate a lot of volume and in most cases prefer to sell their inventory by the truckload. These liquidation truckloads can be manifested or, more commonly, unmanifested loads.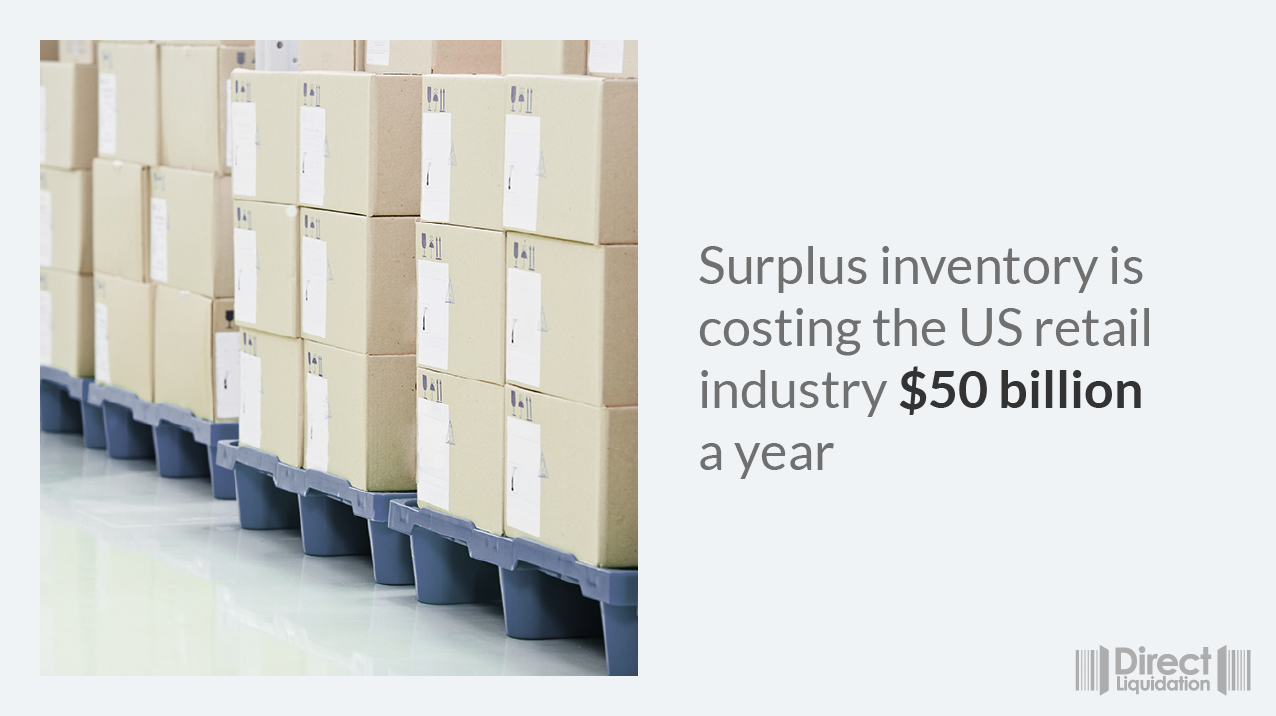 Source: Business of Fashion, 2019.
Direct Sales
Retailers will also incorporate direct sales to large buyers of liquidation merchandise in their overall strategy. Typically, retailers prefer to work with a small set of very large buyers to streamline the process.
Contracts are either negotiated directly with these large buyers, or the contracts are put out to tender, with companies submitting bids. Buyers must agree to take a certain volume and velocity of product – typically multiple truckloads per week. These requirements are too high of a hurdle for smaller operators to climb over and forces smaller buyers to purchase from middlemen to obtain inventory.
Product can be direct shipped to the partner company's customer from the retailer's facility, or the inventory is shipped to the facilities of the partner for processing and resale.
In-Store Methods
Strategic Placement
The first method retailers use to try to liquidate surplus inventory is strategic store placement. Items are featured prominently within the retailer's store. One popular location is to put surplus inventory closer to the front of the store since all shoppers will see it upon entry.
Price Drops
The next step retailers will take is dropping the price of the product. Lowering the price is a sure fire way to stimulate sales, and over time retailers can increase the price drops until they have cleared their surplus stock. Sales events are a great way to help retailers liquidate inventory while growing their customer base.
Bundling
After price drops, bundling is the second-most popular method to sell surplus merchandise. Bundling basically means grouping related items together and selling them for a slightly lower price than they would cost separately. Bundling allows retailers to tie excess inventory with popular sellers, allowing the surplus inventory to be sold off without a significant hit to profits.
Source: CNBC, 2019.
Giveaways
A tactic that works better for low-cost items, giveaways are a great way to 'bribe' customers to shop with that retailer. Often added to baskets at the end of an online checkout process, or as a bonus for signing up to mailing lists, as well as gifted out to those physically shopping in-store. Freebies when advertised correctly can increase foot traffic into a store.
Donations
If merchandise cannot be sold, donating is another option open to retailers. Donations are not only tax deductible, in most circumstances, but are often great PR moves. Giving merchandise away to charities, churches or community groups can increase a retailer's standing within the community.
Returning Overstock to Suppliers
Depending on contracts, retailers may be able to return some of their overstock to the original vendor. This is often the best-case scenario open to retailers with overstock – allowing the retailer to recoup a portion of the cost paid out for the merchandise.
Source: Nosto, 2020.
How You Can Access Retailers' Liquidated Surplus Inventory
Direct Liquidation is an online liquidation marketplace where resellers can buy surplus inventory from some of the largest retailers in the United States. You can buy this surplus inventory via the many live liquidation auctions that take place every day.
You can buy pallets or truckloads, whatever suits your needs. If bidding on an auction isn't for you, there is also the option to buy merchandise for a fixed price. You just need to look for the 'Buy it Now' button to purchase instantly.
You are free to pick up your purchases yourself, or allow us to handle the shipping for you. There is a free shipping calculator on every listing page.
Take a look at what surplus merchandise listed by top retailers we have available right now.