How to Buy Pallets of Returned Merchandise From Walmart
Last Updated: September 8th, 2021. Sections added: Returned Merchandise From Walmart: Pallet or Truckload?, Returned Merchandise From Walmart: What You Need to Know, Adding Value to Your Returned Merchandise from Walmart.
If you are looking to stock up your business cheaply, there are many options nowadays. From wholesale suppliers to closeouts purchases, each and every way you stock up brings its own advantages and occasional disadvantages. One of the most important factors is merchandise quality. To stand out in the online marketplace you have to offer high-quality at low prices.
Buying merchandise from dodgy suppliers will not cut it. You either purchase faulty merchandise or the prices are too steep to turn a significant profit, if any at all. Add to that the shipping costs and no guarantee on any of the products, you can see that business ship sinking quick.
But not all is doom and gloom. Whether you buy in person or online, there are ways of stocking up with high-quality merchandise from top retailers at prices below wholesale. The following article will let you in on the ways of buying merchandise from one of the largest retailers in the country: Walmart.
Why Buy From Walmart?
You are looking to buy high-quality merchandise at low prices. Buying Walmart merchandise enables you to do you just that, ensuring that your profit margin will be significantly larger compared to sourcing from a wholesale supplier. The quality is also high, which means you have ticked all the boxes in 'how to run a successful resale business' checklist. But in order to do this, you obviously cannot buy Walmart stock at the normal Walmart retail prices. Instead, what you need is Walmart liquidated merchandise.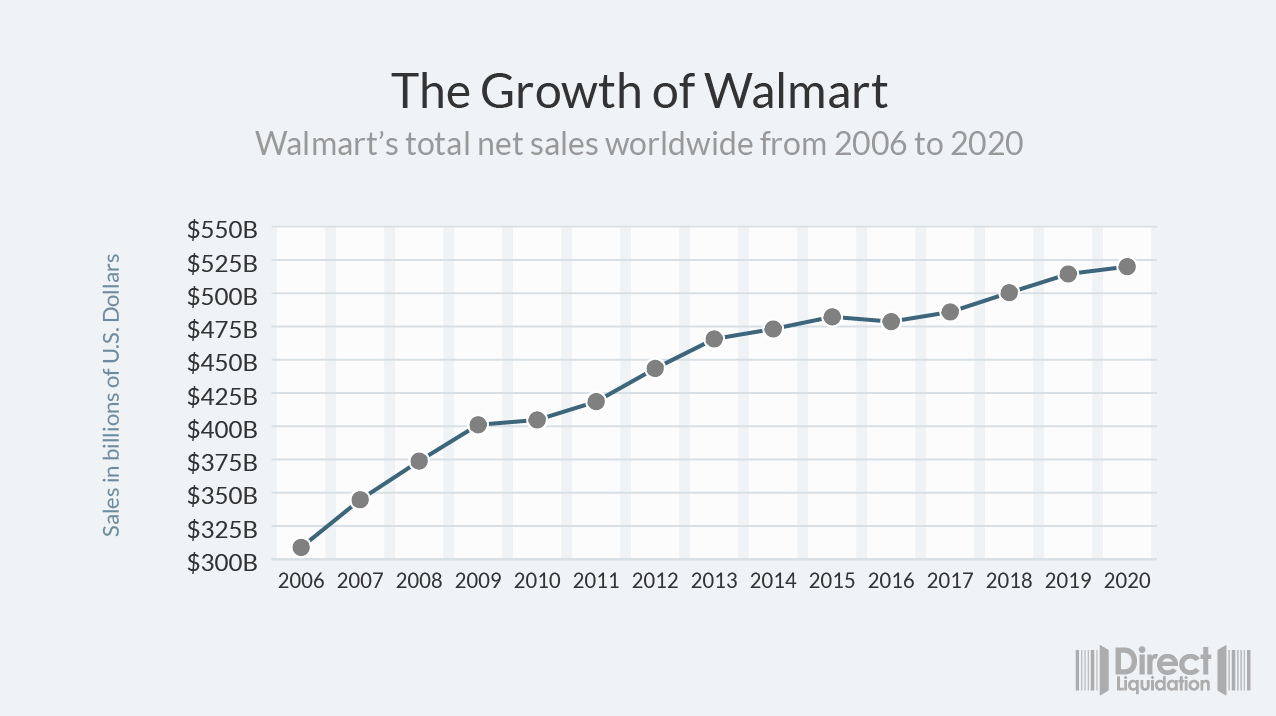 Source: Walmart, 2021.
As soon as someone mentions liquidated stock, questions about quality start popping up. In reality, a lot of merchandise that is being liquidated is either customer returned merchandise or refurbished products. But this does not have to be a bad thing, especially if you are working with a name such as Walmart.
Where to Buy Pallets of Walmart Liquidated Merchandise?
To buy customer return pallets of Walmart merchandise, you will have to look for a liquidation company. The trick is not to buy from just any liquidators claiming they are selling Walmart liquidation merchandise. In fact, never buy merchandise without verifying the source. The goal is only to buy from reputable liquidators. Luckily for you, you can buy Walmart liquidations at Direct Liquidation. This means that a wide range of resellers can use Direct Liquidation's online platform to source merchandise coming directly from Walmart. And all you have to do is register for an account to be granted access to this merchandise. This is not an 'exclusive club' for special buyers.
Returned Merchandise From Walmart: Pallet or Truckload?
You need to decide whether you need a pallet or a truckload. A full truckload for a standard semi trailer contains 24 to 26 pallets. An advantage of buying by the truckload is that it will reduce per-item shipping costs, making it the most cost-effective option. However, a full truckload may be too much for a reseller who is just starting up. In that case, you should consider buying by the pallet to start with. However, your best option is to purchase a truckload, if your goal is to get enough inventory for your retail space.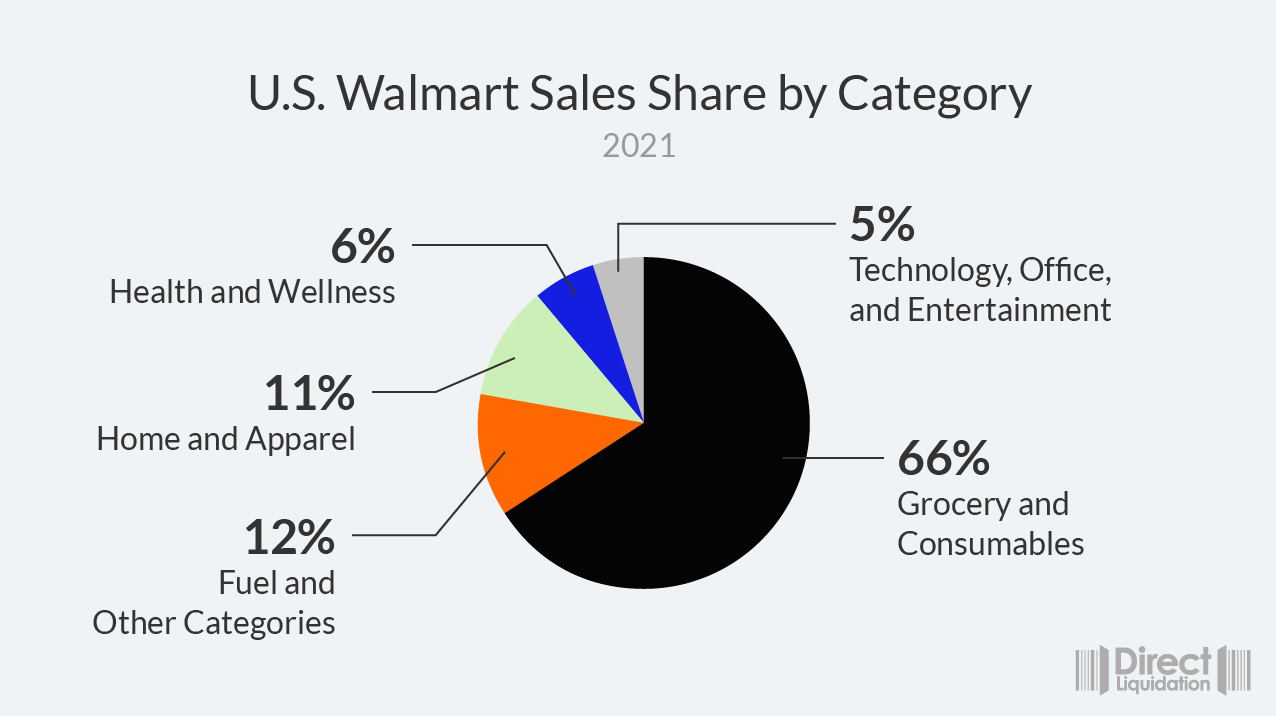 Source: Businessquant, 2021.
Returned Merchandise From Walmart: What You Need to Know
If you're purchasing untested returns from Walmart, bear in mind that there are no warranties or guarantees regarding the condition of the items. Some items may not work, while others may need cleaning, repairing, or may be missing accessories, parts or packaging. You can do the repairs yourself, if you know how. Even non-repairable items can be of use as parts donors to repair other products or as sources of spare parts. However, you will need to make plans to manage the additional effort, cost and time this will require.
Lots are sold manifested and unmanifested. Manifested lot listings will contain a link to a spreadsheet containing a list of items included, their UPCs, their MSRP, and quantities. This enables you to buy pallets containing the type of merchandise that you are looking to stock, for example allowing you to buy pallets of electronics, homewares or clothing – knowing what you are getting.
Unmanifested lots, on the other hand, will not contain any contents list, and you are buying the load not knowing what it contains. These are the most affordable pallets due to this uncertainty. Seasonality affects load contents so some buyers prefer to buy at certain times of year because they know when the loads are heavy with the type of product they want.
Unmanifested lots are a numbers game, and everybody gets a "bad load" from time to time When you're buying unmanifested that's part of the gamble and the reason why the loads are cheaper. Buyers looking for these loads want them untouched to get them cheaper and are willing to take the risk as to what they contain.
Adding Value to Your Returned Merchandise from Walmart
Whether manifested or unmanifested, there are multiple ways of adding value to your merchandise.
Sort and Bundle
The first job is to sort through the pallet to check exactly what the lot contains. Some products may be sold straightaway, but other items might need some attention. You should also consider selling some items to customers as a bundle.
Repair and Refurbish
In your lot you may also find faulty items that you should try to repair and refurbish as much as you can. For this you have two options: either do it yourself (if you know how) or employ a third party. Many items can be easily repaired with minimal cost, and repairing them can add a lot of value. You can use parts from one item to repair another similar item. Even unrepairable items can be used as sources for spares.
Re-Accessorizing
A product sold with all its accessories has increased value. That's why you should replace any missing accessories like chargers or headphones. This is easy and cheap to do.
Repackaging
Good quality packaging also adds value to your products. That's why you should replace damaged packaging with either original packaging or plain packaging in pristine condition.
Selling your Merchandise
You have several options if you choose to sell your products online. You can use websites like Craigslist to advertise locally and target local customers. One advantage of this approach is that local customers usually can come collect their purchases, which will help you save on postage and packaging costs. We have a guide to selling liquidated products both locally and online here.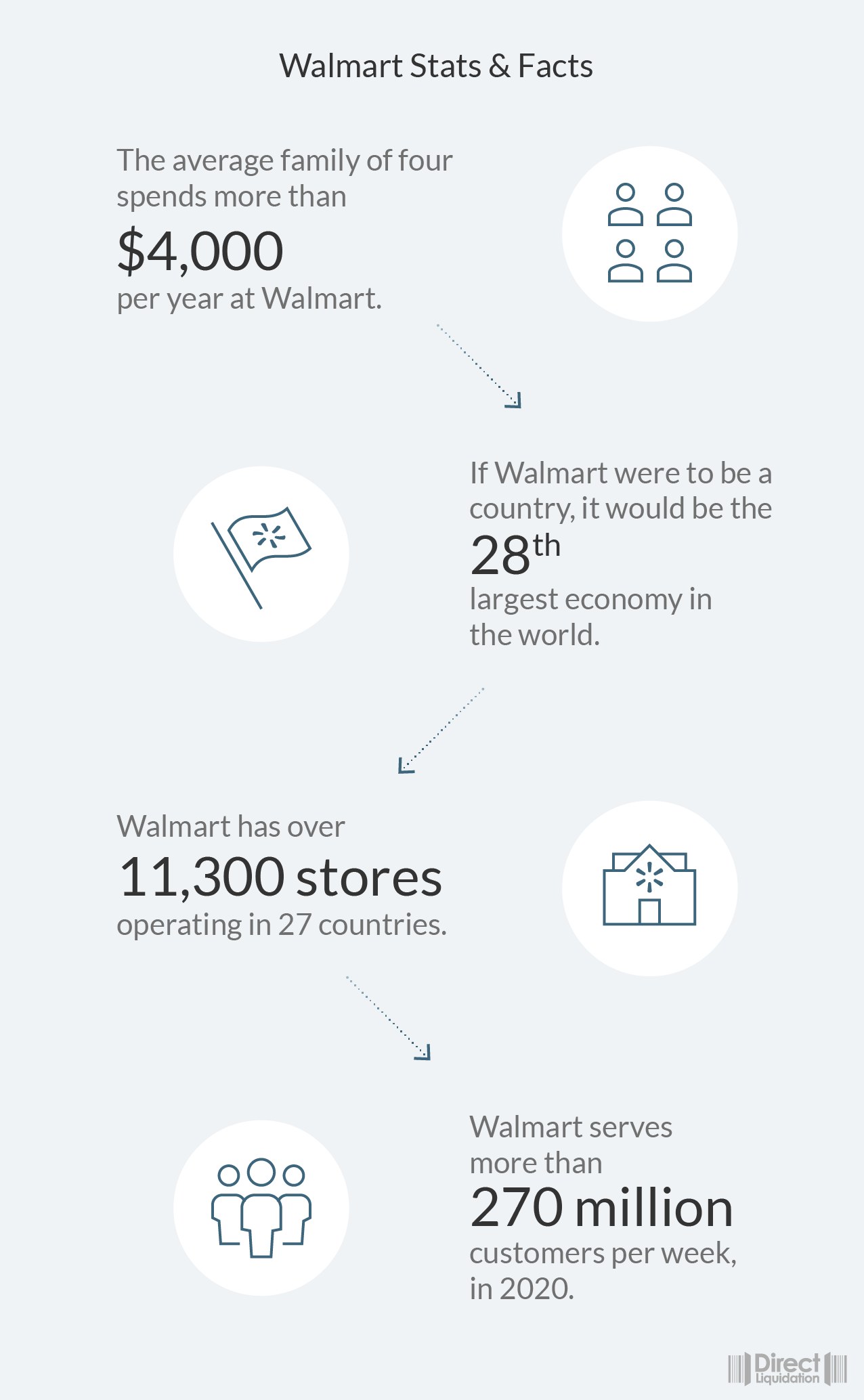 Source: Market.us, 2020.
For those asking why customer returns are interesting, we have to say that this type of merchandise is often the cheapest. A large portion of customer-returned merchandise gets liquidated and  retailers don't sell them as new anymore, no matter what the reason or in what condition it had been returned to the seller. Sometimes the buyers test out the product and return it because it is not to their liking. Sometimes the products get returned without being opened at all, meaning they are still in brand new condition.
This is certainly the case with end-of-season clearances and products that were pulled off the shelves to free up space for new merchandise. It has to be noted that there will be merchandise that is sold 'as is' because it was not tested after it was returned and prior to selling.
Another advantage of the Walmart-Direct Liquidation combo for people looking to buy pallets of customer returned merchandise is the fact that a whole team of Direct Liquidation advisors are doing their best to ensure you find the right merchandise for your business.
Register for an account
It's free to get started. Get access to surplus inventory from top US retailers.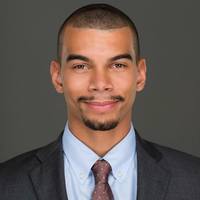 Henley currently works as a sales representative for Direct Liquidation, assisting businesses with product sourcing of liquidated merchandise from the largest retailers in the world. Whether you are looking for a pallet or a truckload Henley is here to help you grow your business.
View Henley's Bio on YouTube.