Where to Resell Online – The Top 25 Platforms
Where should you resell online? When it comes to making a push towards expanding your business statewide or even internationally, you can't look past the plethora of eCommerce marketplaces present online. These platforms offer the tools to increase your reach, boost your sales numbers and expand your customer base.
However, selling on various marketplaces can mean juggling large amounts of information and keeping track of your inventory, orders and staying on top of your customer support. Additionally, each platform, nationwide or international, has its own set of rules and requirements, and some even require you to open a business within the country they operate in. So what are the top platforms for selling online?
In this article we will go over a list of 25 eCommerce platforms and tools to sell your merchandise, by alphabetical order.
The Chinese answer to global eCommerce powerhouses is Jack Ma's Alibaba. The platform has over 117 million monthly visitors with the traffic coming from all over the globe, on par with Amazon.
According to Alibaba, it has over 14 million buyers all over the world, and over 190 countries represented. If you are interested in entering a specific market, the platform even provides you with a tool to check the real demand for the products you might be offering on the site. The focus of Alibaba is business to business sales, with an emphasis on bulk selling.
You can register for an account from anywhere in the world and set up your online storefront. Alibaba offers two seller account types: Premium, at a cost of $4,199 per year, and Basic ($2,399/year). Each account allows you to list unlimited number of products; however, the Premium account comes with more selling and time-saving features.
This will be the only payment you need to make as there are no sales commissions nor does it compete with its sellers with its own products, unlike Amazon. The company provides an end-to-end solution and invites you to contact their consultants in order to gather detailed information that could be specific for your business.
If you're looking to sell to other businesses in bulk into Asia specifically, you can't beat Alibaba for reach, ease of use, or name recognition.
The Alibaba Group owns not only the Alibaba.com eCommerce platform, but also its sibling site, AliExpress. AliExpress was launched in 2010 to target small businesses in China and other locations that would like to offer their products to global customers. It is the eCommerce retail platform of Alibaba, and is present in 220 different regions/countries. This means AliExpress is mainly for smaller suppliers selling direct to consumers, and is more user-friendly than its business to business-minded older sibling.
If you are running a small business and are looking to expand into international markets, AliExpress could be the platform for you. It boasts over 150 million buyers, with the website available in 18 languages and it supports 38 local payment channels in 51 local currencies.
When it comes to creating a seller account on AliExpress, you are required to provide a VAT number, a company operating license and an ID number of the company's legal representative. In terms of commissions, AliExpress charges commission on store transactions in the range of 5 to 8 percent, depending on the product and the category.
Now, you might be asking, well, what is the difference between Alibaba and AliExpress? Let's look at the sellers typically doing business on Alibaba. These are manufacturers, wholesalers, exporters and are basically businesses selling to other businesses.
In contrast, AliExpress is a business-to-consumer platform, often compared to Amazon. its sellers are usually small businesses and individuals looking to sell their products to end consumers.
Having started as an eCommerce platform for books, Amazon is now one of the major in the U.S. information technology, which now includes cloud computing and a digital streaming platform. But the most visible and important part of the business is the eCommerce platform that enables the sale and purchase of almost anything. In fact, half of all US online retails sales are done through Amazon.
Whether you are looking to expand your business and start selling online, or you are just venturing into the online resale business Amazon is a major place to start with all the tools provided to you. Amazon is the largest online marketplace in the world, and also the world's largest retailer.
In the USA alone, Amazon ranks within the top 10 most visited websites across the country.
Amazon is a natural place to begin selling – the App alone was accessed by more than 150.6 million mobile users in September 2019 alone. That's a huge market of potential buyers.
Amazon has become the standard for buying items online, with the most popular categories including books and electronics, as Mobile shopping is becoming increasingly popular among the online population.
The downsides to selling on Amazon include the relative complexity of setting up accounts, and Amazon expects you to agree to, and follow, more rules than the average platform on this list.
You are required to register for a seller account, Individual, or Professional, depending on the needs of your business. Each package has its own set of rules and guidelines as to how much you can sell per month or what fees apply. 
If you are buying liquidated merchandise to resell, be warned that there are certain requirements you have to comply with, like a minimum total value of refurbished purchases in a 90-day period before submitting the application.
BigCommerce, founded in 2009, is another software as a service (SaaS) platform for your online store. Similar to Shopify it provides you with all the tools required to run an online store. The platform supports business of all shapes and sizes and offers four plans for a customer to choose from.
The standard plan is $29.95 on a monthly basis while the Pro plan comes at $299.95/month. The Pro plan is actually a custom Enterprise plan for which you have to contact BigCommerce sales. There is a 14-day free trial of the option, it has to be noted.
An advantage BigCommerce has over Shopify is that there are no transaction fees across any of its plans. Shopify, on the other hand, will charge no transaction fee only if you use the company payments system "Shopify Payments", which is only available in 17 countries.
BigCommerce is looking to outscore its competition in one more segment: the ease and functionality of its templates, especially the free ones which may be the choice for first-time users. It allows you to drag and drop features and arrange your page content as you like. For this you also have to pay extra in Shopify. This makes BigCommerce a real contender if you're looking for a platform to provide your own website with an eCommerce service.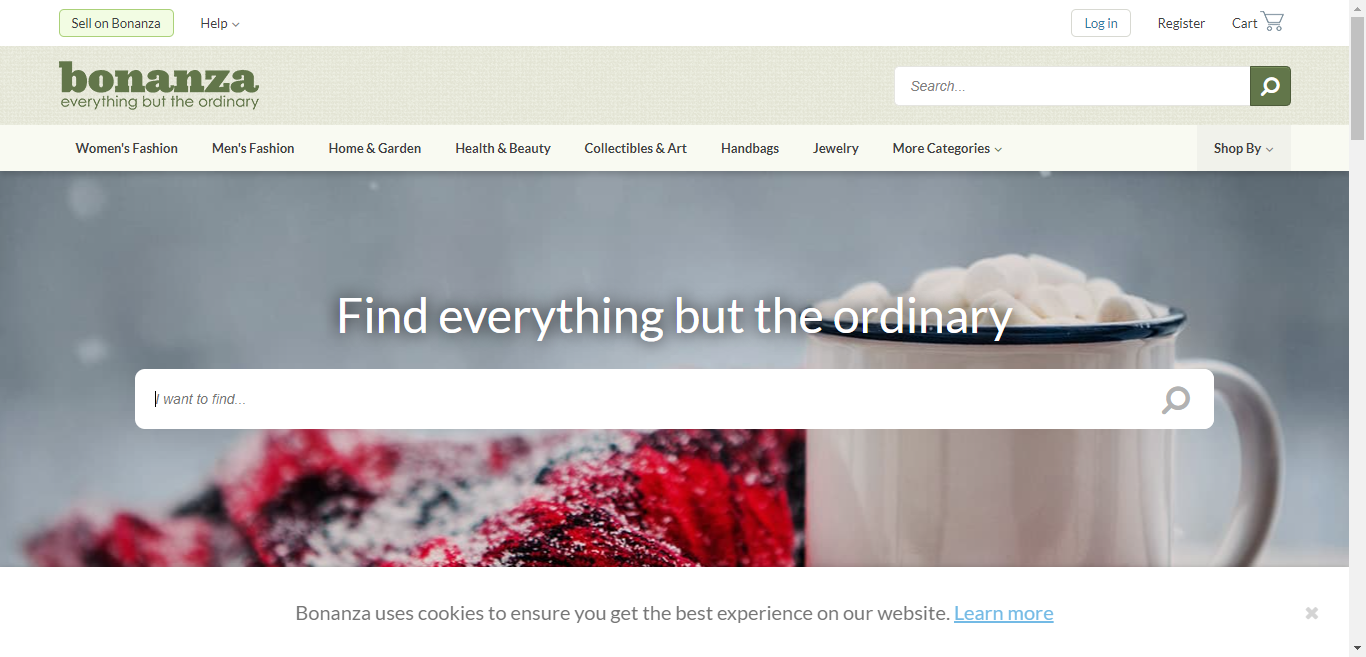 If you are looking for an eBay competitor, or simply a new marketplace to expand your reach and customer base, Bonanza is another good option. Bonanza brings in more than 5 million visitors each month, and is a truly global platform, with users in 199 countries – a claim that cannot be matched by eBay or Amazon.
Although Amazon and eBay have more users, Bonanza has a greater worldwide reach, and so is an ideal tool for those planning to export their goods internationally. Bonanza also makes things as easy as possible, the site allows you to integrate your products from these platforms to your Bonanza selling profile.
You are free to list things and your fees will be calculated according to something Bonanza calls the final offer value (FOV), which is basically the price of the item plus shipping beyond $10.
There are also membership packages ranging from Silver $12/month to Titan Ad Pro for $250/month, if you pay for the whole year. This falls far below eBay's options that top out at $2,999,95 per year for the Enterprise membership. It has a total five membership tiers, not including the free option, each with its set of advertising and analytics options. In the free option you can select your commission level without paying anything upfront. Compared to Amazon and eBay, Bonanza claims to have the lowest selling fees, while your direct sales through your booth, or your mailing list, or your social media groups will actually cost you nothing.
Bonanza falls well within the 1500 most visited websites in the United States.
What if you are selling in a specific niche, like furniture, home accessories or decor? In that case, Chairish, founded in 2013, is for you. This platform is not for most buyer-resellers, but it has its place in this list, as not all resellers are looking for the same thing.
The first, and most important thing, to note is that listing on this platform has to meet a certain standard. It is not as easy as buying unbranded items in bulk and listing them. In fact, Chairish has a team of curators who make sure the item you would like to list passes their standard.
There is a return policy in place that will allow the buyer to test the item for two days and decide whether they will keep it or return it. When they do decide to keep the item, the seller gets paid. Chairish notes that shipping is arranged by them, unless the buyer wants to pick up the item in person.
Once you register for a free Chairish account you can add listings for free. However, there are fees on the sale. When you set up your account, you are a Consignor by default. You will remain at the same seller plan as long as you have less than ten active listings and the platform takes 30 percent commission on each sale. The second free membership is the Professional plan, which means you have more than ten active listings. Commission is now 20 percent on any vintage or pre-owned item, while newly made and made to order products are sold with a 30 percent commission.
There is also an Elite membership which comes with a $149/month price tag and comes with certain benefits, like expedited payment, a flat 30 percent commission, bulk listing, a dedicated account representative and a few more bells and whistles.
To collect earnings from your sales through Chairish, you need to provide PayPal information.
Similar to Facebook Marketplace in terms of reach, Craigslist, founded in 1995, is a platform to sell and search for anything you'd like in your local area.
It was started as an email distribution service before becoming a web-based service in 1996 and expanding into the classified categories. Until 2000, it was available in San Francisco only and now it is available in 570 cities in 70 countries.
The classifieds found on Craigslist have almost no boundaries, as you can create listings for product sales, service offerings or anything else as long as it is within the site's terms of use. You can even use it to call people to come to your party, it has been done before.
In order to create a listing on Craigslist, you first need to create an account with your email address, which you will use to follow further registration steps.
You can submit free posts without an account by choosing the city where you will provide the service or sell a product. Simply click "go" and follow the steps.
There are around 80 million ads posted on Craigslist each month worldwide.
Posting prices vary, and since we are looking to sell merchandise, all sale-by-dealer postings will cost you $3 to $5 per listing. There is also a paid posting account which comes with a number of additional options such as invoicing and paying invoices online. This type of account can be created through the online application form. These accounts are suited to high-volume posters and also include additional payment options.
While the website design is basic, there are still 60 million people using Craigslist, and the site has around 50 billion pageviews per month! However, as mentioned before, the platform is slowly losing out to Facebook Marketplace, and even OfferUp, which are more user-friendly. Both provide great smartphone solutions, which Craigslist can't match. Craigslist launched its mobile app in December 2019 with the same minimalistic approach.
Unlike Amazon, which has some of the strictest rules regarding resale of liquidated merchandise, eBay, is geared more towards the beginners in the sale and resale business and presents itself as a lot easier to use.
Initially started as a platform for individuals to sell their own products locally and further afield, eBay's business model from the start was to bring in as many non-professional sellers as possible to build their community of buying and selling for low fees.
However, a business account is required if you are looking to sell large quantities. Business memberships range from Starter pack for $4.95 if you pay for a full year subscription, up to $2,999.95 for the highest package, the Enterprise.
eBay's fees are also lower than Amazon's. Although, this may vary from category to category, eBay usually charges a flat 10% selling fee, as opposed to Amazon's 15% commission (processing fees included). eBay's flat fee does not include PayPal's payment processing fee (2.9%+20p). Bear in mind that using eBay's FBA service will cost you additional fees.
eBay is also a platform that has a large global reach with 182 million users worldwide and some 23 international marketplaces, which compares to Amazon's 14.
In regards to selling liquidated merchandise on eBay, you deal with them as with brand new products. However, for your own business' sake, you should always note and inform your buyers that the items have been sourced through a liquidation company and what sort of merchandise you are selling in order to avoid returns or bad reviews on your account.
Established in 2004, eCrater has been awarded 10th place in the EcommerceBytes marketplace survey. The platform offers free creation of a personalized storefront with no monthly fees, but there are some things it is lacking compared to the other top players in its segment.
The first advantage it has over any other similar site is the fact that there are no monthly fees or seller registration fees. And unless you are using eCrater tools to drive sales, you don't have to pay any final value fees. If you do use the help from eCrater to sell your items through the main marketplace, you will have to pay a 2.9% sales fee.
The downside, however, is a small user base. There are some 65,000 users of this online auction site. It receives around 2.3 million visits per month, which means it can't compete with the reach of many other online auction sites. However, it does offer integration with Google Shopping and Google Analytics for better tracking.
An additional challenge is the fact that shipping with this service is limited to the United States only. It does provide a number of payment options, such as PayPal, credit card (through Stripe), money orders, checks and Collect and Delivery.
So, while it can't compete in reach with top players in the field, it does offer hassle free web store builder and online marketplace, potentially perfect for someone who would like to test the waters in the online sale and resale business without all the fees and competition. You can consider this a great 'starter' platform to build some experience with little to no cost.
A fairly young company (established in 2017), Etsy is an American eCommerce platform for handmade and vintage products and crafts supplies. If you are someone dealing with hand-made products or vintage goods older than 20 years, give Etsy a try. It is the 66th ranked website in the world, according to Alexa.
Becoming a seller on Etsy is free and you can open your shop using your email address, Google, Facebook or Apple accounts. Once you register, you will deal with three types of fees.
Etsy charges a $0.2 listing fee for each product. There is also a 5 percent fee on the sale price that includes the price of shipping. If you are using PayPal as your payment service you have to take PayPal's fee into account as well. There is also an advertising fee in case you decide to participate in Etsy advertising services. This is all available under the tsy Standard subscription plan which is free.
The only paid subscription plan Etsy offers is Etsy Plus which comes with a price of $10 per month. The plan provides you with tools to attract more buyers to your Etsy store, credits to list your products and ads and further bells and whistles.
The platform hosted 516.4 million visitors in December 2020 and it is a large customer base that you should consider tapping into.
As a major social network, Facebook has grasped the opportunity to offer its users a platform to sell merchandise. Facebook Marketplace has been set up as a platform to sell merchandise locally. 
You access the marketplace through your private account, by clicking on the Marketplace icon. From there you can create new listings, adding items for sale by filling in the required information. The platform started off in a select number of countries, like the United States, Canada, the United Kingdom, Australia and New Zealand. The feature is being gradually introduced to more countries.
The benefits for selling through Facebook Marketplace are multiple. There are more than 220 million Facebook users in the US, which is a huge potential market. It is more likely, thought, that you will sell locally through the site (though you do have the option to sell nationally). Selling products locally reduces or completely removes shipping fees, allowing you to sell your products at a lower price than you can on other platforms, that would require you to ship your products.
The big selling point for Marketplace is that, unless you use additional plugins or tools, it is completely FREE to use. This means risk-free listings, with no listing fees, or percentage-of-sale fees. If you use Facebook's Commerce Manager to manage your listings, there is a flat 5% fee on sales.
Businesses can also use the Marketplace to show retail items inventory, advertise their store on Marketplace or display items from Facebook Page shop.
In terms of competition, it seems to have replaced Craigslist for local sales in 2020. According to CNBC, Facebook Marketplace was rated as "easier, faster, and more trustworthy than Craigslist." Being the largest global social network, there is no shortage of know-how when it comes to showing the right products to the right audience.
Facebook Marketplace is a great, free, way to test out your local community marketplace – find out what sells well in your area, and become a local asset, with the minimal cost of time and money.
You may recognize this name in India as an online bookstore. Flipkart now claims to be India's largest online store for smartphones, fashion, electronics and a number of other goods. In 2018, the company was acquired by Walmart for $16 billion.
Flipkart's visits come mainly from India, and 190.5 million visitors each month is a huge potential for any seller. But international sellers have sometimes found it a bit tougher when it comes to selling on the platform.
In order to register on Flipkart, you are required to have a local business registered, similar to Rakuten, as the registration process requires submitting local documents. These include GSTIN or PAN Card in order to sell as a sole proprietor and you will have to add a business PAN in order to sell as a company. Additionally, you are required to have a bank account and supporting documentation, which include proof of address in India.
If you do clear the hurdle of registering a business in India and importing goods into the country, listing your products is free, just like registering on the website. However, there is a seller commission, which is calculated based on the item value and varies across categories and subcategories. Flipkart offers a pricing and fee calculator for its sellers. It also rewards reputable sellers with tiers that come with a number of benefits.
Despite the hurdles, if you plan on exporting goods from the US to the most populous country on earth, you need to be on this platform, which is the 86th most visited website in the world. Even if that means opening a remote office in the country.
Continuing in a similar format to Craigslist and Nairaland, Gumtree is a British classifieds and community website. Actually, with its 35.7 million visitors each month, it is the number one classifieds site in the UK.
The platform is for the most part free. You can list and sell items without fees unless you are looking to advertise your product. This includes getting to the top of the listings. If you are a business looking to use the Gumtree platform, you will have to pay a fee to post ads and use the platform's main seller features. The pricing of the ad boost and feature use on Gumtree depends on the period you'd like to have your post advertised (3, 7 and 14 days). It will also depend on the category you are posting in.
Like many other classified sites, it has to tackle scams and fraudulent activity. Unlike Facebook Marketplace, you don't have access to user information, so there is always a problem in trusting that local sales will go through, once an ad has been answered.
Gumtree is well within the top 100 visited websites in the UK, giving you a huge user base to view your posts. Like other classified ad sites it is largely focused on attracting a local audience, to cut down on shipping costs.
If you're planning to export from the USA to sell in a market such as the UK through these websites, it is best to work with someone local who can organize these sales on your behalf.
If you are looking to expand your reach into Latin America, Linio is a great option. According to Linio, the eCommerce platform has over 5.2 million customers and over 10 million products in its catalog. SimilarWeb puts its monthly traffic at around 200,000 visitors, although its combined numbers with websites specifically targeting other countries in Latin America, Linio puts its number of visitors at a healthy 24 million.
The platform enables members to sell almost anything, and it is not mandatory to speak Spanish as the platform is fully in English, with translation and Spanish content creation services available. 
Additionally you are not required to establish a company in Latin America in order to sell as an international seller, which is a major advantage for the platform.
In order to become a seller on Linio, you have to fill out the Registration Form. You will go through an onboarding process where you will be guided through Linio's seller platform. Registration is free and no fees are charged before you make your first sale.
Once you are registered there is a $19.99 monthly fee for a selling plan. There is also a $0.80 commission fee on each item sold. There are additional referral fees that range from 8 percent to 20 percent, depending on the category.
The company uses the Payoneer platform to process payments.
If you are looking to drive sales in Central or South America, Mercado Libre is the perfect choice for you. Currently available in 18 countries, it prides itself on being the largest eCommerce and payments ecosystem in Latin America. 
The platform offers its users a number of services but let us focus on the Mercado Libre marketplace. This is a platform that offers its users an online trading service, allowing both individual sellers and businesses to list, buy and sell merchandise.
It offers access to its Mercado Libre Global Selling site, meaning you are able to sell all over Latin America. However, there are certain requirements you'll need to meet. During the registration process you will be required to provide information about your and your business, but you will also have to choose in which countries you plan on advertising and selling your merchandise. Also, make sure your products are not prohibited in any of the countries you choose.
You will not be charged a registration fee, nor a listing fee. You do have to take into account the seller commission which is 17% for Mexico, and 16% for any other country. The advantage you do have with using Mercado Libre is the developed logistics infrastructure, which makes it number 1 in Latin America, ahead of the giants like Amazon and Alibaba. Its understanding of the unique environment in which eCommerce platforms have to operate when it comes to Latin America, has greatly helped Mercado Libre.
This is why the company has already partnered up with DHL for US and MailAmericas for its Chinese sellers. The process is also streamlined by the availability of local language customer support, which can help with your seller reputation.
The platform brings in some 34.2 million visits each month with 41.2 percent coming from Argentina alone.
Founded in 2013, Mercari is a Japanese eCommerce company that expanded its operations into the United States a year later. It then expanded to the United Kingdom in 2016.
The platform can be accessed through a website and a smartphone app that allow users to buy and sell anything. The company noted there are over 350,000 items, new or used, listed each day.
Being a Japanese platform, most of its visitors are from Japan, at over 80 percent. Over the past six months, the platform averaged 99.6 million monthly visits.
In order to become a seller on Mercari, you have to create an account using either your email or your Facebook account. Listing is similar to any other eCommerce platform, and it is free. However, there is a 10 percent fee on every completed sale. There are other fees a seller may need to pay.
The platform also requires its sellers to ship products, eliminating in-person transactions, and processes all payments
Having a site rank sixth in a country with a population of over 206 million people, which is also in the top 1000 websites in the world is no small feat. This is why Nairaland is a perfect platform for sellers to penetrate the Nigerian, and wider West African market. To many in this part of the world, Nairaland is the first page of the internet.
Nairaland is an English-language forum and social networking website with over 2.6 million members and the discussion topics vary wildly. In fact, there are close to 6.9 million topics on the forum at the time of posting this article.
Joining Nairaland starts with submitting your email address and filling out required information later. There are no registration fees or membership packages. You can treat the forum as a Nigerian Craigslist because, once you join, you can advertise and sell anything on there by simply opening a topic, and providing information through a forum post.
The platform has a number of sections, so if you are targeting a specific audience, you have access to Nairaland's Targeted Ad Platform. You can find the full pricing list on the website, and the only requirement is to provide an adequate banner and submit it for approval.
With the site's popularity in the country, and 32.3 million visitors monthly, it is a platform worth exploring. The selling process can vary, and when posting either your banner ad or advertising a product through a forum post, make sure you navigate to the right category. There is almost nothing you can't sell, and if you scroll to the bottom of the page, there is a disclaimer saying "Every Nairaland member is solely responsible for anything that he/she posts or uploads on Nairaland."
Having that in mind, you may use the platform to look for potential partners, or businesses looking to buy merchandise in bulk. So if you are looking to sell small or large amounts of merchandise, exporting to West Africa, give Nairaland a try.
NewEgg is an American online retailer specializing in consumer electronics and computer hardware. It boasts over 40 million registered customers and also features a NewEgg Global program, which enables sellers to reach customers all around the world. 
In order to create your account it will require an email address and once you have completed the process you have three membership tiers to choose from. A Non-Elite tier means you pay a fee of $0.49 for each item sold. Higher-volume sellers could opt for Either Professional ($29.95/month) or Enterprise ($99.95/month) memberships. You will also have to pay a commission fee ranging from 8 percent to 15 percent depending on the product category and product type.
NewEgg notes that its customer base are tech-savvy buyers and the SimilarWeb data shows the website attracted around 47.9 million visits in December 2020.
If you are a seller dealing with consumer electronics NewEgg could help you reach a wider audience and expand your business further. NewEgg is one of the top visited 150 websites in the USA.
We are continuing with another platform that favors in-person transactions. OfferUp is a platform that was first developed for mobile and is a direct competitor of Craigslist.
The platform has averaged some 31.4 million monthly visits over a six month period – 98.5% of which came from the United States. The service was launched in 2011 to facilitate the sale and purchase of used goods. There is a list of items you can't sell, as with every platform, but OfferUp is known for being easy to navigate and sell though.
For sellers, listing on OfferUp is as easy as uploading an image from your smartphone or computer; you can snap a photo with your phone (through the app) and list it instantly.
The platform is optimized for smartphones and is available both for iOS and Android. Once you install the app, you can type in your location and go to Account in order to register. You have the option of creating an account using Facebook, Google or Apple accounts, or a different email address. The registration process is pretty much the same for the website option.
Posting on the platform is free, with some transactions including service fees, which will be shown to the seller when creating a listing. There are two paid options, Promote and Promote plus, which are there for the sellers to get their products noticed faster. The pricing depends on the period you would like to have your listing promoted.
If you're planning on selling online primarily through a smartphone, rather than a usual computer setup, there is no competitor for ease of use to OfferUp.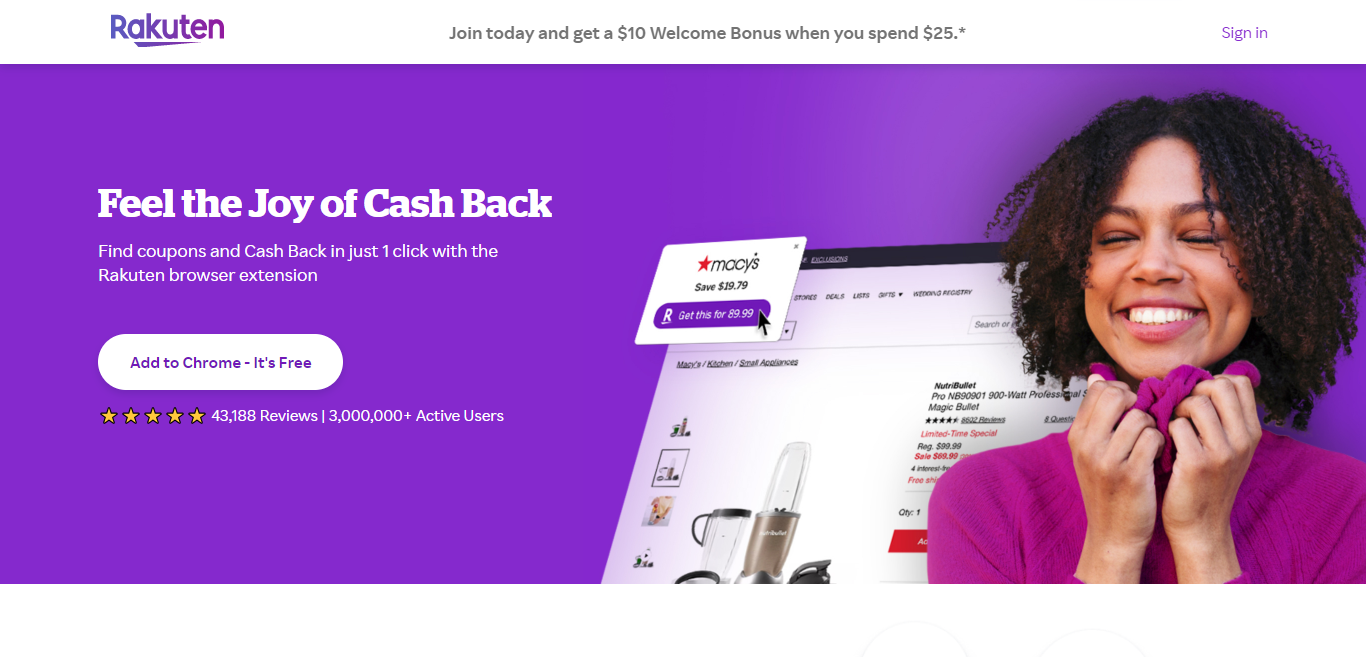 Let us now look at the first internationally based eCommerce marketplace, Rakuten. It is the Japanese counterpart for Amazon, one could say. Founded in 1997, it is now the largest eCommerce site in Japan. It has a 27 percent market share in Japan, compared to Amazon's 12 percent. Even Amazon sells on Rakuten. In fact, Rakuten is one of the top 200 visited sites in the USA, and in the top 600 worldwide. Rakuten is the perfect platform for international sellers that are proficient in Japanese, as this is the main language on the site for sellers.
If you are looking to go international, Rakuten is a great place to start. However, selling by Rakuten entails a lot more than simply registering on their website. There is a process you have to go through and it starts with the company's 'Onboarding Consultants'. The person assigned to you will lead you through the whole process of acquiring all the required documentation. This will be submitted for screening, and only after you complete the screening process can you go on to set up your store.
Passing the screening process will allow you to access the Rakuten Merchant Server where you can provide information about your company, load your products onto the site, update the return and shipping policy and create the storefront. Again, you have a Shop Open Advisor on hand to help you with the process.
Once this step of the process is complete, you will again be assigned an aide in the form of a dedicated E-Commerce Consultant who will be tasked to maximize your store's performance, according to Rakuten.
There is a catch, you have to be highly proficient in Japanese language as the interface is available only in Japanese. U.S. sellers are required to have U.S. bank and credit card accounts, a filled out W9 form, or a W8 form if you don't have a U.S. tax status. You must have a customer service email address, phone is optional and you must have adequate shipping times for U.S. customers.
If you don't own a business in the United States or Japan, you are required to sign a contract with Rakuten-approved service partners who will act as your local business (in Japan). You can complete your registration application here.
When you do go through the process of registering and opening your store on Rakuten, which will cost you around $550, there are more fees you have to take into consideration.
There is a fixed $39 monthly fee, then there is a $0.99 listing fee for each individual product and then the commission based on the category of the products you are selling. The commission ranges from 8 percent for Personal Electronics, Accessories and Hardware to 15 percent on the majority of other categories.
Additionally, all the payments are completed in Japanese Yen. So make sure you take foreign exchange rates into consideration.
In its battle for supremacy in Japan, Rakuten has taken a slightly different approach to Amazon. While the latter provides you with an eCommerce platform and tools that help you with the logistics, inventory tracking and basically everything else, having full control, Rakuten works as a sort of partner. With Rakuten you keep track of logistics, inventory as well as customer service. 
The next platform on the list comes from Canada. Founded in 2006, Shopify started as a snowboard store called Snowdevil, but its founder Tobias Lütke saw the need for an eCommerce platform and so Shopify was born.
This platform allows businesses of all sizes to create their own stores. It is essentially a cloud-based SaaS (software as a service) shopping cart solution that makes your life easier when it comes to setting up your own store.
It is a subscription-based service that comes with free and paid templates, making the store setup quite easy. It offers a 14-day free trial with further options you can use, depending on the requirements of your business. The plans range from the Lite plan for $9 per month up to the Shopify Plus plan for high-volume merchants starting at $2,000 per month.
Shopify claims over 1,000,000 businesses in 175 countries have made $200 billion in sales using the platform.
In the end, shopify is a complete eCommerce solution for businesses of all shapes and sizes, and has become a market leader. However, there are competitors emerging, like BigCommerce which offers packages with no transaction fees, unlike shopify. There are even solutions that are free and open source, meaning, no monthly fees, like WooCommerce, although those are only available on iPhone and iPad.
Despite the success of its compatriot Flipkart, Snapdeal, founded in 2010, claims to be India's largest online marketplace with an assortment of 60 million products in 800 categories from regional, national and international brands and retailers. The company boasts 300,000 sellers and some 24.2 million monthly visitors with deliveries to over 6,000 cities and towns in India.
Registering as a seller on Snapdeal is free. However, you are required to provide a GST Number (Goods and Services Tax number), or a Permanent Account Number (PAN). This again means that you need to register a business in India in order to be eligible for registering on Snapdeal.
However, once you complete the registration process you can list your products for free. Also, upon registration, you will be provided with the complete commission structure which is payable upon sale completion.
If you are looking to expand your reach into the Middle Eastern markets, Souq, the eCommerce platform available in English and Arabic is the place for you. It is the largest platform in the Arab world, and it is no wonder that in 2017, Amazon paid $580 million to acquire it.
During the last month of 2020, the website recorded 12.63 million visitors. Being an Amazon company, you are likely to get accustomed to the design fairly quickly. The categories of merchandise you can sell are also similar.
In order to sell on Souq, you have to register for an account. You will be required to provide personal and business information, contact information (you are required to verify your account) and the pick up location.
Membership is free; however, you will be charged transaction fees as you sell products. You will also be charged listings fees for those who opt to use special listing features.
The platform has different fees for sellers from different regions, as well as different Fulfilment By Souq fees and Easy Ship fees. Saudi Arabia and the United Arab Emirates and Egypt have their own fee structure.
Takealot is South Africa's largest e-commerce company. Based in Cape Town, it was founded in 2011 and has been the major driver of online shopping growth in South Africa. In fact, it is ranked as the number eight most visited website in the country.
According to SimilarWeb stats, 96 percent of the 12.6 million monthly visitors come from South Africa, while the United States and UK customers are showing an interest with minor share in the overall visits mix, but a 23.8 and 11.2 percent growth respectively. Many visitors from the UK and US will be sellers looking to export.
In terms of competitors in the South African market, Takealot holds the first place with 24.8 percent according to the Accentric Online Retail Brands Report 2020. It is followed by Amazon (18.3 percent market share) and makro, 17.2 percent share. Even companies like Amazon and Alibaba entering South Africa's market don't phase the company, as the CEO, Kim Reid, claims they have the 'home turf advantage'.
Like Amazon, Takealot has created a complete solution for retailers to do business, providing logistics, online payments and end-to-end solutions.
In order to become a seller you have to go through the application process where you are required to provide details about your business. Once you are approved, you move to complete the Takealot Seller account and to learn about all the processes.
There is a fixed R300 ($19.9) monthly account fee, which can be cancelled at any time. There are also success fees, fulfilment fees and storage fees, which vary by the category.
Contact Takealot for further details on registering for a Takealot Seller account and entering the South African market through its leading e-Commerce platform.
Another platform aimed at mobile shoppers is Tophatter. Founded in 2009, Tophatter was created as an auction site that will provide a seller with a quick sale and the buyer with a chance to save some cash on their purchase.
It has a unique sales setup. The format of closing each auction within 90 seconds means there is an 80 percent sell through rate on the platform, which has over 300,000 new shoppers each month and 500,000 items sold on a weekly basis. The platform is live in 14 countries.
Bear in mind that auctions start at $1 to attract bidders. This means you should list items that are appealing, as buyers come to Tophatter usually for cheap gifts for them or their friends and family. The platform is also ideal for those selling electronics accessories and clothing.
During the store setup process you will also be required to set the shipping price and regions.
There are also fees to consider, which are deducted before the payout. You may list the item for free, and agree to seller fees like a flat 9 percent commission fee. There is also a scheduling fee if you would like to get your products into prime auction slots. Then, there is a processing fee which is 2.9 percent + $0.3 for each paid order. Then you have the reserve fee which is $2 per schedule and means you can set a Reserve Price for your item. There are also other fees like Chargeback fees, shipping label fees, etc.
All in all, Tophatter has a complicated fee structure, but does provide you with an option for a quick sale. So if you are strategic with the items you are selling and their pricing, Tophatter is worth exploring.
Conclusion
Going through the list, you will have noticed that every platform has its own set of rules and requirements. Some allow you to list merchandise for free, others have a listing fee. Some are there to help you set up your own website and others require you to open a business in the country they operate in.
Each platform has its own suite of seller tools designed to help you keep track of the inventory, orders, shipping and customer complaints/reports. Which one or ones you will choose depends on the specific conditions and requirements of your business, your appetite for expansion and the scale at which you'd like to expand your business. These are the key factors that will determine how many platforms you decide to sell on. We hope this list gives you enough information to find the platforms that fit your needs.