Starting a Liquidation Business in Texas: What You Need to Know
This guide will look at everything you need to know about starting a liquidation resale business in Texas.
What is a Liquidation Resale Business?
A liquidation resale business is one that resells inventory liquidated by major retailers and product vendors. There are three main types of liquidated stock. These are:
Customer Returns
Customer returns are products bought by customers that are returned to a retailer. There are numerous reasons why customers return goods to retailers ranging from the items turning out to be faulty to customers changing their minds about their purchases. When products are returned, they are resold to liquidators if they cannot be placed back on shelves or sold via a retailer's discount arm.
Overstock
Overstock is a term applied to brand new goods that major retailers have never sold to the public. Overstock typically includes seasonal goods, non performing stock or items being replaced by version upgrades.
Closeouts
Closeouts is a term used for stock coming from stores that are closing down, relocating, or being renovated. Closeouts consist of brand new stock.
Source: Texas Governor, 2022.
Starting a Liquidation Resale Business in Texas
Step 1. Create a business plan and budget
A business plan is a formal document that outlines what your business is, what goals it aims to achieve, what methods you'll employ to achieve those goals, and what time frame you expect to achieve them. It should also explain what value you expect the business to have, how you will finance it, and what advantages you believe you'll have over your competitors. The US Small Business Administration has a set of templates that will help you put together a plan.
Financing your resale business.
You need to ask several questions when considering how you'll finance your business: Do you need to find financing? What financing is available? Do you need to bring on business partners or investors – or do you just want to start small and re-invest profits? There are numerous ways to fund a new business, such as using your own capital, raising money from friends and family, taking out a bank loan, taking out a federal loan with the US Small Business Administration, funding your business on credit, and even crowdfunding. For more information on financing your new business, check out this helpful guide from the USSBA.
Step 2. Register your business
Whether you're the sole proprietor of your business or you've gone in with a partner, you'll need to register your business with your local county clerk's office. If you later decide to incorporate your business, information on how to do this can be found on the Texas Secretary of State's Office website. You can also register your business on that website after choosing what legal structure is the right fit for your incorporated business.
Source: Business News, 2022.
What is the tax structure for small businesses in Texas?
Texas is one of only five states that does not charge sole proprietors 'franchise tax' – the state's business tax. Nor does it charge personal income tax or fees. This means you'll be able to invest more of your money into your business.
There is also no franchise tax to pay for businesses with total revenue below $1.08 million yearly or with total tax liabilities below $1000. Taxable businesses that earn less than $10 million a year are eligible for a franchise tax discount. This generous approach to tax makes Texas one of the best states to start a small business.
Step 3. Apply for a Texas Sales Tax Permit
To start selling liquidated merchandise in the state, you need to apply for a Texas Sales Tax Permit. This permit allows you to not pay tax on items purchased purely for the purpose of resale.
Applying for a Sales Tax Permit in Texas is free, though you may have to pay a security bond. You can check if you need to pay a bond here. Check out our comprehensive guide on applying for a Texas sales tax permit.
Step 4. Use available storage (or rent inexpensive storage)
Storing merchandise will become more of a concern as your business grows. At first, most sellers can store their merchandise for free in a spare room or garage. However, as your business grows and customer demand increases, you'll inevitably run out of storage space. That's when you'll have to look around for a cheap and reliable storage solution. You may have a friend or family member who can help you out for free or a small fee. If not, you'll have to consider hiring space. Prices vary depending on the facility you choose, so you'll have to factor the monthly storage cost into your budget. You can find more information on places in Texas that offer storage facilities here and here.
Step 5. Secure liquidation inventory suppliers
You can search online for liquidators across Texas. You can use search engines to find their websites, use Google My Business listings or search through Facebook for liquidators in your local area.
When searching for liquidators online, try using search terms such as 'liquidator near me' and liquidation + the name of the city or county you're looking for'.
You can also look for liquidators by searching for specific products using search terms such as 'appliance liquidator 'and 'electronics liquidator.'
You can also find merchandise by searching for specific manufacturers. Try using search terms such as 'Apple liquidation', etc.
Finally, you can also look for online liquidation marketplaces. Try searching for terms such as 'liquidation marketplace' and 'online liquidation auctions.'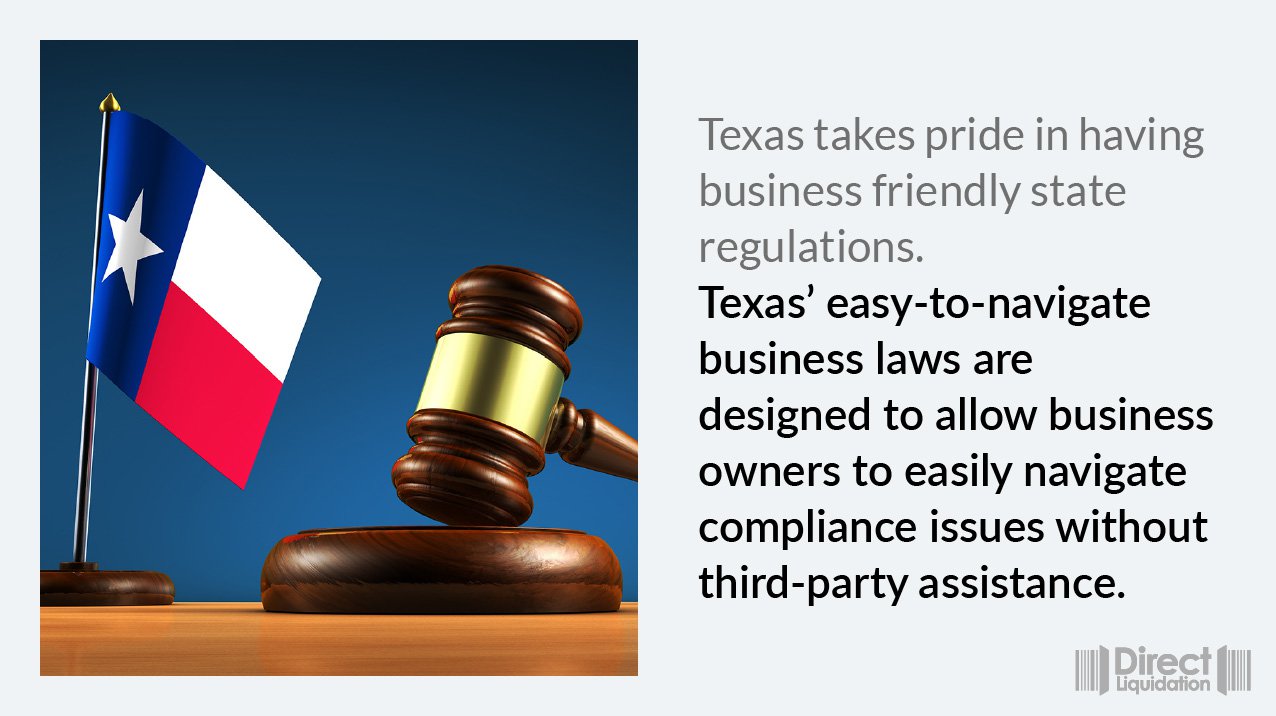 Source: Texas Governor, 2022.
You'll need to ask a few questions of any potential supplier:
Do they have a minimum order policy? If they have a lower limit to how much you can buy from them, they may not be a good fit for a startup business as you might not need as much stock as they require you to buy.
Do they offer free pickup? Suppliers who allow you to pick your orders up from their distribution centers are preferable to those that don't because they'll save you expensive shipping fees assuming they are in close proximity to you.
What products do they carry, and what retailers are they from? You'll want to find a supplier with a wide range of products, preferably from well-known and trusted retailers such as Walmart.
Step 6. Purchase inventory
Negotiating prices directly – Most liquidators are open to offers, especially for loyal customers. You can approach the liquidator directly if you have a price in mind. If they like what they hear, that's the price you'll pay. If you've built a good relationship with a liquidator, you'll likely have more offers accepted.
Bidding at auction – The most common way to buy liquidated stock is via an online auction. Auctions take place on liquidators' sites daily. Simply set an upper limit to how much you think a pallet is worth, and then enter bids up to that limit and wait to see if you're the winner. If you are, all you need to do is pay for your successful bid and arrange shipping.
Buy now – Some liquidators offer the chance to buy merchandise for a fixed price without bidding. This is a great option if waiting for an auction to finish is not something you have time to do.
Source: ForeignUSA, 2022.
Step 7. Receive and catalog inventory
Once you've received your liquidation merchandise, you'll need to inventory it before storing it. Check every item in your order against the manifest that comes with each pallet to make sure everything is there. Test all items that need to be tested, such as electronic items, and take note of anything faulty that can be fixed, as well as anything that can be put aside for spares and anything that needs to be disposed of.
As your business grows, it's a good idea to invest in a label printer and scanner so you can catalog inventory more efficiently. A digital inventory of goods assists you in tracking sales as well as assisting you in generating online sales listings if you plan to sell online.
Step 8. Sell your inventory using local channels
Start reaching out to customers in your area by using the following local sales channels:
Classifieds – It costs either nothing or very little to advertise your stock via local classifieds. This includes local newspapers and online sales sites such as Craigslist and OfferUp. For example, the Houston Herald offers two options to list items for sale on its site – $9.99 for a thirty-day ad or $6.50 for seven days. That's a bargain, especially if you attract plenty of customers as a result.
Flea Markets – There are currently twenty Texas flea markets listed on Google. Selling at a flea market is cheap and a great way to connect with local customers, especially the bargain hunters out there and customers on tighter budgets. Prices for a stall or a table at a flea market can be as low as $16 a day, or you can rent a monthly space for the relatively low price of $270, depending on what part of the state you live in.
Social Media – A great way to reach customers in your local area is via social media, particularly Facebook Marketplace. Advertising your products on Facebook is free, with a 5% fee applicable when a customer buys from you or for items under $8, a flat fee of $0.40.
Retail Storefront – Once you've had some success, and you're getting to learn your local market, it's worth considering opening your own storefront. This can be a great way to build real brand recognition and really scale up your operations. Don't jump into leasing commercial space until you really have a well established business.
Buying Liquidation Pallets in Texas with Direct Liquidation
One of the best sources of liquidation merchandise is Direct Liquidation's warehouse in Fort Worth. Direct Liquidation carries a vast range of customer returns, overstock, and closeouts that will suit the needs of most people looking to start a resale business. For those based in Fort Worth or its surrounding area, any pallets bought from the website can be picked up directly from the distribution center in person, saving money on shipping costs.
If you're looking to start up a resale business in the state, you should check out what Direct Liquidation has for sale in Texas Today.