Starting a Business in Texas: How You can Profit from Liquidation
Buying liquidation merchandise to resell in Texas can be a great side hustle or full-time business. Our guide will walk you through starting a business in Texas, how to source liquidation pallets in Texas, the market for liquidation merchandise in the state, as well as how and where you can sell this merchandise.
What are Liquidation Pallets?
Products get liquidated when a company goes out of business but there is a lot more to liquidation than the closeout process. Liquidation also plays an essential role in a retailer's reverse logistics process. Items that are returned by customers or do not sell with enough velocity are also liquidated.
This is a great opportunity for discount retailers, flea market vendors, online sellers or anyone looking to start a side hustle to source their products for less by buying a retailer's liquidation merchandise to resell.
This surplus merchandise is often liquidated at low price points for a quick sale – creating a business opportunity for you. You will find liquidation merchandise in Texas falls under one of these main classifications:
Customer Returns – Customer returns are products bought by a customer, in-store or online, later returned. This can happen for various reasons, such as buyer's remorse or the item not working. When a returned item cannot be put back on the shelves (or relisted online), the retailer will liquidate it.
Overstock – Overstock is brand-new stock that was never sold to customers, often due to seasonality or version upgrades. Also known as 'store stock' liquidations.
Shelf Pulls – Shelf pulls (also known as 'jobouts') are products taken off shelves because they did not sell. Often, these are older versions or end-of-life items, or seasonal products.
Closeouts – Closeouts are products taken from stores that have closed, moved, or are undergoing renovation. This merchandise is also brand-new.
Learn more about surplus merchandise and why it is sold in these categories with our guide: What is liquidation?
Why Sell Liquidation Merchandise in Texas
With a GDP of $2 trillion in 2021, the economy of Texas is the second largest in the US.
With over 30 million inhabitants, Texas is the second most populated US state.
In Texas, 2.7 million small businesses employ 4.7 million people.
There are no corporate or individual income taxes in Texas, nor are there state property taxes.
The regulatory environment fosters small businesses: the rules are clear and easy to comply with.
The economies of the largest metropolitan areas in the state (Dallas-Fort Worth, Austin, Houston, and San Antonio) keep growing, stimulating the rest of the state economy.
Texas is a national transportation hub. Taking the Dallas/Fort Worth area as a starting point, a truck can reach 93 percent of the country's population within 48 hours and 37 percent within 24 hours.
Texas airports are some of the largest and busiest in the country and the world.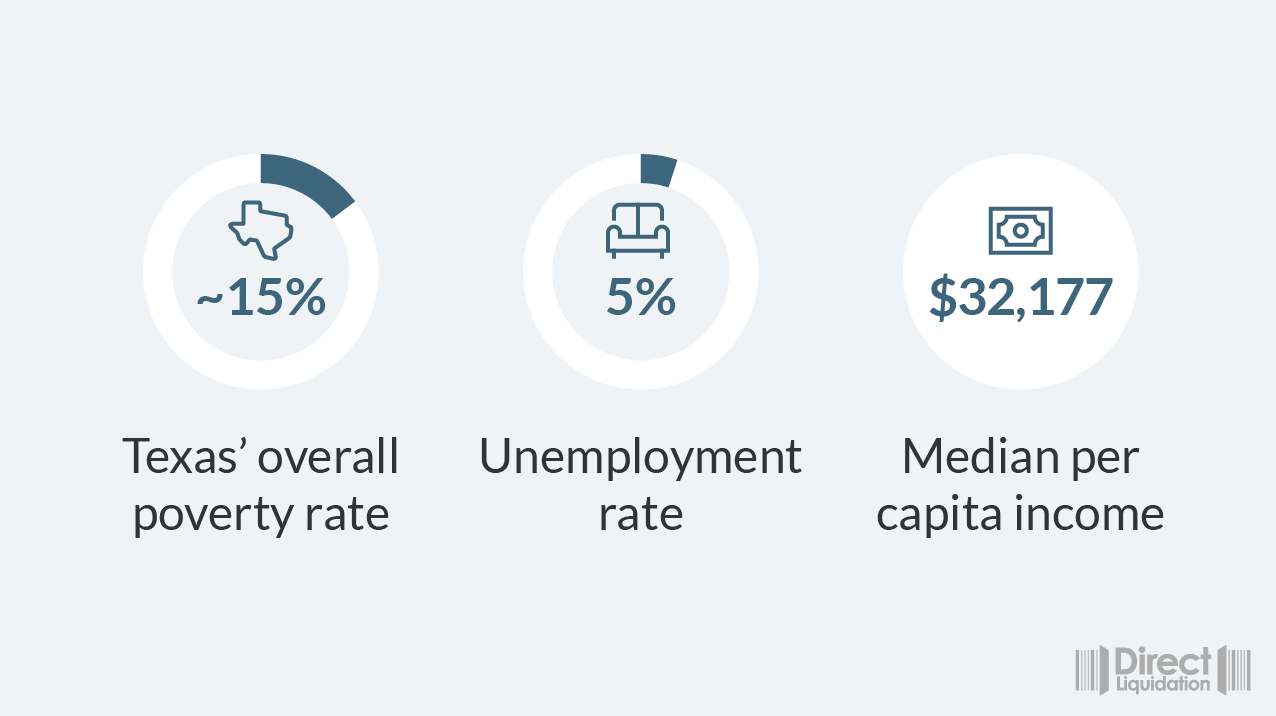 Source: US Census Bureau, 2021.
Starting a Business in Texas Selling Liquidation Merchandise
Taxes and Incorporation
A professional tax consultant, accountant, or attorney can help you make sure that you meet all legal requirements before opening your business.
Texas has divided the process of starting a business into seven basic steps.
Step 1 – Create a Business Plan
A business plan outlines the primary purpose and value proposition of your business, its structure, financing, and competitive advantages. Check the U.S. Small Business Administration's (SBA) templates.
Step 2 – Choose a Business Location
Choose the location for your business to operate from. Look at area zoning ordinances.
Step 3 – Secure Financing 
There are multiple ways of funding your new business. Check the SBA's guide. Community Development Financial Institutions (CDFIs) also offer microloans. Find your nearest CDFI in Texas with the online CDFI locator. Visit Texas's Financing and Capital webpage for more information.
Step 4 – Determine a Business Structure & Register
Determine the appropriate structure for your business. Sole proprietorships and partnerships must register and file a business name (DBA or assumed name) with the local county clerk's office. Check the Secretary of State's Office (SOS) website for information on choosing the right legal structure for you. You can also register the new legal entity on the SOS site.
FAQ Videos on Business Structure & Registration in Texas
Step 5 – Determine Tax Obligations
Determine the potential tax obligations of the new business with federal, state, and local tax authorities. Federal tax obligations are filed through the Internal Revenue Service (IRS). State tax filings are done through the Texas Comptroller of Public Accounts (CPA). If starting an online business, this online Marketplace Seller tax information is useful. For questions about local business and property taxes, consult your county's appraisal district or tax assessor-collector. Find your local appraisal district and tax office on the CPA's website.
Step 6 – Acquire Business Licenses and Permits by Business Type
A general business license is not required in Texas. However, it is crucial to determine the necessary licenses, permits, certifications, registrations, or authorizations for a specific business activity, at the federal, state and local levels. The 2022 Texas Business Licenses & Permits Guide offers a comprehensive listing of state permits and licenses required for persons wanting to operate a business enterprise in Texas. For more information or assistance, please contact Texas Economic Development & Tourism's Business Permit Office (BPO).
Step 7 – Employer Requirements
If planning to employ staff, determine federal and state employer requirements. To learn more about Texas employer resources, visit the Texas Workforce Commission's businesses and employers webpage.
Taxes
Texas charges small business taxes as 'franchise taxes.' A franchise tax is not based on income but on your entity's net worth. Small businesses below a certain amount of income pay no franchise taxes. From 2021, the income amount is $1,180,000. This means smaller enterprises pay no business tax at all.
Exempting Resale Merchandise from Sales Tax
According to Texas law, certain purchases of taxable items are exempt from tax. If you are buying products for resale, you can avoid paying sales tax in cases where the supplier accepts the completed Texas Sales and Use Tax Resale Certificate (Form 01-339). Learn more about incorporation and the process of applying for a sales tax permit in Texas in this guide.
Storage and Commercial Space
When buying liquidation pallets in Texas, you need space to store merchandise. If you're just starting, it's best to use a spare room or garage to minimize costs. If you need more space but are not looking to move up to a full warehouse, you'll be happy to know there are plenty of storage units in the state. In 2020, there were 5,234 self-storage facilities in Texas, making it the state with the highest number of such facilities in the United States.
Before you start looking for storage units, you need to consider the additional costs and how this will impact your profitability.
Prices are rising as the Texas economy recovers from the pandemic. Using Dallas as an example, 10'x10' non-climate-controlled units saw a 7.6% year-over-year increase, with an average of $128/month in February 2022. In the same city, a 5×5 self-storage unit rents for $43, while a 5×10 unit would cost $71/month. Average rates for a 10×20 unit stand at $206/month.
Costs (for 10'x10' units) will vary in other cities:
Lancaster: $131/month
Austin: $121/month
San Antonio: $111/month
Irving: $100/month
Houston: $96/month
To find storage units near you, try adding terms such as "storage units near me," "self storage in texas" or "self storage [city]" into a Google search, or use a storage directory such as Storage Cafe.
Source: CNBC, 2021.
Hiring in Texas
Expanding your business requires investing a lot of time and effort, which can be in short supply. You may want to consider hiring employees to help you with the extra work. This brings additional costs that you need to account for when scaling your liquidation resale business. Check the local rules with the Texas Workforce Commission's businesses and employers web page and our guide on hiring tips when scaling your liquidation business. 
Preparing Liquidation Merchandise to Resell
Some liquidation merchandise will be resale-ready immediately but if you are buying customer returns in particular you can expect to put in some work to make these items saleable. Check out our guides that include tips on how to add value to liquidation merchandise:
Selling Liquidation Merchandise in Texas
Local Sales Methods
Many buyers prefer to shop locally and deal directly and in person with sellers. Likewise, selling in your local area allows you to build direct relationships with your customers. Good customer service motivates customers to come back and leads to new customers being attracted to your business through word-of-mouth.
There are various avenues to selling locally:
In-Person Local Sales
Retail Space
Setting up your own discount retail space will allow you to make your liquidated products available to potential local customers and increase the visibility of your business within the community. Choose an area with high foot traffic or that can be seen from a roadway with heavy traffic.
The downside is the cost. Besides rent, you will need to factor in taxes, utility bills, and staffing costs, which can quickly grow, especially in prime locations.
Logistically, you need a reliable supplier that will keep your shelves full with a steady stream of merchandise.
A directory such as Showcase will show you what retail space is available in Texas.
Garage Sales
Garage sales are particularly suited to selling non-performing inventory, which allows you to clear storage space. Find out from your city authorities and/or Home Owner's Association when and how garage sales can occur in your neighborhood.
Flea Markets and Swap Meets
Flea markets and swap meets are ideal locations to sell discounted merchandise from your liquidation pallets in Texas, allowing you access to customers without the overheads of managing a full retail location. Here are some of the largest in the state:
First Monday Trade Days | 1 903-567-6556
800 First Monday Ln, Canton, TX 75103
Bussey's Flea Market | 1 210-651-6830
18738 I-35, Schertz, TX 78154
Traders Village Grand Prairie | 1 972-647-2331
2602 Mayfield Rd, Grand Prairie, TX 75052
Big Daddy's Flea Market | 1 903-432-4911
2513 N Tool Dr, Tool, TX 75143
Third Monday Trade Days
4550 W University Dr, McKinney, TX 75071
Traders Village Houston | 1 281-890-5500
7979 N Eldridge Pkwy, Houston, TX 77041
Austin Country Flea Market | 1 512-928-2795
9500 US-290, Austin, TX 78724
Texas Pickers 1st Saturday Antique Sale & Flea Market | 1 281-914-7861
2241 FM 2988, Navasota, TX 77868
Pasadena Indoor Flea Market | 1 713-941-9900
2222 Spencer Hwy, Pasadena, TX 77504
77 Flea Market | 1 956-350-9425
5955 N Expy, Brownsville, TX 78526
Larry's Old Time Trade Days | 1 409-296-3300
14902 FM1663, Winnie, TX 77665
Cole's Antique Village & Flea Market | 1 281-485-2277
1014 N Main St, Pearland, TX 77581
Olde Security Square Flea Market | 1 281-592-6017
20024 TX-105, Cleveland, TX 77328
Cattle Barn Flea Market | 1 859-513-5246
4443 River Oaks Blvd, Fort Worth, TX 76114
Bar W Field Warrenton / Round Top TX Antique Flea Market | 1 979-885-8762
4001 Texas 237, Round Top, TX 78954
The Market at Forest Hill | 1 682-841-1994
3636 Mansfield Hwy, Forest Hill, TX 76119
Bandera Flea Market | 1 210-444-9999
1331 Bandera Rd, San Antonio, TX 78228
Fredericksburg Trade Days | 1 830-990-4900
355 Sunday Farms Rd, Fredericksburg, TX 78624
The National Flea Market | 1 806-744-4979
1808 Clovis Rd, Lubbock, TX 79415
Mercadome Flea Market and Alamo Dance Hall | 1 956-781-1911
1602 W Expy 83, Alamo, TX 78516
Jack's Flea Market of Texas
1395 S Beckley Rd, DeSoto, TX 75115
Don-Wes Flea Market | 1 956-464-3502
208 N Victoria Rd, Donna, TX 78537
Pearland Flea Market | 1 281-485-2277
1014 N Main St, Pearland, TX 77581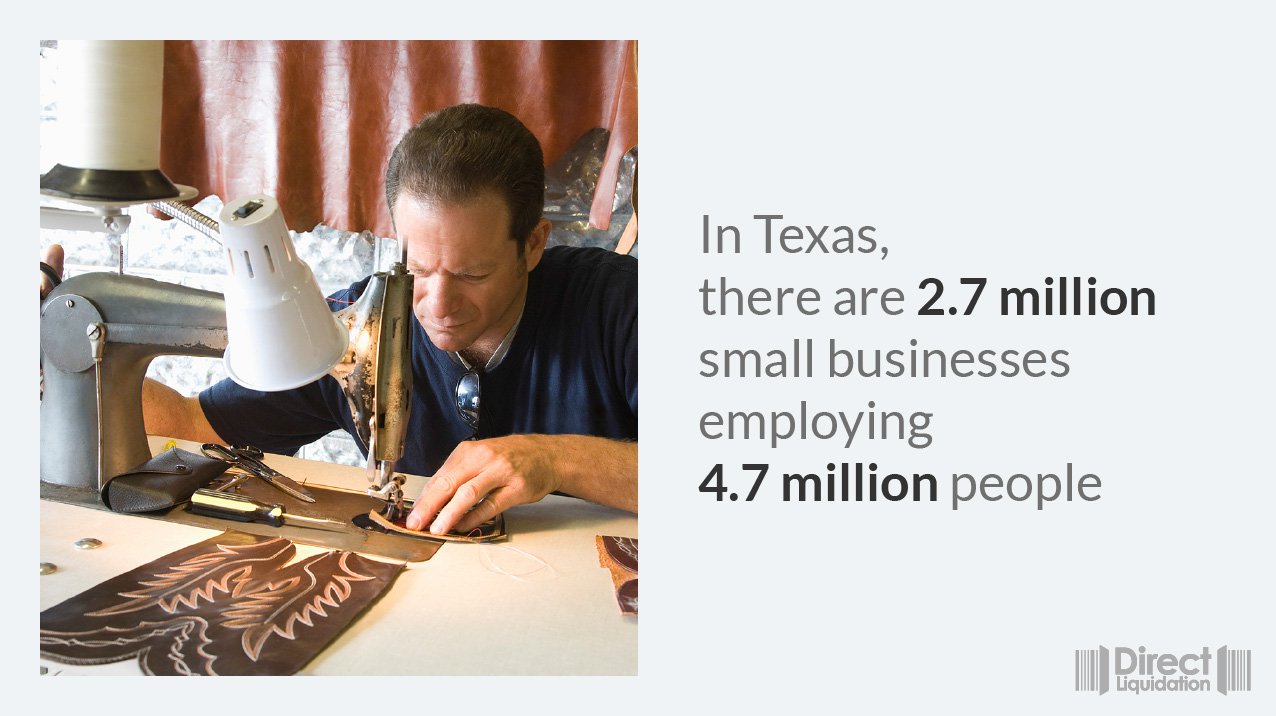 Source: Business News Daily, 2021.
Online Local Sales
Approximately 15.5 million Texas adults use the Internet, and one of the most popular uses for this is researching or purchasing goods. You can reach out to your customers in your area with some easy-to-use platforms:
Facebook Marketplace 
There are 11 million Facebook users in Texas. That's almost 40% of the entire population and a full 73% of the adult population. Facebook Marketplace is free to use, charging no fees for listings or sales unless you use Facebook's Commerce Manager (5% on sales). Commerce Manager lets you create a catalog, manage sales on Facebook and Instagram.
Craigslist
Craigslist can be used to buy and sell all kinds of merchandise in your local area. You can list any service or product as long as it complies with the platform's terms of use. You do not need an account to post, but this will make reposting, editing, and deleting easier. Apart from a few exceptions, posting is free.
OfferUp
OfferUp is a platform that attracts millions of visitors monthly. The registration is simple, and listing is usually free, although service fees are charged for some transactions. Costs are shown when the listing is created. There are two paid plans to help promote listings: Promote and Promote Plus.
Access to Mexico
Texas holds a huge geographical advantage in cross-border trade with Mexico. The border between Texas and Mexico is 1,254 miles long and contains 28 international bridges and border crossings. These border crossings are crucial for the economies of both Mexico and Texas and explain how Mexico has become Texas' most important trading partner.
The border crossings are vital to the economies of bothTexas and Mexico and have contributed to Mexico's status as Texas' #1 trading partner.
The process of sending trucks cross-border works like this:
The carrier drives the load to the Mexican border.
The shipment's documents are checked by both the driver and a Mexican customs agent.
Before customs clearing, you will need to pay pedimento (import tax).
After crossing the border, your cargo will likely be inspected by customs.
After crossing the border, the goods are driven and delivered to the final destination.
There are, of course, additional considerations, such as the legality of shipping certain items to Mexico, Tariffs (in rare circumstances), and fees. Learn more about exporting merchandise with the International Trade Administration.
Starting a Liquidation Business in Texas: Top Tips
Always look into what grants you may be eligible for when starting a business. Check out a list of available grants in Texas here. If you are a member of a minority, check with your local rights organizations whether you may be able to claim additional funding.
Use networking opportunities in Texas to build up contacts for possible sources of more products and potential business customers. On top of this, you can gain insight into the current market trends in Texas and garner advice from those who have set up businesses in the area before you.
Use both online and physical tools to help your business run smoothly. Automation will help you turn over your orders faster and save you from some unnecessary headaches along the way.
Avoid penalties by fulfilling all legal and tax requirements. You can also avoid paying unnecessary tax when you buy your stock by registering for and using a Texas Sales Tax Permit.
Always account for shipping costs and look for ways to reduce them. Sourcing items by the truckload is the best way to reduce shipping costs. But you can also work with wholesalers that ship from Texas, and ideally those, like Direct Liquidation, that offer self-pickup options.
Direct Liquidation in Texas: Sourcing Liquidation Merchandise Locally
Direct Liquidation can offer you access to a huge variety of merchandise, including customer returns and overstock from Walmart, out of our facility in Dallas – Fort Worth.
With pallets to full truckloads, we can meet the supply needs of all types of buyers. New listings are available every day, and bidding is typically open for 24 and 48 hours.
Check out the liquidation merchandise we have available right now in Texas.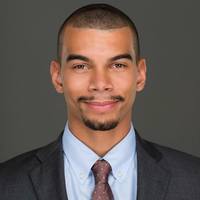 Henley currently works as a sales representative for Direct Liquidation, assisting businesses with product sourcing of liquidated merchandise from the largest retailers in the world. Whether you are looking for a pallet or a truckload Henley is here to help you grow your business.
View Henley's Bio on YouTube.