Buying Liquidation Pallets in Texas: What You Need to Know
If you're a reseller looking to save money sourcing merchandise in Texas, you should consider buying liquidation pallets. This guide will walk you through what liquidation pallets are, the merchandise they contain, how you can add value to items as well as how to buy liquidation pallets in Texas.
What Are Liquidation Pallets?
Liquidation pallets consist of surplus merchandise from a major retailer or vendor that needs to be turned into cash quickly. A typical liquidation pallet contains either customer returns or overstock inventory.
There are many reasons why customers return products to retailers. The top reasons given for returning items are:
20% of customers received damaged products.
22% of customers received products that looked different from what they had seen online.
23% of customers received the wrong products.
35% sent products back for other reasons, including customers changing their minds about their purchases.
While at least 30% of all products bought online are returned by customers, the percentage goes down to just 8.89% for brick-and-mortar stores. This is explained by several factors. Online retailers make it very easy to return items, with many offering free return shipping, easy-to-print returns labels as well as 'no questions asked' returns policies.
These practices mean that online retailers need to be more flexible than bricks-and-mortar retailers, as their customers do not get the chance to test the products in person.
Furthermore, a generous returns policy attracts customers.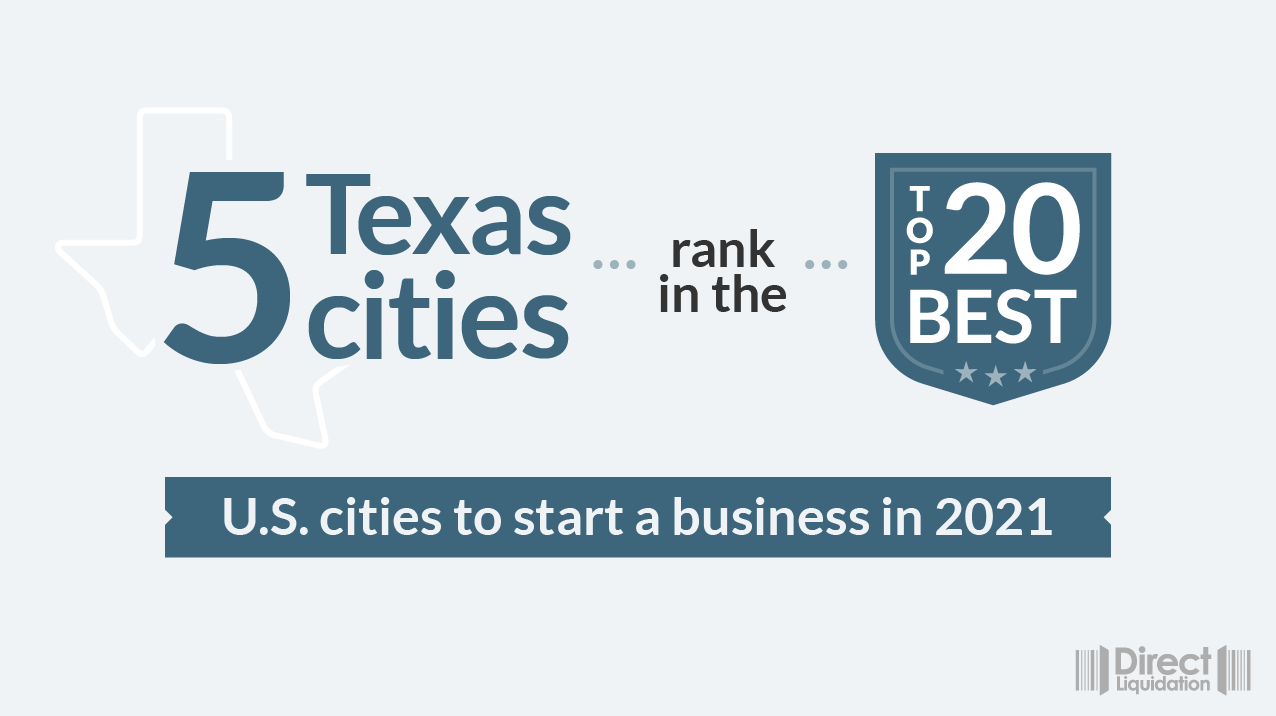 Source: The Center Square, 2022.
In addition to customer returns, retailers also have to deal with overstock and end of life product. These are brand new items never sold to a customer that were over-ordered, superseded by more up-to-date models or seasonal stock. All these products take up valuable storage space, which motivates retailers to resell these products quickly.
Demand For Liquidation Merchandise In Texas
With a GDP of $2 trillion (2021), and over 30 million inhabitants Texas ranks second among US states for both size of economy and population.
Having such a huge potential market in the state is a plus for any kind of retail business.
4,291,384 of 26,794,198 residents reported income levels below the poverty line in the last year. This is an enormous market for discount clothing, children's items and toys, electronics, furniture, etc.
At Texas colleges, there are 1,627,799 students in total enrolled for the academic year 2021-2022. This is a huge market for discount goods, especially homewares and electronics.
The Business Environment in Texas
On top of this potential market, your prospective liquidation resale business will enjoy a favorable business environment in Texas – amongst the highest in the US.
Five Texas cities rank in the top-20 best U.S. cities to start a business in 2021, fostering a climate where there are 2.7 million small businesses employing 4.7 million people. If you're looking to sell discount merchandise, Texas is the place to do business.
The Lone Star State has led the nation in population growth over the last 15 years and continues to be a top state for job creation, much of which is led by small businesses. In 2022, Texas was announced Site Selection magazine's Governor's Cup winner as the top-performing state for job creation and capital investment for a record-breaking 10th year.
Texas also regularly ranks as the 'Best State for Business' by the nation's top CEOs, including again in 2022.
Companies that do business in the state benefit from one of the lowest overall tax burdens in the United States. Furthermore, Texas also has the lowest business operating costs in the country.
On top of that, the state offers one of the best incentive program portfolios in the United States, including the most competitive deal-closing fund in the country – the Texas Enterprise Fund.
Buying Liquidation Pallets In Texas
1. Register Your Business and Obtain a Texas Sales Tax Permit
The first thing you need to do before purchasing any inventory is register your new business with the state. A professional tax consultant, accountant, or attorney can help you make sure that you meet all legal requirements before opening your business.
The Office of the Governor has created a step-by-step guide with templates and videos to walk you through the process of getting your business registered.
If you are buying your liquidation pallets for resale, you can avoid paying sales tax in cases where the supplier accepts the completed Texas Sales and Use Tax Resale Certificate (Form 01-339). Learn more about incorporation and the process of applying for a sales tax permit in Texas in this guide.
Source: ChiefExecutive.net, 2022.
2. Finding Liquidation Pallet Suppliers in Texas
Search engines are a great place to start your search for suppliers of liquidation pallets in your area:
To find local liquidation companies:
"liquidation pallets near me" or "liquidation pallets [city]"
Try local searches for liquidators of a specific product category:
"appliance liquidations [city]" or "electronics liquidator Texas"
To find specific retailer liquidations:
"Walmart liquidations Texas" or "Amazon liquidation pallets [city]"
To find marketplaces selling liquidation merchandise:
"liquidation marketplace in Texas" or "liquidation website Texas"
Many liquidation businesses operate groups on Facebook, which is also a very good place to start your search for a liquidator that can fulfill your sourcing needs at the local level. Through Facebook you can access discussions about these businesses and check the customer feedback on their service in real time.
Other ideas to buy liquidation pallets in Texas:
Look for for local auctions of government surplus, seized and forfeited cargo, unclaimed merchandise and airport luggage, abandoned freight, and storage unit auctions.
Look for store closeout sales in your local area and consider offering to buy their inventory.
3. Bidding or Buying
When sourcing liquidation inventory there are a few different purchasing models to be aware of. Larger liquidation companies will have a dedicated sales team with which you can negotiate prices. Typically, these companies will only work with larger buyers. You may have to enter into a contractual agreement to purchase truckloads of inventory at a regular cadence to work with them.
Smaller liquidation companies will operate to a local customer base and they usually allow buyers to visit their warehouse and purchase pallets in person.
If you're looking to purchase online, you have a few different choices. You can join Facebook groups and purchase directly from a liquidator who posts their current stock in the group which is typically sold by the pallet or truckload or you can shop on liquidation marketplaces that list liquidation merchandise for sale, again by the pallet or truckload.
The most common model used by liquidation marketplaces is to offer listings for sale in auction format. This means you will compete with other bidders with the highest bid winning the inventory. There are sites, such as Direct Liquidation, that offer buy now options that can be time savers for businesses that don't have the time to bid but this is less common than the auction format.
4. Shipping
You can keep shipping costs down by buying from a supplier with warehouse locations close to you. If possible, choose to pick up your merchandise yourself to save even more money if you can do so. In general, it's more cost effective to purchase multiple pallets or truckloads as your per-pallet shipping costs decrease with each additional pallet you order.
If you are receiving a freight shipment at a residential address it is worth noting that you will need to employ a freight delivery company that has trucks with a lift gate so they will be able to move your pallet(s) from the truck to the ground.
On average, it costs $200-$600 to ship a full pallet domestically in the US, though you will be looking at the lower end of this if buying from a Texas supplier and shipping to a Texas address. There are tools available to help you estimate shipping costs, and many liquidation platforms, including Direct Liquidation, have a shipping calculator on every lot listed.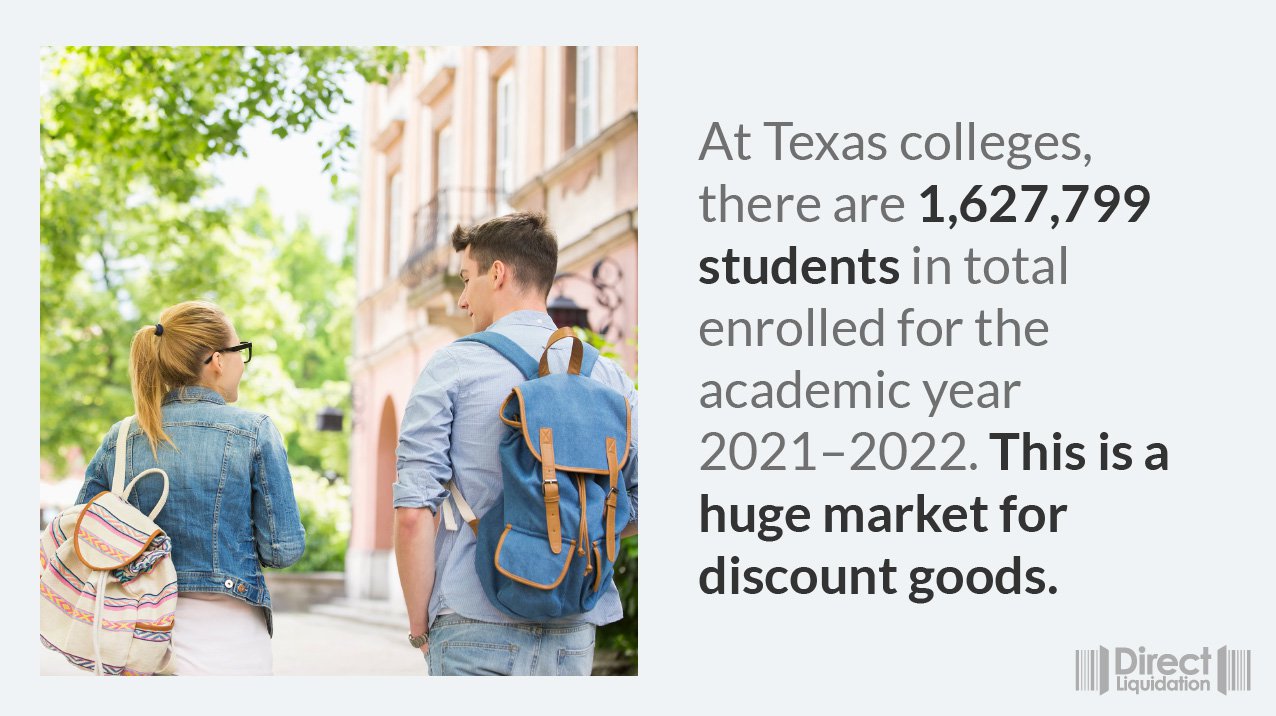 Source: UnivStats.com, 2022.
5. Receiving and Cataloging the Liquidation Pallets
After your order arrives, you need to unload, organize and catalog your merchandise.
Unloading
Prepare for the arrival of the merchandise by contacting the shipping company or the supplier to find out shipping details. If it's a small order, you can deal with the unloading yourself. However, you may need to get help if you are unloading a full truckload.
Checking For Damage
Look out for damage before the shipper leaves. This includes squashed boxes, damaged items, or toppled over pallets. Report the damage to the driver. Take pictures of the goods while they are still on the truck to provide evidence for your claim. Also, take note of any missing merchandise, comparing the order invoice with the Bill of Lading.
Taking Inventory
Organize your items before storage. Take a complete inventory and check it against the order details. Test items for functionality before storing them.
To deal with large quantities of merchandise, you should invest in a label printer and scanner to make the cataloging process quicker and easier. A digital catalog for your goods can help you keep manage sales and generate listings for online marketplaces.
Selling Liquidation Pallets in Texas
Selecting Sales Channels
Of course, acquiring merchandise is just half the battle. Deciding where to sell liquidated goods is just as important. There are multiple channels through which to sell discount merchandise both online and offline.
We have listed the top ways to sell the contents of your liquidation pallets in Texas and more widely in our guides:
Tracking Sales, Inventory, and Accounting
Keep records of your sales. This will help you calculate what products are the most profitable, and keep track of changing trends. Use software like Quickbooks and Xero to record your financial transactions and keep track of inventory. Plus, by using these pieces of software, you will be able to manage your taxes effectively.
You need to automate as much as possible your sales tracking, inventory keeping and accounting.
Acctivate is an inventory management tool that keeps you on top of what you have in stock and its value. It allows you to manage your supplies and order fulfillment while providing all the crucial data you need. It is also integrated with QuickBooks for easier inventory tracking. It offers a 14-day free trial.
CodeREADr is another great inventory management tool. This is an app that allows you to scan the barcodes on all your items and manage your inventory from your smartphone. It also allows you to upload your data to the cloud, giving you instant access to your inventory and allowing you to manage it from any device. The app is available to download and use for free.
Sourcing Liquidation Pallets in Texas with Direct Liquidation
Direct Liquidation is a marketplace where you can acquire liquidation merchandise sourced directly from the largest retailers in the country, without middlemen or broker markups. For Texas buyers, check out the current liquidation pallets and truckloads available for sale from our Fort Worth warehouse.
Diego works as a sales representative for Direct Liquidation helping businesses to source wholesale refurbished electronics inventory from the world's top retailers and manufacturers. Diego works with buyers directly to ensure they stay in stock with high quality inventory year round.
Schedule a Callback w/ Diego
View Diego's Bio on YouTube.