What Does Liquidation Mean? Where Do Liquidated Goods Come From?
Not to be confused with the winding up of an insolvent company, the term 'liquidation', when applied to retail/wholesale, refers to the practice where retail companies offload stock that is surplus to requirements for a variety of reasons.
Liquidated stock falls into four main categories. They are as follows:
Customer Returns
By far the largest category, customer returns are goods that are returned to a retailer by customers for a wide variety of reasons. Thousands upon thousands of products are returned to retailers across the United States every year. The reasons why items are returned to retailers vary, from the products being faulty or bearing superficial or visible damage, to the products being returned simply because a customer has changed their mind about their purchase.
Customer returns pose retailers – in particular, large retailers such as Amazon, Target, Lowe's Hardware, etc. – a considerable logistical headache. No longer legally classifiable as new products (despite the fact they quite often still technically are), these returns are downgraded to the status of second-hand goods. Unless the retailer is also a discounter who can dedicate space to reselling, these returns take up valuable warehouse space. This is space that could be used to house new products. So, to avoid this situation, retailers work in partnership with liquidators. A liquidator such as Direct Liquidation offers the retailer a space on its online liquidation sales platform through which the retailer can sell its unwanted returns direct to businesses via auction at a considerably reduced price.
Overstock
Ordering stock is not an exact science, not even for the largest US retailers. Inevitably, retailers will be left with a surplus of stock that has not sold for a variety of reasons. For example, larger retail companies such as Target order considerable quantities of seasonal stock every year. Once that season has passed, the stock that has not sold is no longer needed and, just like customer returns, is now taking up valuable warehouse space. This overstock therefore needs to be disposed of as quickly as possible. So it is bundled into pallets or truckloads and sold via a liquidator's online liquidation marketplace directly to resellers looking to buy wholesale merchandise at a hefty discount.
Closeouts
The term 'closeouts' usually refers to stock coming from a store that is closing down. For whatever reason, sometimes it's necessary for larger retailers to close stores. When this happens, the inventory from that store – everything from the store's stock to its fixtures and fittings – is bundled into closeout pallets and sold via an online liquidation marketplace. When it comes to the closing store's stock, it is usually sold well below its MSRP value.
Refurbished / Reconditioned
Refurbished or reconditioned liquidated merchandise is stock that has been returned to the retailer because it has been found to have a fault or a problem. The returned stock is cleaned up, extensively tested to identify the fault/faults and then repaired so it can be sold again. Some reconditioned/refurbished stock such as refurbished laptops comes with the manufacturer's original warranty, meaning items can be returned should any new problems arise.
Where Do Liquidated Goods Come From?
As mentioned, liquidated goods, be they customer returns, overstock, closeouts or refurbished/reconditioned stock, is merchandise that poses a considerable headache, especially to larger retailers such as Amazon, Walmart, and Target.
Not wishing to have these types of merchandise take up valuable warehouse space, the retailer looks to dispose of their unwanted returns, overstock, closeouts and refurbished / reconditioned goods as quickly as possible, regardless of the fact that doing so will mean they inevitably take a hit on the price they can reasonably expect to get for it.
Top-tier liquidation specialists like Direct Liquidation operate online liquidation marketplaces through which the retailers can sell their unwanted goods through to resellers who are looking to buy pallets or truckloads of good quality merchandise at a heavily-discounted price.
So, what is an online liquidation marketplace? In a nutshell, it's a one-stop-shop where all these different categories of liquidated stock are gathered together and offered up for auction to businesses with valid reseller licenses.
On an online liquidation marketplace such as the one operated by Direct Liquidation, you will find a huge range of both branded and unbranded wholesale merchandise being sold in pallets or truckloads for considerably less than each pallet's or truckload's retail value. In Direct Liquidation's case, the company has partnered with some of the giants of US retail, meaning you'll find customer returns, overstock, closeouts and refurbished merchandise coming direct from Walmart, Lowe's, Amazon and Target.
That means you'll find pallets or truckloads being sold at auction (or for a fixed or negotiated price) containing goods coming from some of the titans of the manufacturing world, names such as Apple, Microsoft, Black & Decker, BOSCH, HP, Google, Samsung, LG, Sony and many, many more.
As mentioned, most pallets and truckloads are sold via live liquidation auctions that take place on a liquidator's site on a daily basis. Email alerts can be set up that will notify retailers when the pallet or truckload of liquidated stock they are interested in buying is about to go under the hammer, and then it's just a matter of entering bids and seeing if they are the successful bidder. After payment, shipping can be arranged, either by the retailer themselves picking up the purchased merchandise, a third-party courier doing it for them, or the liquidator doing the handling and shipping on the reseller's behalf.
If your business is interested in purchasing Walmart, Target, Lowe's or Amazon liquidations via Direct Liquidation, you will find its extensive network of distribution centers located in Greensboro, North Carolina, Blacksburg, South Carolina, Spartanburg, South Carolina, Bentonville, Arkansas, Rogers, Arkansas, Greenfield, Indiana, Frankfort, Kentucky, Palmetto, Georgia and Brampton, Ontario, Canada.
All centers are located next major highways for ease of access and to help your business cut down on fuel costs, and all centers are situated close to Direct Liquidation's retail partners' warehouses to cut down on warehouse to distribution center turnaround time, meaning your goods will be available to ship in as short a time as possible.
We hope this guide to liquidation, liquidated stock and where liquidation goods come from has been useful to you, and Direct Liquidation looks forward to handling your liquidated stock requirements.
Direct Liquidation is a goTRG company.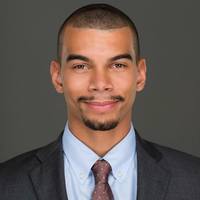 Henley currently works as a sales representative for Direct Liquidation, assisting businesses with product sourcing of liquidated merchandise from the largest retailers in the world. Whether you are looking for a pallet or a truckload Henley is here to help you grow your business.
View Henley's Bio on YouTube.