Starting a Liquidation Business in Kentucky: What You Need to Know
This guide will look at everything you need to know about starting a liquidation resale business in Kentucky.
What is a Liquidation Resale Business?
A liquidation resale business resells inventory liquidated by major retailers and product vendors. There are three main types of liquidated stock. These are:
Customer Returns
Customer returns refer to products bought by a consumer and then returned. This could be for any number of reasons, such as the wrong item being delivered or packaged, functional or cosmetic defects. When a product is returned to the retailer, if it can not be put back on the shelves (or relisted online) in a reliable and efficient way – without increased risk of more returns, the retailer is left with little choice but to liquidate it.
Overstock
Overstock is brand-new merchandise that was never sold. This is common with seasasonal products or items that already have version upgrades. This type of merchandise is also known as 'store stock' liquidations.
Shelf Pulls
Shelf pulls are items taken off store shelves because they did not sell. These are often seasonal products, older versions, or end-of-life items, just as with overstock. Some liquidators call these 'jobouts.'
Closeouts
Closeouts are products taken from stores that have closed, moved, or are undergoing renovation. This merchandise is also brand-new, but is liquidated in bulk to clear the store out quickly.
Starting a Liquidation Resale Business in Kentucky: The Numbers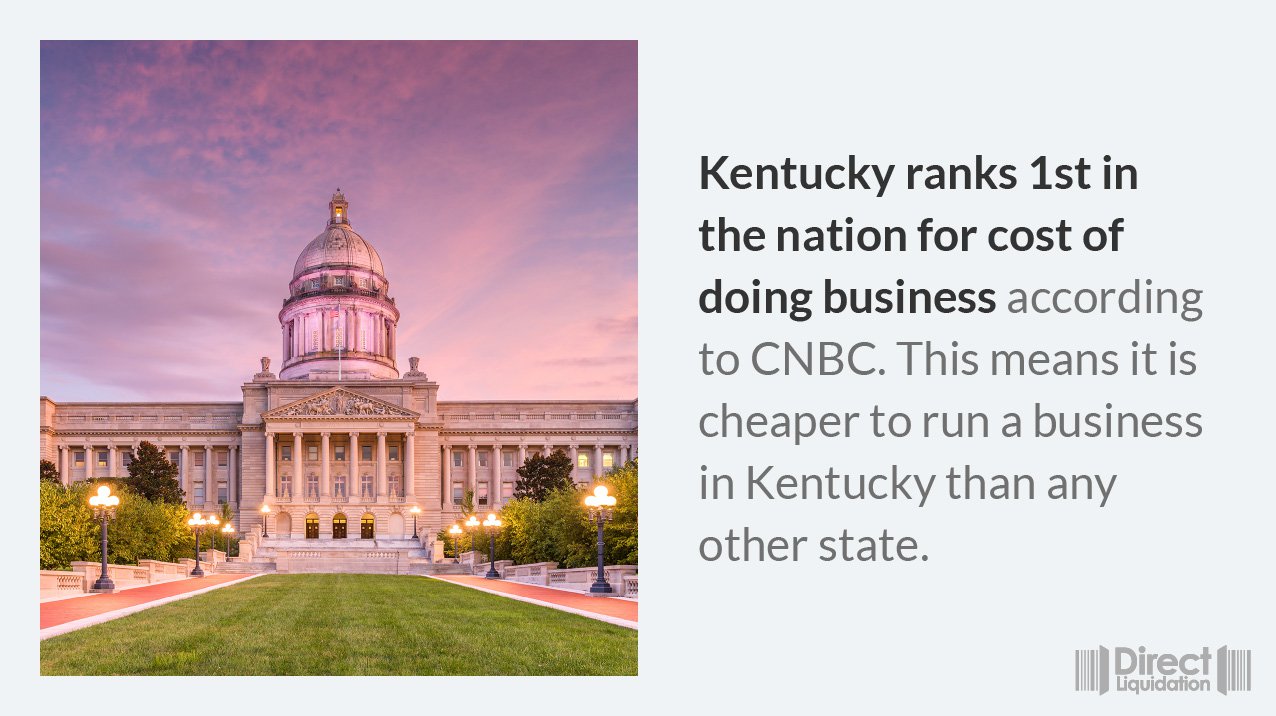 The Market for Discount Merchandise in Kentucky
As you can see – Kentucky has proven a great place to start up a business. But what is the market like for discounted (previously liquidated) merchandise? Let's start off by exploring the state's demographics.
The State's Demographics
Kentucky's population as of 2022 is estimated to be 4.52 million, ranking the state as the 25th most populous.
The current metro area population of Louisville in 2022 is 1,107,000, almost a quarter of the state's entire population.
Kentucky has the second-highest job opening rate in the nation, close behind Alaska. There were around 167,000 unfilled jobs towards the end of 2021.
Kentucky ranks as the fourth poorest US state, with 16.3% of the population below the poverty line.
The mean household income in the state is $72,318 in 2022.
Louisville ranks 9th among its peer cities nationally in income inequality. The average income of the top 20% of Louisville residents is 15.7 times greater than the average income of the bottom 20%.
Of course, these are not the only people looking for bargains. Many households look for discounted merchandise when looking to make purchases – a market that can be easily catered for with liquidation resale businesses within the state, as the area is a hub for major retail operations, including returns processing.
Starting a Liquidation Resale Business in Kentucky
To register a business in the state, read our guide to starting a business and registering for a resale certificate in Kentucky.
Note that state law requires that every new Kentucky LLC designate a Kentucky registered agent available at a physical address within the state.
Buying Liquidation Pallets in Kentucky with Direct Liquidation
Direct Liquidation can offer you access to merchandise from a wide range of options, including customer returns and overstock from Walmart, out of our facility in Frankfort.
With pallets, multi-pallet lots, and full truckloads, we can meet the needs of all types of buyers. New listings are uploaded every day, and bidding is typically open for 24-48 hours.
Check out the liquidation merchandise we have available right now in Kentucky.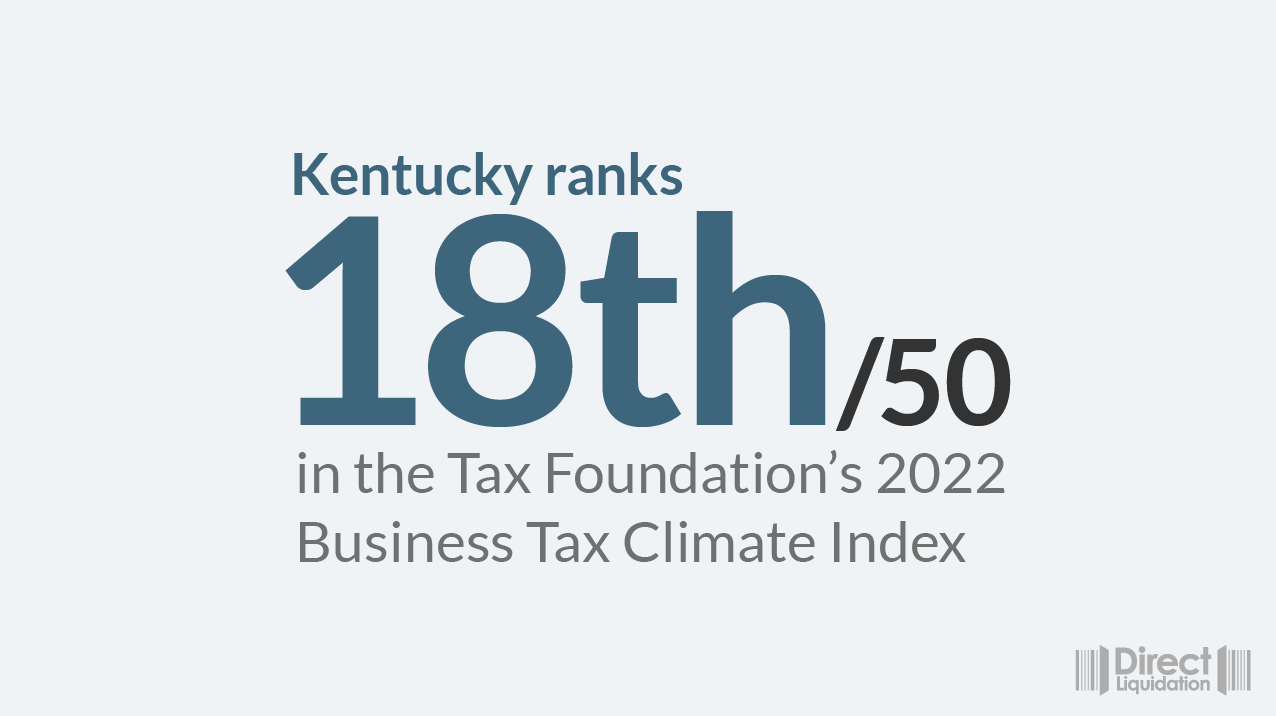 Storage Options in Kentucky
When buying liquidation pallets in Kentucky, you need to consider whether you have the space to store all the merchandise. If you're new to the business, it's best to use a spare room or garage – this way you can minimize costs. If you need more space but are not looking to move up to a full warehouse, you'll be happy to know there are plenty of storage units in the state. In 2022, there were 718 self-storage facilities in Kentucky.
The price for a non-climate-controlled self storage unit in Louisville KY is now $116 per month for 10'x10. In the same city, a 5×5 self-storage unit rents for $62, while a 5×10 unit would cost $85/month. Average rates for a 10×20 unit stand at $200/month.
Costs (for 10'x10' units) will vary in other cities:
Frankfort: $111 /month
Lexington: $123/month
Covington: $160/month
Richmond: $110/month
Georgetown: $115/month
Note: Prices correct as of October, 2022.
To find storage units near you, try adding terms such as "storage units near me," "self storage in Kentucky" or "self storage [city]" into a search engine, such as Google, or use a storage directory such as Storage Cafe.
Preparing Liquidation Merchandise for Resale
As we found out earlier, liquidation merchandise comes in a variety of conditions. This also means that as some items will be packaged, untouched, and completely retail-ready – other items will need work to add value to them before resale.
Some items will need testing for functionality, others will need cleaning, reaccessorizing, or even taking apart for components to use as donor parts or to sell as spares.
Check out our guides that include tips on how to add value to liquidation merchandise:
Selling Liquidation Merchandise in Kentucky
Garage Sales
Garage sales are particularly suited to selling used inventory quickly, which allows you to clear storage space. Always make sure you consult your authorities or Home Owner's Association to avoid issues before advertising and setting up a garage sale in your neighborhood.
A Physical Store
Setting up your own discount store will allow you to advertise and sell directly to local customers – increasing the visibility of your business in your area. Always look for a retail loacation with high foot traffic or that can be seen from a heavily-used roadway.
Unfortunately, this is not an option for most people starting off a new small business, or side-hustle. This is due to 2 main reasons – cost, and time commitment.
Besides rent (which can be very hight in sought-after locations), you need to factor in taxes and utility bills. These overheads are prohibitive for most startups.
On top of this, are you able to be physically present at all open hours? If not, you'll have to hire, and train, staff – another complicated and expensive venture.
A directory such as Showcase will show you what retail space is available in Kentucky.
It is an easier option to start off selling through other, less expensive channels before moving up to renting a retail space, once your business takes off.
Facebook Marketplace
Check out our ultimate guide to reselling liquidation merchandise on Facebook Marketplace.
Craigslist
Check out our ultimate guide to reselling liquidation merchandise on Craigslist.
OfferUP
Check out our ultimate guide to selling liquidation merchandise on OfferUP.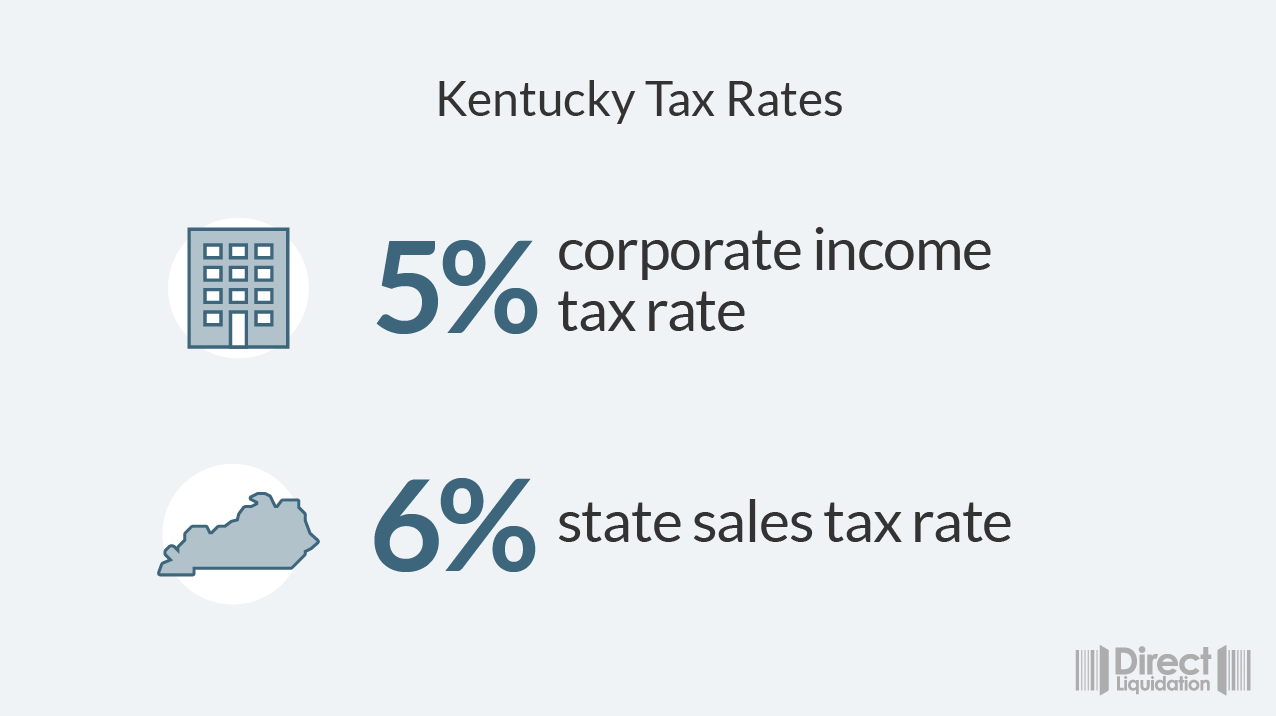 Flea Markets in Kentucky
Flea markets and swap meets are ideally suited to selling discounted items from your liquidation pallets in Kentucky. These venues give you direct access to customers looking for bargains, without caring so much about item condition. Here are some of the largest in the state:
Kentucky Flea Market – 1 502-456-2244
937 Phillips Lane, KY Expo Center West Wing Hall, Louisville, KY 40209
Awesome Flea Market – 1 502-543-7899
165 Dawson Dr, Shepherdsville, KY 40165
Flea Land – 1 502-543-7899
1100 Three Springs Rd, Bowling Green, KY 42104
Big Time Bargains Flea Market – 1 502-647-1050
166 Midland Blvd, Shelbyville, KY 40065
Derby Park Traders Circle – 1 502-636-3532
2900 7th Street Rd, Louisville, KY 40216
Luke's Town & Country Flea Market – 1 270-338-4920
2006 US-62, Greenville, KY 42345
Lexington Peddlers Mall – 1 859-246-0028
1205 E New Circle Rd, Lexington, KY 40505
Flea Land Flea Market Inc – 1 606-864-3532
235 Barbourville Rd BLDG D, London, KY 40744
Middletown Peddler's Mall – 1 502-245-7705
12405 Shelbyville Rd, Louisville, KY 40243
Hillview Peddler's Mall – 1 502-964-0077
11310 Preston Hwy, Louisville, KY 40229
The Flea Off Market – 1 502-552-0061
1000 E Market St, Louisville, KY 40206
Frankfort Peddlers Mall – 1 502-695-5772
312 Versailles Rd, Frankfort, KY 40601
The Shed – 1 270-408-7433
1927 Irvin Cobb Dr # 7, Paducah, KY 42003
Richmond Peddlers Mall – 1 859-626-0688
449 Eastern Bypass, Richmond, KY 40475
Lake Cumberland Flea Market – 1 606-678-0250
95 Super Service Dr, Somerset, KY 42501
Winchester Peddlers Mall – 1 859-737-2700
110 Shoppers Village Dr, Winchester, KY 40391
Fleur De Flea Vintage Market – 1 502-365-3563
947 E Breckinridge St, Louisville, KY 40204
Morehead Flea Market – 1 606-784-2444
520 Fraley Dr, Morehead, KY 40351
Consumer Mall – 1 270-684-4393
2930 KY-144, Owensboro, KY 42303
Pickers Paradise – 1 606-723-3310
105 Richmond Rd, Irvine, KY 40336
Top Tips for Starting a Liquidation Resale Business in Kentucky
Before you start any new business, always look into what grants you may be eligible for. Check out a list of available grants in Kentucky here. If you are a member of a minority, you may be eligible for further funding – check with your local rights organizations.
Networking is invaluable for a business at any stage of growth. Build contacts wherever possible from local forums, Facebook Groups, business associations, even your local flea markets and bazaars – You'll be surprised how interested some business owners get, when you take an interest in their ventures. Sometimes its not what you know – its who you know, and their advice could really help you out.
Use both online and physical tools to help your business run smoothly. Automation will help you turn over your orders faster and save you from some unnecessary headaches along the way. Online tools can also help you optimize your pricing, and organize your listings for you, even pre-prepare shipping labels every time you make a sale. Always look for ways to automate what you are doing, in order to scale your business with the least amount of unnecessary effort.
Always make sure you fulfil your legal and tax requirements. Don't for get you can avoid paying unnecessary tax when you buy your stock by registering for and using a Kentucky Sales Tax Permit.
Always account for shipping costs, when calculating the prices to set for online orders (where applicable) and look for ways to reduce them.
Sourcing items by the truckload is the best way to reduce your inbound shipping costs. But you should also work with liquidation suppliers that ship from Kentucky, and ideally those, like Direct Liquidation, that offer self-pickup options within the state.
Kentucky consistently ranks as a great place to start a business, offers wide range of demographic as its customer-base, and contains cities forming key hubs in central areas. On top of this, there is a huge range of liquidation merchandise available in Kentucky. If you have the time and determination to make a liquidation resale business work – you have plenty of advantages starting in Kentucky.