How to Buy Pallets of Returned Merchandise from Amazon
Last Updated: June 18th, 2021:
Added Sections: Amazon Customer Returns Statistics; Reselling Returned Merchandise from Amazon.
It can be difficult in this day and age to find top-quality wholesale merchandise, especially pallets of returned merchandise from Amazon at an affordable price that will leave you with a big enough margin to make a profit. Back in the day, small businesses could rely on local wholesalers to supply them with wholesale merchandise at a price that meant they could still make a profit on goods sourced this way, despite the premiums wholesalers placed on top of the sale price.
Sadly, with wholesale prices veering ever closer to retail prices, and with such unscrupulous practices as cherry-picking pallets and deceitful manifest alterations becoming ever more common, sourcing this way has become all-but-impossible for small businesses looking to stay afloat in an increasingly crowded and competitive retail environment.
So, what's the solution? The answer is casting your net wider and looking at what a top-tier liquidation specialist can do for your business. In Direct Liquidation's case, that means buying pallets of returned merchandise from Amazon.
What Are Amazon Returns?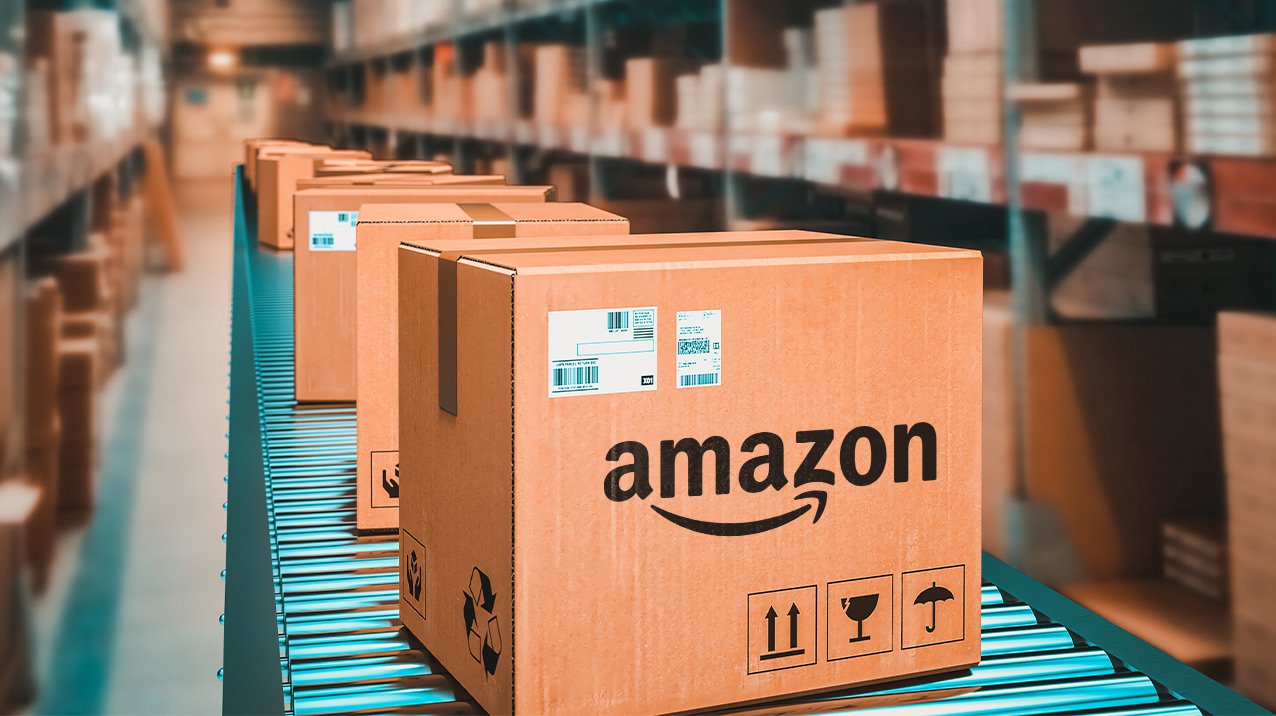 It's very simple. Every year, Amazon takes back hundreds and hundreds of products in a variety of conditions ranging from 'as new' to 'tested-not-working' for a number of reasons. Sometimes, customers who order from Amazon discover the goods they have purchased do not work when they get them out of the box. This applies in particular to electronic items. These are sent back to the retailer, usually to exchange them for working versions.
Other times, products ordered from Amazon do not arrive in the best of conditions. From superficial damage to boxes to visible damage to products, many customers like their products and even the packaging those products come in to be in pristine condition, and therefore return these superficially- or noticeably-damaged products back to Amazon to be replaced.
Finally, some customers simply change their minds about their purchases and return them. These returned purchases are, for all intents and purposes, brand new stock, but retailers such as Amazon usually prefer to liquidate them for a variety of reasons.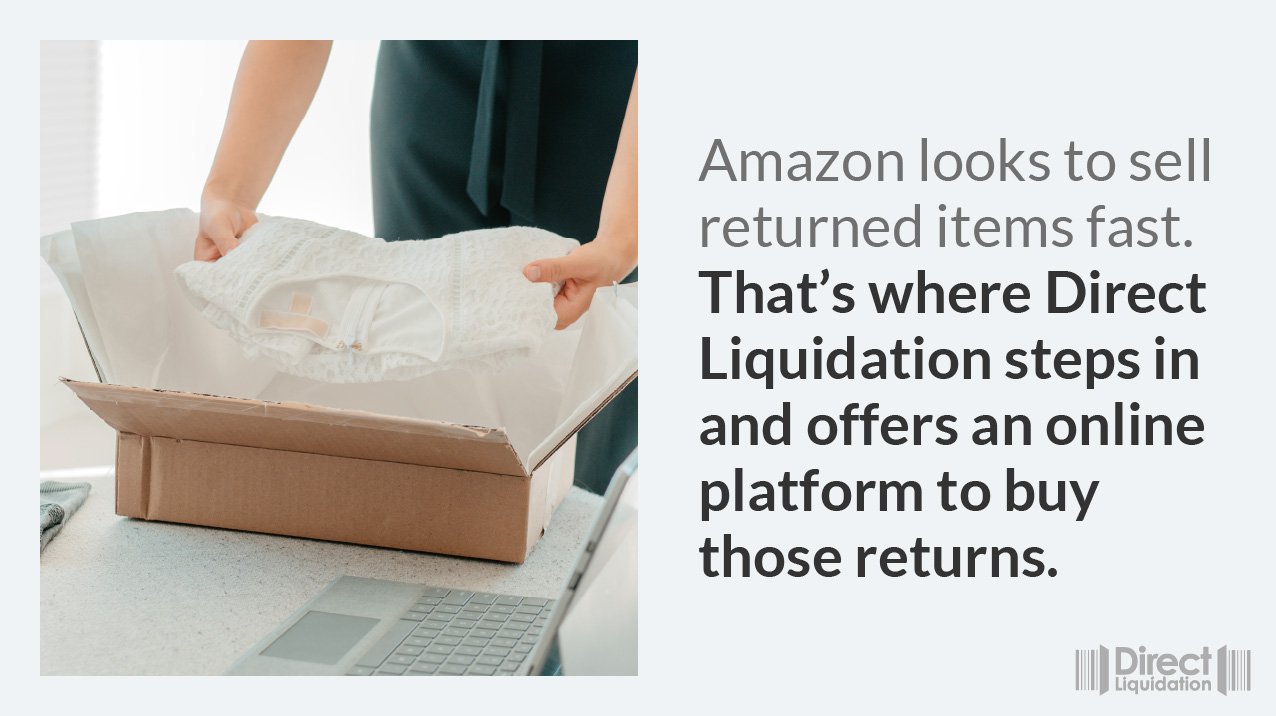 Not wanting to fill their warehouses with this returned stock, Amazon looks to sell it as quickly as possible so its warehouses can, understandably, be filled with products that can be sold full price. That's where Direct Liquidation steps in. Direct Liquidation offers business customers an online liquidation sales platform where they can buy Amazon returned merchandise, while cutting out the wholesaler middleman and avoiding all the pitfalls that are now associated with that type of supplier.
Amazon Customer Returns Statistics
Amazon sells more than 4000 products sold each minute in the United States alone. In total, the giant retailer sells 120 million different products, a big chunk being electronics.
However, with such a hugh throughput, customer returns are inevitable. In fact, 30 percent of products ordered online are returned by customers for a variety of reasons. Some products are faulty or suffered damage during shipping. However, a large proportion of products returned by customers are brand new .
Amazon's generous returns policies give many customers the opportunity to test items within their guarantee period and return them if they don't like them. Statistics show that 22 percent of ecommerce buyers return items because they do not look as advertised, while another 23 percent of returns are due to shipping mistakes by the seller.
Why Sourcing From A Liquidator Makes Better Sense
Unlike those aforementioned traditional wholesale sources, buying merchandise wholesale from a liquidator makes much better sense for a number of reasons. For a start, by buying pallets of Amazon returns from Direct Liquidation, you will have the peace of mind of knowing you're dealing directly with one of the biggest and most trusted retail giants on the planet. This cuts out such worries as unwittingly buying counterfeit goods as everything Amazon sells is the genuine article.
Also, you'll avoid those premiums, price hikes, cherry-picking and manifest alterations that have been already been mentioned. When you source a pallet of Amazon returned merchandise via Direct Liquidation's online liquidation sales marketplace, what you see is what you get – and what you get is top-quality Amazon returns being sold via the website of a Better Business Bureau-accredited top-tier liquidation specialist with a proven track record of delivering excellent products to its business customers and top-rate service to its supplier partners.
Finally, thanks to Amazon wanting to dispose of its unwanted returns in as quick a time as possible to free up valuable warehouse space, the company is willing to sell its returned merchandise to resellers at a fraction of its MSRP value. That means you'll get top-quality returns coming directly from Amazon at fantastically low prices. There will be plenty of margin for your business to make a profit on the goods it sources via Direct Liquidation's online liquidation marketplace. That's great news for any small business looking to maximize its profits while at the same time cutting its sourcing costs.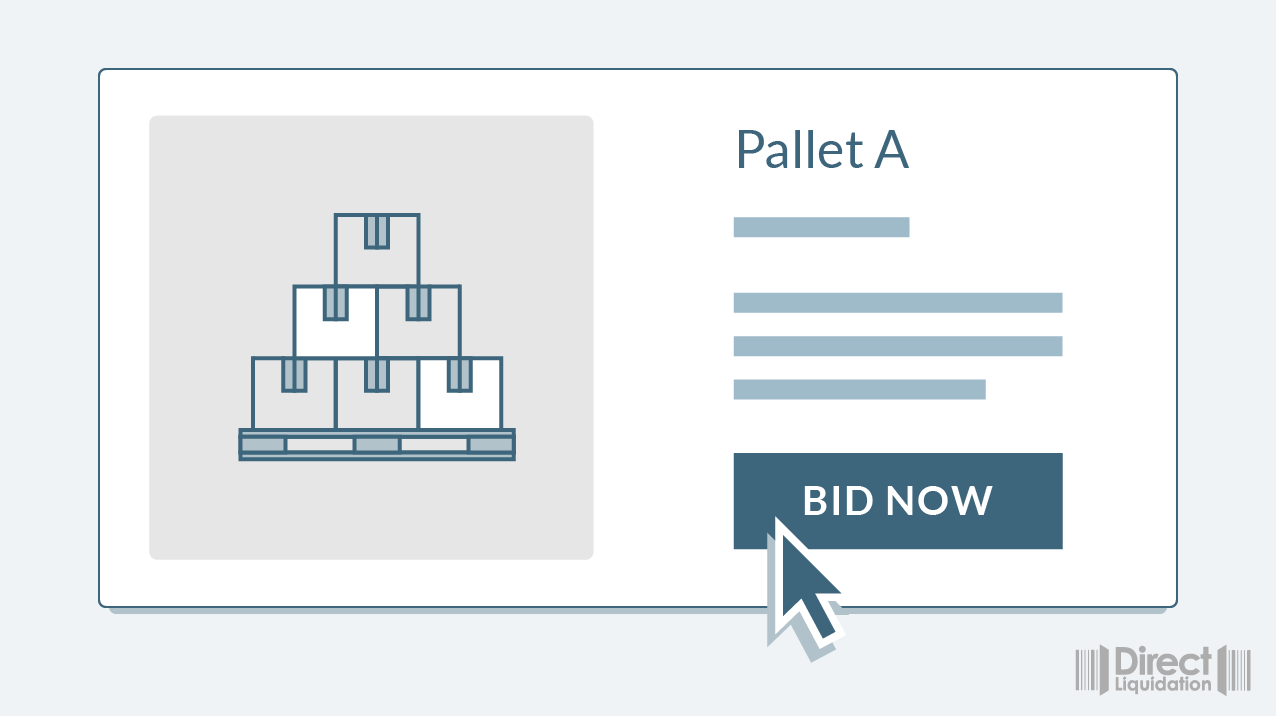 Buying Pallets Of Returned Amazon Merchandise
Buying pallets of Amazon returned merchandise from Direct Liquidation is quick and easy. Most of the pallets Direct Liquidation sells on behalf of Amazon are sold via live liquidation auctions which take place on Direct Liquidation's site every day. To participate in these auctions, you'll first need to sign up for a free account, which will require you to produce a valid resellers license – a must-have for any business wishing to resell goods in the United States.
After signing up, you can head over to the Amazon landing page on Direct Liquidation's site. There you'll find all the Amazon pallets currently available to buy via auction. Then it's simply a matter of finding a pallet you wish to buy and waiting for it to come up for auction. You can set up an email alert which will notify you when the auction on the pallet you're interested in is about to go under the hammer, then you can enter bids up to a predetermined maximum bid level and wait to see if you're the successful bidder.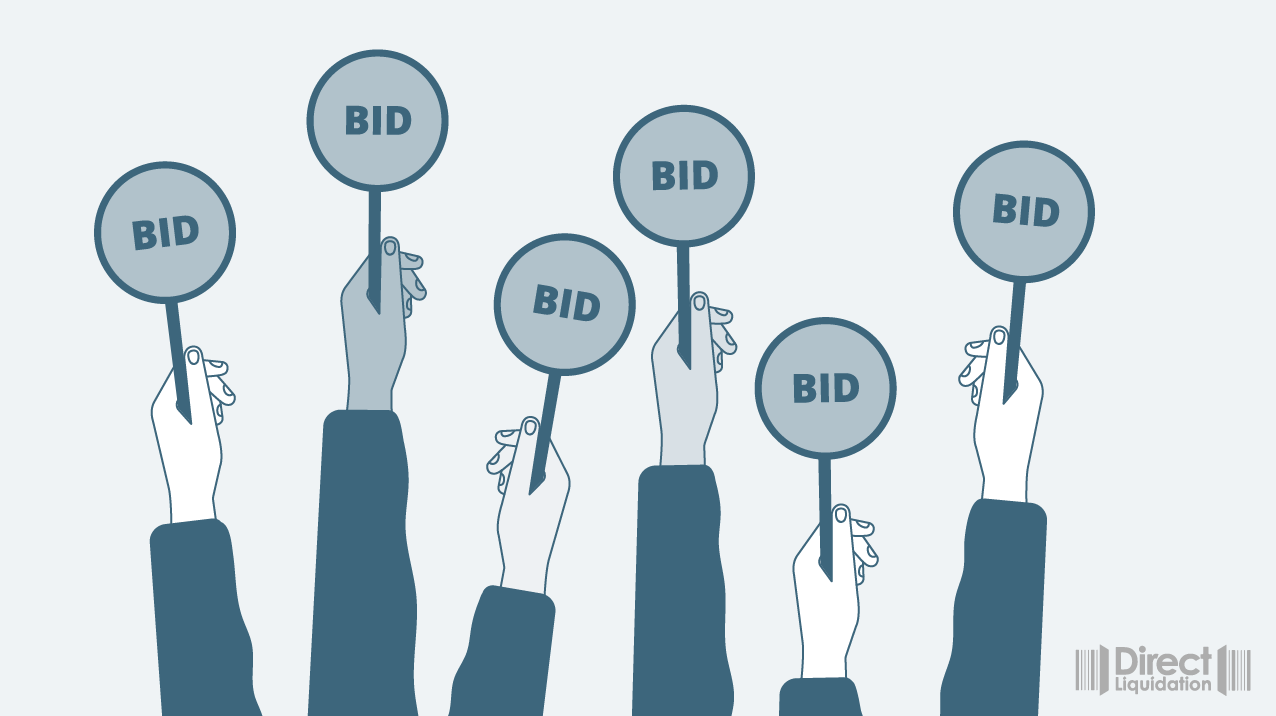 If you are successful, all you then need to do is pay for your goods and arrange your shipping. Most businesses like to arrange their own shipping, usually using a third-party courier or, if they're close to one of Direct Liquidation's distribution centers, going and picking their purchases up in person.
This is fine, but for those requiring shipping, it's always worth checking out if it would be cheaper to let Direct Liquidation handle the logistics as they have contracts with couriers that mean they might be able to arrange the shipping far cheaper than you can yourself. You may just save yourself even more money this way, so it's definitely worth checking out.
If you don't wish to buy a pallet of Amazon liquidations via live auctions, you usually have the option of buying a pallet at a fixed price by most lots' 'Buy it Now' button. If that button is there, all you have to do is click on it and pay for the goods. This is particularly useful for businesses who wish to get their hands on an Amazon returns pallet in a short amount of time, or for those who do not wish to take the time to participate in auctions. Amazon returned merchandise pallets bought this way will still be far cheaper than you will find elsewhere, meaning there will still be room to make a profit.
Finally, you can also approach the liquidator directly with your own offer. If they like what they hear, that's the price you'll pay. You may just find you get an even better bargain this way.
Reselling Returned Merchandise From Amazon
Once you've sourced your liquidated stock from Direct Liquidation, you can either resell it online or through more traditional, non-internet-based chanels.
Selling Online
Online shopping gets growing every year. It is now a giant market, with 220 million digital shoppers in the United States. The two largest online marketplaces are Amazon and eBay, which boast 290 million unique visitors per month. Any or both of these huge marketplaces can be excellent chanels for selling your stock. 
If you choose to do so, there are two main options available. You can sell as an individual seller, or you can open your own store, for a monthly fee. But, as Amazon and eBay attract huge numbers of buyers, they also host large numbers of sellers. This means that there is a lot of competition and it is difficult for a seller to stand out, unless they're established, have great customer ratings and regularly win the Buy Box on Amazon and achieve Top Seller status on eBay. Attracting customers may be difficult for a smaller seller just starting out.
Some smaller eCommerce sites, such as BigCommerce and Wix, are excellent alternatives or complements to Amazon and eBay. These websites often reach a select number of customers and charge a small fee. Most also offer free trials.
You can also use services like Facebook Marketplace, Craigslist and OfferUp to sell directly to customers. This comes with two major advantages. First, you do not need to pay any fees to use these services. Secondly, you can cut out on shipping costs, since many customers live in the local area and can pick the items themselves.
Another option is to use your own website to sell to your customers. This comes with the advantage that you can control all aspects of the sales process. You can do this while also selling in any of the other chanels mentioned above. Your website can be integrated into social media, eCommerce sites and Amazon and eBay. This allows you to sell through multiple channels, giving you the chance to attract more customers.
Selling Offline
Despite the growing popularity of online markets, many customers still prefer to buy the old-fashioned way and examine the products in person.. That's why it is worth considering opening your own bricks and mortar store, if your market research and your budget allows it.
Another possibility is to sell through local classified ads. These tend to be inexpensive, and may bring customers directly to your door, as they spread the word in your local area.
If you're particularly interested in attracting bargain hunters and customers on tighter budgets, renting a space at a flea market may be a good option for you. This is especially suitable for products that are of a lower cosmetic condition.
Buying pallets of Amazon returns via Direct Liquidation is a great way of stocking your business with excellent quality products at a great price that won't break the bank and will leave plenty of margin to make a healthy profit. If you're on the lookout for a better way to buy wholesale merchandise, look no further than Direct Liquidation. They're looking forward to doing business with you.
Register for an account
It's free to get started. Get access to surplus inventory from top US retailers.
Diego works as a sales representative for Direct Liquidation helping businesses to source wholesale refurbished electronics inventory from the world's top retailers and manufacturers. Diego works with buyers directly to ensure they stay in stock with high quality inventory year round.
Schedule a Callback w/ Diego
View Diego's Bio on YouTube.