How to Make Money From Home in Texas with Liquidation Pallets
Buying liquidation merchandise to resell can be a great home-based business for Texas residents. Our guide will show you how you can make money from home buying liquidation pallets.
With tough economic times, more and more people report needing a secondary income source. Currently, over 45% of working Americans report having a side hustle. That amounts to roughly 70 million people. Texas is the second most populated US state, with over 30 million inhabitants, suggesting 13,500,000 Texans are earning money outside their main job. Let's look at the most common reasons cited as to why people set up these part-time businesses:
Why do so many people try a side hustle?
38.7% – More personal freedom
27.4% – Extra income to save, spend, or invest
11.7% – Extra money to make ends meet
6.2% – Pay off debt faster
5.6% – A creative outlet
4.6% – "It felt like a calling."
38.3% of Side Hustle Nation subscribers reported working 5-20 hours a week on their business, leaving plenty of time for their primary job, childcare, etc.
Let's explore why a resale business is perfect for working from home and how you can benefit from buying liquidation pallets in Texas.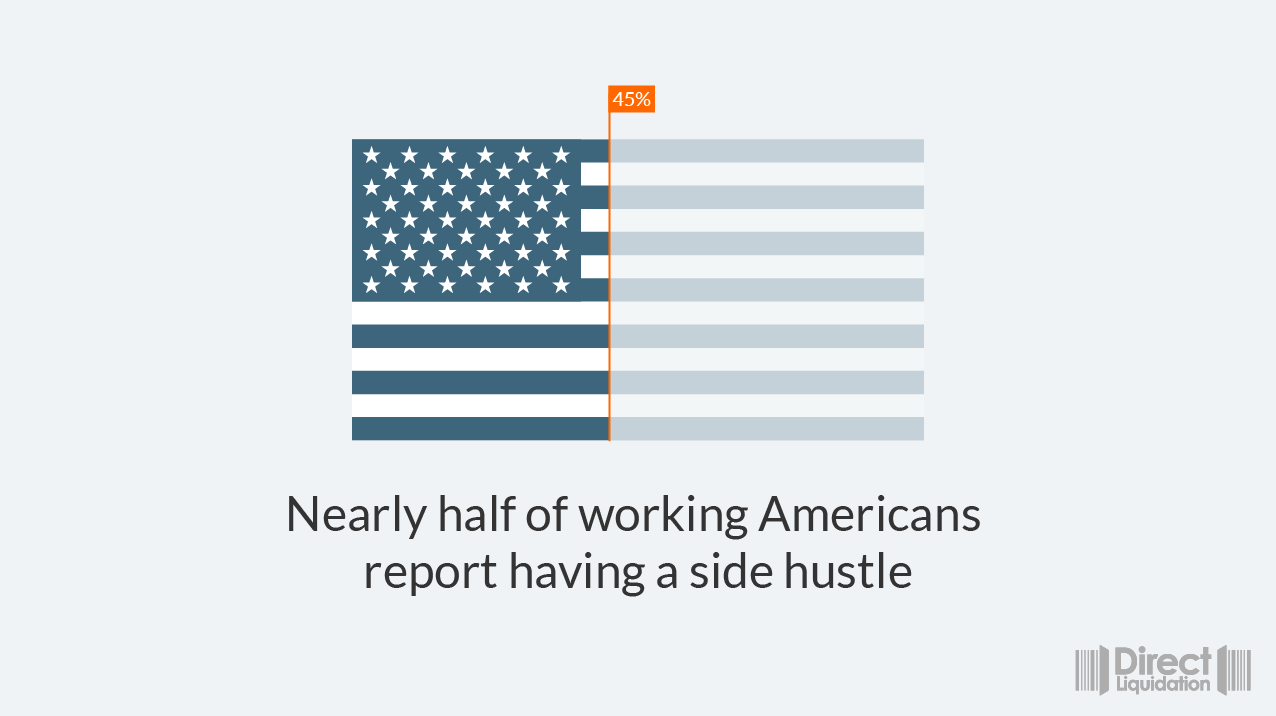 Source: Side Hustle Nation, 2022.
Why Start a Liquidation Resale Business in Texas?
Reselling is the process of buying merchandise not for consumption but for the purpose of selling it to an end consumer. Reselling can be a great way of making money either as a full-time business or as a side project.
A liquidation resale business typically sources inventory by buying surplus merchandise in the form of customer returns or overstock from retailers through liquidation marketplaces or auctions.
As retail sales are expected to reach $53 billion in 2023, the resale and secondhand market is expected to boom. The number of small businesses in the United States is also growing, with 32.5 million registered at the end of 2021, representing a 2.5% annual growth rate and constituting 99.9% of all businesses registered in the country.
Advantages of Running a Business in Texas 
There are no corporate or individual income taxes in Texas, nor are there state property taxes.
The regulatory environment fosters small businesses: the rules are clear and easy to comply with.
The economies of the largest metropolitan areas in the state (Dallas-Fort Worth, Austin, Houston, and San Antonio) keep growing, stimulating the rest of the state economy.
Texas is a national transportation hub. Taking the Dallas/Fort Worth area as a starting point, a truck can reach 93 percent of the country's population within 48 hours and 37 percent within 24 hours.
Liquidation merchandise can come in many forms but the main two are; customer returns and overstock. Customer returns as the name implies are items that were sold to an end consumer and returned to the retailer. Overstock is brand new inventory that has never been sold to an end consumer. Both of these classes of inventory are considered surplus inventory to a retailer and are often sold via liquidation channels.
This inventory is palletized by the retailer and then sold by the pallet or truckload to companies to resell.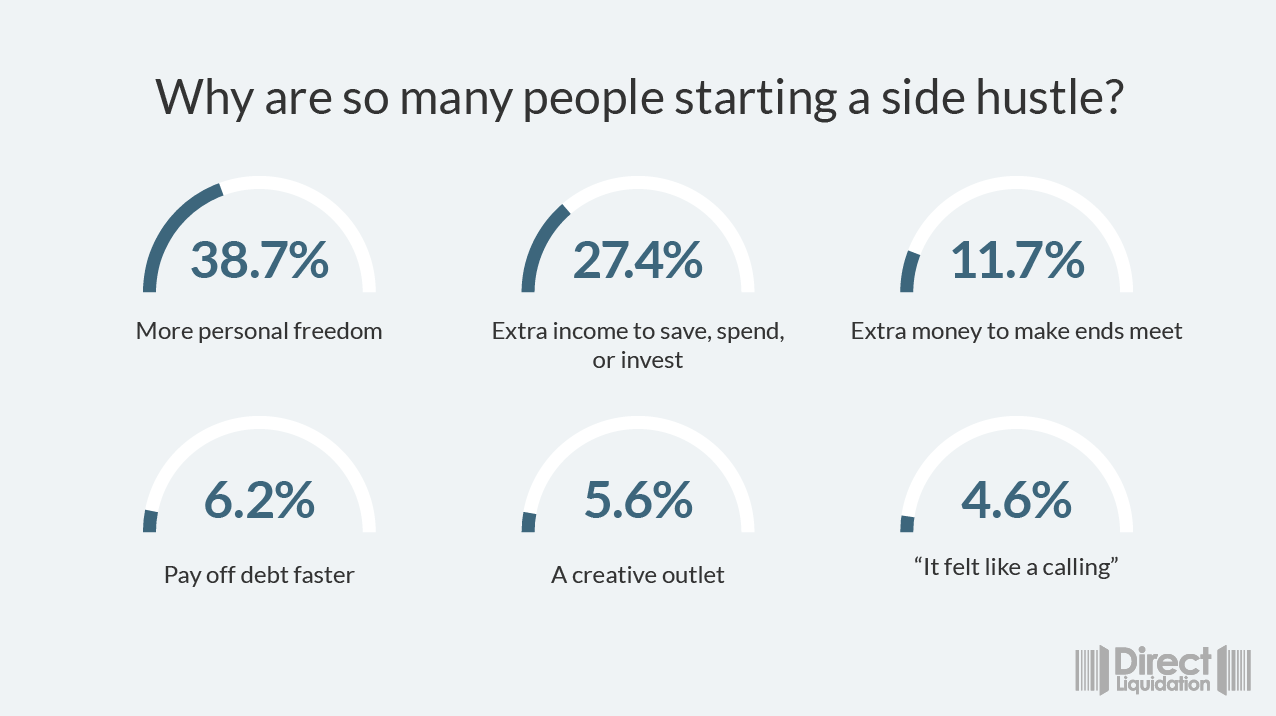 Source: Side Hustle Nation, 2022.
This type of business has numerous advantages:
Minimal investment capital required – You can buy a pallet of inventory for as little as $250; you can then reinvest your profits to help your business grow.
Start your business from home – you can start a resale business from the comfort of your own home, using a spare room or garage for storage.
Flexible schedule – Since you're your own boss, you can set your own hours with complete flexibility.
You can keep your day job – Start your business working evenings and weekends until you can grow your business enough to replace the income from your primary job.
Large businesses emerge from small beginnings: start by buying single pallets, then reinvest your profits and build up from there. Done right, you can scale up a profitable business without putting a lot of capital at risk or taking out big loans.
Why Buy Liquidation Pallets in Texas
If you're setting up a business buying and selling merchandise in Texas, buying liquidation pallets is an affordable alternative to buying brand-new merchandise from wholesalers. You can buy liquidation pallets in Texas for as little as a couple of hundred dollars.
Another advantage Texas resellers have is the abundance of liquidation pallets available in the state. As Texas is such a large economy and an important regional logistics hub, national retailers like Walmart and Amazon have massive warehouses and distribution centers in the state. Walmart alone has 19 distribution centers in Texas. This means that when retailers like these need to liquidate inventory, Texans are first in line to buy them.
There is also a favorable business climate for small businesses in Texas. Texas taxes small businesses in the form of 'franchise taxes,' which are not based on income but the entity's net worth. Small businesses below a certain amount of income are charged no franchise taxes at all. Starting in 2021, this amount is $1,180,000, so smaller businesses pay no business tax at all.
According to Texas law, certain purchases of usually taxable items are also exempt from sales tax. That is the case when buying products purely for resale (including your liquidation pallets), if the seller accepts a completed Texas Sales and Use Tax Resale Certificate (Form 01-339). Learn more about incorporation and the process of applying for a sales tax permit in Texas in our guide.
How to Sell Merchandise from Liquidation Pallets Out of Your Own Home in Texas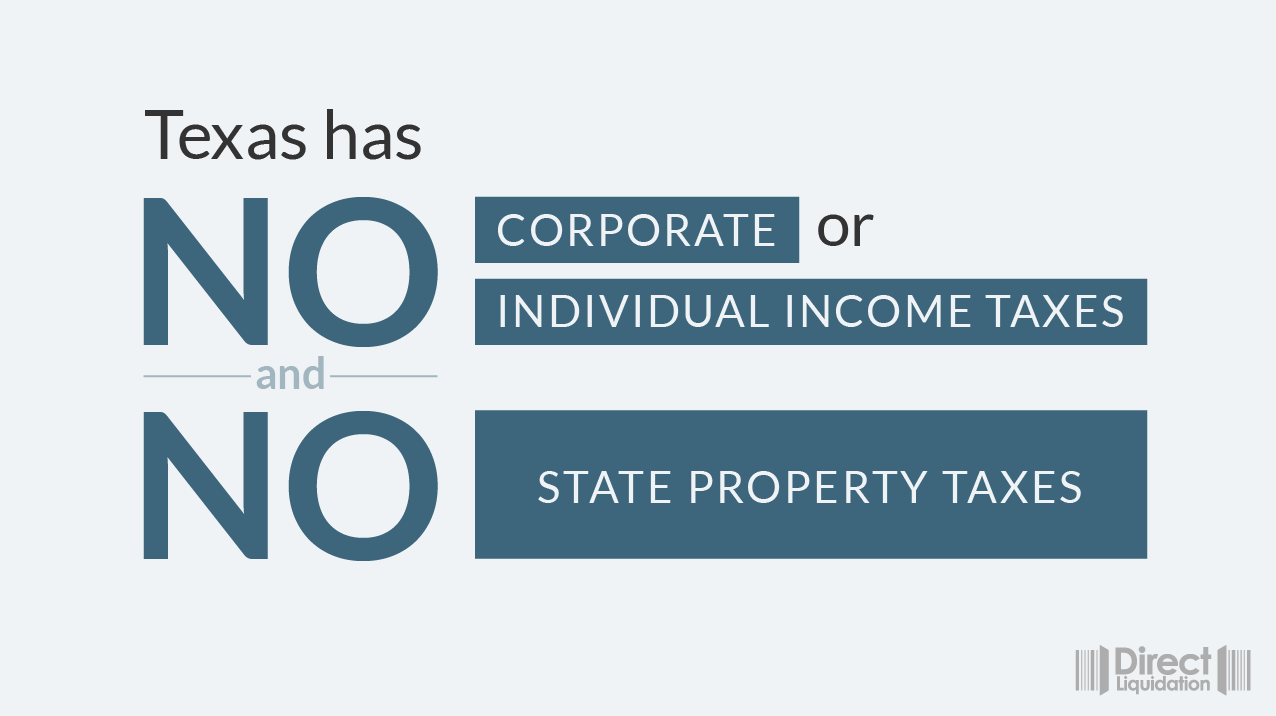 Source: Business News Daily, 2021.
The top platforms you can use to sell out of your own home in Texas are:
Local Independent Classifieds – Local classified ad sites are a great place to start, and are often free for posting. Check out SoutheastTexas.com, HumbleTX.com, Oodle Marketplace Texas, Hearst Media (runs classified ads in multiple TX print newspapers), and contact your own local newspaper to place ads in your own town or neighborhood.
5miles – Particularly popular in large cities, such as Houston, Austin, San Antonio, and Dallas, 5miles allows classified ads based on your location. As the name suggests, these items are promoted to users living within 5 miles of you, allowing them to pick up your merchandise in person. Particularly popular in Texas, 4 of the top 15 most popular cities on the site are in the state.
Garage Sales – These are particularly good for selling non-performing inventory and freeing up storage space.
VarageSale – VarageSale is marketed as a digital garage sale. VarageSale has pages set up for neighborhoods in 32 cities and towns in Texas.
Craigslist – With its massive global reach (60 million users, 80 million ads posted, and 50 billion page views per month), Texas Craigslist can be used to sell all kinds of merchandise in your local area. List any product or service, as long as it complies with the terms of use. You can post without an account, but having one facilitates reposting, editing, and deleting. Posting is free, with a few exceptions.
offerUP – OfferUp attracts millions of visitors monthly. In Texas, offerUP has more than half a million registered buyers. Account  registration and listing of products are very simple processes. It charges no fees for posting, but service fees apply for some transactions. Costs are shown when you create a listing. You can choose between two paid plains: Promote and Promote Plus, which will help boost your listings' visibility.
How to Sell Merchandise from Liquidation Pallets Online
Around 15.5 million Texan adults use the Internet, and one of the most popular uses for this is to search for or buy goods.
We have put together a guide: Where to Resell Online – The Top 25 Platforms. These platforms are all suitable for selling merchandise from liquidation pallets.
Sourcing Liquidation Pallets in Texas with Direct Liquidation
Direct Liquidation is a liquidation marketplace where you can purchase inventory directly from top national retailers with no middlemen or broker markups. You only pay the price on the listings, plus shipping costs. If you live near our liquidation warehouse in Fort Worth, you're welcome to pick up your merchandise in person.
Check out what Direct Liquidation has for sale right now in Fort Worth, Texas.