Making Money with Home Improvement Liquidations
Always practical, used tools and other home improvement merchandise keep their value better than other product categories. In this article, we will explore how to buy liquidated home improvement items and tools in bulk, explore some of the best avenues for reselling them, and guide you through some top tips for flipping home improvement liquidations.
Tools and Hardware: The Market
In 2020, 77.2% of people undertook at least one home improvement project. That can be anything from changing a lamp to rebuilding a kitchen. This figure is up from 68.2% in 2019. Faucets, kitchen cabinets, and toilets were the most-sold items in the US in 2020.
Estimates suggest owner improvement and repair spending could reach as much as $430 billion in 2022. However, several factors may slow down growth in the sector by discouraging homeowners from taking on remodeling projects. These include not only higher costs with labor and construction materials but also the difficulty in hiring and retaining contractors. On top of that, climbing interest rates make financing for larger remodeling projects harder to get.
Drivers and Trends
House valuations are at an all-time high, making homeowners more reticent to move to a new property. Instead, they feel more confident investing in their own homes. Sensible renovations can add value to your property while making it more comfortable and better adapted to the homeowners' specific needs. As many homeowners age, they are keen to adapt their houses to their new needs, especially as they decide to stay in place instead of moving out. Homeowners also want to make their houses better reflect their personal tastes and characters. For example, owners are keen to redecorate the house's exterior to make it stand out from the neighbors.
Bathroom renovations are particularly popular, with a renewed interest in turning them into comfortable and luxurious spaces for hygiene, relaxation, and meditation. One of the effects of the pandemic was the resurgence of home cooking. This drives a renewed interest in renovating kitchens.
Another significant trend is investment in smart technology, which has increased 20% every year since 2016, with almost half of all home renovations including a smart tech upgrade. Upgrades like enhanced security, lighting fixtures, entertainment systems, and climate control systems are particularly popular. In 2020, 33 million US households had a smart thermostat.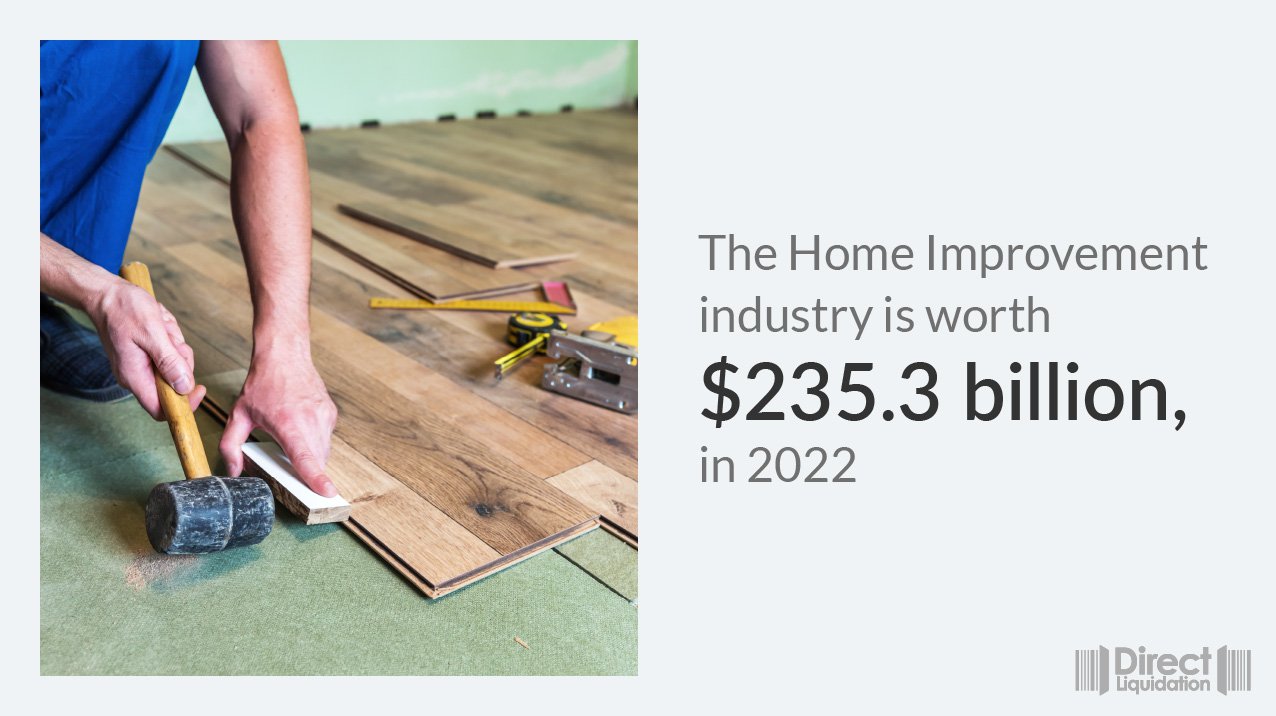 Source: Ibis World, 2022.
The Home Improvement Market in Numbers
Sourcing Liquidation Tools and Home Improvement Merchandise
Luckily, it's easy to buy home improvement liquidations, from a pallet to full truckloads through Direct Liquidation. We have partnered up with one of the largest home improvement retailers in the US – Lowe's, and also with Walmart – another huge source of tools and hardware.
You can buy liquidated tools and home improvement merchandise (by the pallet or truckload) simply by bidding on those lots at auction. Alternatively, there are many lots advertised at Direct Liquidation that you can buy at a fixed price by clicking the 'Buy It Now' button.
The merchandise available on the online marketplace is manufactured by some of the largest brands in the home improvement sector: Bosch, Black & Decker, DeWalt, and others.
The Advantages Of Buying Home Improvement Liquidation Pallets from Direct Liquidation
>>Shop Pallets of Hardware and Tools Here – Free Registration<<
A reliable source of high quality liquidation merchandise coming from two of the largest retailers in the United States.
Hundreds of new listings daily
The ability to pick up merchandise from warehouses yourself
Much less expensive than buying the products new or wholesale
Check out what liquidation tools and home improvement merchandise we have available right now. 
Top Places to Sell Liquidated Tools and Home Improvement Merchandise
Facebook Marketplace
If you're looking for an online platform to sell your home improvement liquidations, you can do a lot worse than Facebook Marketplace. The platform allows you to sell your merchandise locally, allowing your customers to come to you – and best of all, if you don't opt for certain features, all your listings and sales will be free. Check out our guide to selling liquidation items on Facebook Marketplace.
Craigslist
Craigslist has been one of the most popular online marketplaces for decades. To sell on Craigslist, you just need to place an ad under "For Sale" in "Tools." Then you simply set up a time with a prospective buyer to make the sale. Payouts vary, but you can still get decent prices selling used toolkits. Check out our guide to selling liquidation items on Craigslist.
Source: NPD Group, 2021.
eBay
eBay is one of the largest online marketplaces in the world for used goods and remains very popular with buyers. This is a great venue to sell all kinds of tools as long as they are listed with good photos and a thorough and honest description.
Flea Markets
If you have a lot of old tools to sell, consider renting a booth at a flea market. Place the most eye-catching goods where the prospective buyers can see them to grab their attention.
Check out our guide to selling liquidation merchandise at flea markets.
Garage Sales
If you're struggling to sell items through other means, garage sales are a great way of quickly emptying your inventory. Not everything will sell well, and you may feel this method is giving you a loss, but clearing out space, enabling you to purchase more items that you can sell well is also valuable.
SawMillCreek
While the website's primary focus is selling wood, you can use the classifieds section and community discussion areas for advertising your tools. Use good pictures and be prepared to answer a lot of questions from prospective buyers.
Architectural Salvage Yards
If you're struggling to sell some items, especially such as timber, fittings, and architectural items, a salvage yard will be able to make use of them. You won't get a lot of money for these items, though it will help you clear out non-selling stock quickly without disposing of them for nothing.
Top Tips: Adding Value to Tools and Home Improvement Merchandise
Source: Family Handyman, 2021.
If you're to make the most of your liquidation merchandise, here are a few tips to follow that should see you add considerable value to your purchases on resale.
Replace Damaged Packaging
Some items might come in either damaged packaging or no packaging. Unless you can salvage original packaging from another unsellable product in your lot, your best option is to use professional plain packaging.
Functionality Testing and Safety Certificates
You need to test your items for functionality, especially electronics and power tools. Testing the items fully will help prevent customer returns and bad business reviews.
For appliances, or items such as light fittings, lamps, or other powered items, you should look into getting them electrical safety certificates. Not only will business customers need to see these if they're going to use them in professional projects, but it may be a legal requirement where you are to provide this certification for electrical items that you sell as a business.
Sort and Bundle
If the lot you bought does not have a manifest, you will need to sort the lot's contents and find out precisely what you bought. Some items may be ready to sell straight away, while others may need to be set aside or be cleaned or repaired. Some items can be bundled together to be sold to customers. Bundling helps attract customers that want to buy multiple items at once for a competitive price.
This is especially the case when you are selling via auctions – buyers are often looking for complete toolsets to get started on their projects.
Warranties
Remove all original warranties from items bought from liquidators since these will not be valid and might confuse your customers. Instead, you can offer your own warranty on tools and other electrical items to attract potential buyers who could otherwise hesitate to purchase from your business.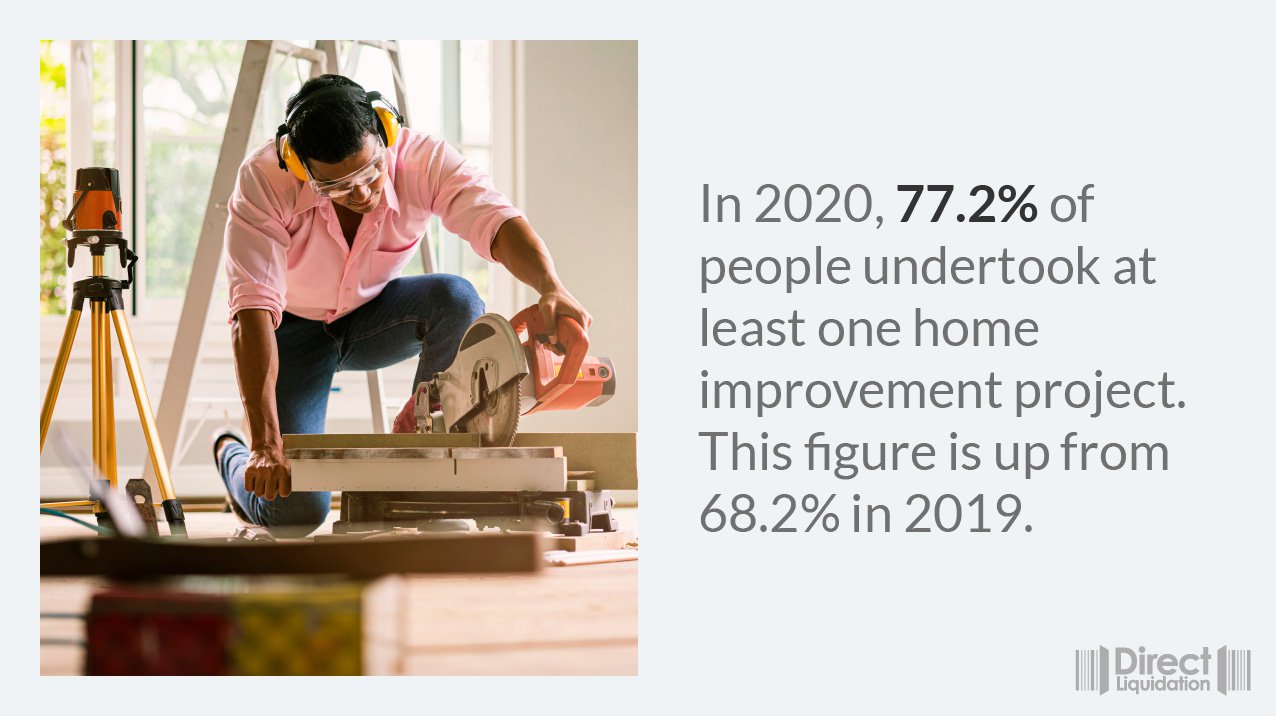 Source: Retail Dive, 2021.
Repairing and Recycling
After testing basic functionality, you should sort any damaged items that are repairable. Some problems are easy to repair yourself, for example, faulty batteries or fuses. More complex repairs will require a higher set of skills; if you don't have these skills, consider selling the item as damaged.
While spare parts may be expensive to buy new, you can salvage parts from non-working units that you cannot repair. You may even be able to build a working item by sourcing parts from multiple units of the same item.
You can save salvaged parts to use on items from future orders. If you don't intend to get similar lots in the future, you can sell the spare parts as is since there is a healthy demand for spare parts for repairs.
For wireless tools, check the battery is holding charge well. A perfectly good unit may have been returned to a retailer and later liquidated simply for a faulty battery unit. These can be relatively inexpensive to replace and will restore the item to fully working condition again – adding considerable value.
Storing Items for the Season
Some items are seasonal and, as such, will fetch higher resale prices during their respective seasons. Home improvement merchandise is no exception – think of outdoor grills, patio furniture, pool items for summer, heaters and fireplaces. A great way to profit is to buy products at the end of the season when they are liquidated for a low price and store it until the next season when you can expect it to fetch much higher prices.
A Great Opportunity
As we can see – the home improvement market, both with DIYers and professionals, is robust at the moment. With supply chain disruptions ongoing, there has never been a better time to invest in liquidated tools, hardware, fixtures and fittings, and appliances. Check out your local classifieds, apps, and groups to find out what is most sought after in your local area, then take a look at what home improvement liquidations we have for sale right now.