Starting a Liquidation Business in Indiana: What You Need to Know
Are you on the hunt for a new business venture in Indiana? If so, starting a liquidation business is a potentially lucrative option. Liquidation businesses purchase surplus or excess inventory and then resell it. With Indiana's strong economy and varied retail market, the potential for a profitable liquidation business is high.
This guide has everything you need to know about starting a successful liquidation resale business in Indiana.
What is a Liquidation Resale Business?
A liquidation resale business is a type of business that purchases surplus or excess inventory from retailers, manufacturers, or distributors and then resells it to customers at a discounted price. The merchandise could be customer returns, overstock, closeouts, or items from discontinued product lines. The goal of a liquidation business is to sell the inventory quickly and efficiently, recouping as much money as possible for the items purchased. These types of businesses may operate in a physical storefront, online, or through a combination of both.
Customer Returns: Products that are returned to the seller by a customer for various reasons. This inventory may be new, open box, used or damaged depending on the nature of the return reason.
Overstock: Excess inventory that a seller has beyond their expected demand. This inventory is in brand new condition.
Shelf Pulls: Items that are removed from store shelves to make room for newer or updated products. This inventory is in brand new condition.
Closeouts: Merchandise that a seller is trying to clear out in order to move premises or close down. More than 49,310 businesses declare bankruptcy every single year in Indiana, creating a potential source for liquidation merchandise.
Starting a Liquidation Resale Business in Indiana: The Numbers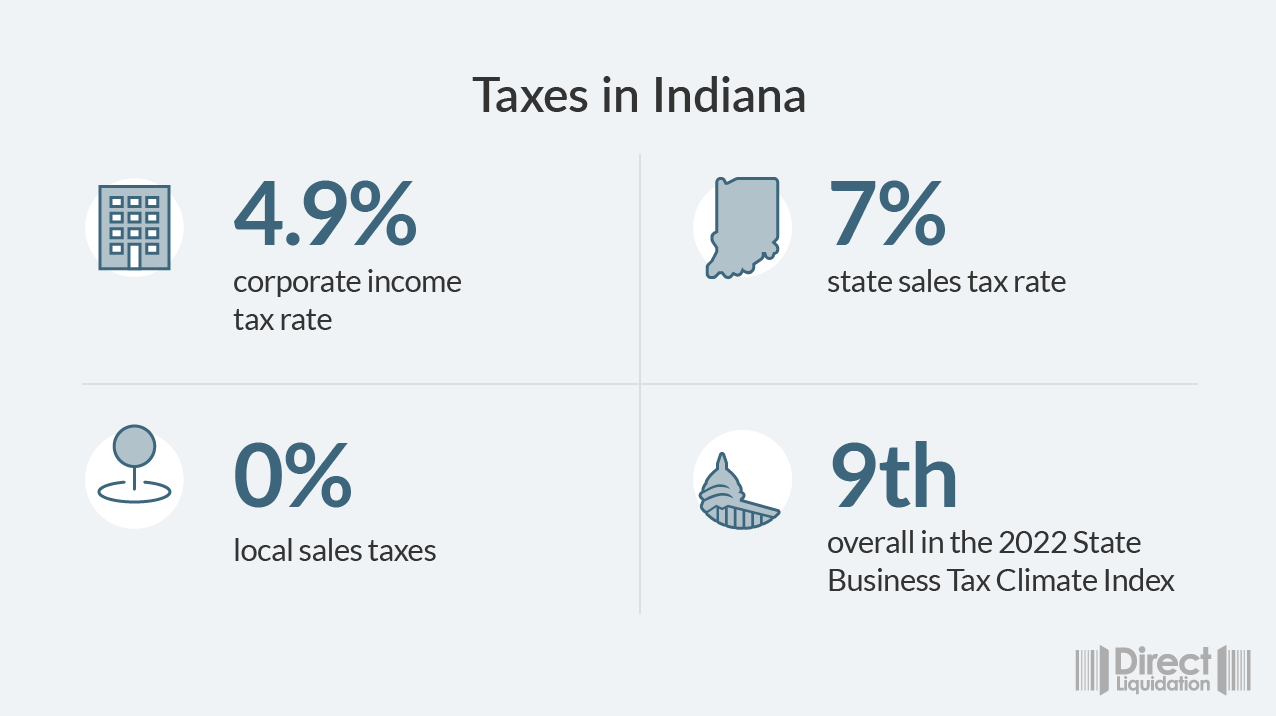 The Market for Discount Merchandise in Indiana
Indiana is the 17th most populous state in the United States, with an estimated population of 6.7 million people in 2021.
Indiana has a relatively high proportion of its population living in rural areas, with only around 66% of the population living in urban areas.
The largest city in Indiana is Indianapolis, which has a population of over 870,000 people.
Indiana has a thriving flea market industry, with several large flea markets operating throughout the state. These markets offer a wide range of discounted products, including clothing, jewelry, home goods, and electronics.
Indiana also has a large and growing retail market, with several big-box retailers and shopping centers located throughout the state.
Indiana's central location in the United States makes it an ideal location for transportation and logistics, which can easily reach a wide customer base throughout the Midwest and beyond.
The state has a modest unemployment rate of 5%, and Indiana's Poverty Rate was 12.24% in 2022. This is a large number of people that will benefit from local sales of discounted merchandise. Indiana has a slightly lower median household income than the national average, with a median household income of $57,603 in 2019, compared to the national median household income of $62,843.
Many households look for discounted merchandise when looking to make purchases – a market that can be easily catered for with liquidation resale businesses within the state, as the area is a hub for major retail operations, including returns processing.
Starting a Liquidation Resale Business in Indiana
To register a business in the state, read our guide to starting a business and registering for a resale certificate in Indiana.
Note that state law requires that every new Indiana LLC designate a Indiana registered agent available at a physical address within the state.
Buying Liquidation Pallets in Indiana with Direct Liquidation
At Direct Liquidation's Indiana facilities, you can gain access to a diverse selection of products, which includes customer returns and overstock from Walmart. Our inventory is available in various sizes, from pallets to full truckloads, and can accommodate the needs of any buyer. We upload new listings daily.
Check out the liquidation merchandise we have available right now in Greenfield and McCordsville, Indiana.
Storage Options in Indiana
When buying liquidation pallets in Indiana, you need space to store merchandise. If you're just starting, it's best to use a spare room or garage to minimize costs. If you need more space but are not looking to move up to a full warehouse, you'll be happy to know there are plenty of storage units in the state. In 2020, there were 1,250 self-storage facilities in Indiana. Before you start looking for storage units, you need to consider the additional costs and how this will impact your profitability.
Let's start by looking at storage prices in Indianapolis, a 5×5 self storage unit in Indianapolis rents for $37, while a 5×10 unit would cost $58/month. Average street rates for a 10×20 unit stand at $146/month.
Costs (for 10'x10' units) will vary in other cities:
Carmel: $130/month
Plainfield: $124/month
Brownsburg: $98/month
Camby: $94/month
Lawrence: $92/month
To find storage units near you, try adding terms such as "storage units near me," "self storage in Indiana" or "self storage [city]" into a Google search, or use a storage directory such as Storage Cafe.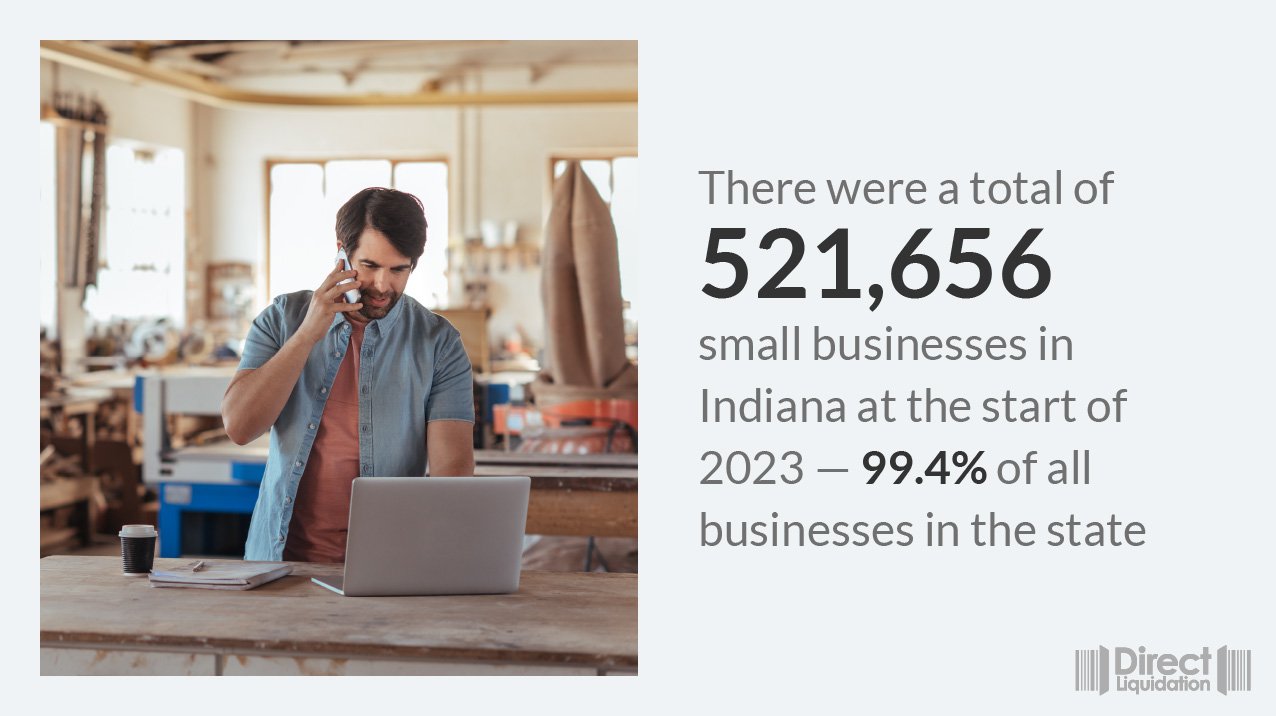 Preparing Liquidation Merchandise for Resale
As previously mentioned, liquidation goods can vary in their condition – some products may be ready for retail, and others will require additional effort to enhance their resale value. Electronics, for example, require functional testing, cleaning, re-accessorizing, or repackaging.
Check out our guides that include tips on how to prepare and add value to liquidation merchandise:
Selling Liquidation Merchandise in Indiana
Garage Sales
Selling used inventory at garage sales is an efficient way to free up storage space quickly. However, before advertising and setting up a garage sale in your neighborhood, make sure to consult your local authorities or Home Owner's Association to prevent any potential issues.
A Physical Store
Increasing the visibility of your business in your area can be achieved by setting up your own discount store and selling directly to local customers. However, due to high costs and time commitments, this may not be a viable option for most people starting a new small business or side-hustle.
Rent, taxes, and utility bills are among the overhead costs that can be prohibitive for startups, in addition to the need to be present at all open hours or hire and train staff.
A directory like Showcase can help you identify available retail spaces in Indiana. It may be more practical to start selling through less expensive channels before moving up to renting a retail space once your business has taken off.
Facebook Marketplace
Check out our ultimate guide to reselling liquidation merchandise on Facebook Marketplace.
Craigslist
Check out our ultimate guide to reselling liquidation merchandise on Craigslist.
OfferUP
Check out our ultimate guide to selling liquidation merchandise on OfferUP.
Flea Markets in Indiana
Indiana's flea markets and swap meets are a perfect fit for selling discounted items from your liquidation pallets. These venues provide direct access to customers searching for great deals, with less concern about item condition. Below are some of the biggest flea markets and swap meets in the state that you can explore:
Me & My Sisters Flea Market – 1 317-825-0175
1612 IN-44, Shelbyville, IN 46176
Irvington Flea Market – 1 317-375-1885
6301 E Washington St, Indianapolis, IN 46219
White's Farm Flea Market and Auctioneers – 1 765-647-1922
6028 Holland Rd, Brookville, IN 47012
South Side Flea Market – 1 317-414-5533
3825 S East St, Indianapolis, IN 46227
Olde Tyme Flea Market – 1 812-988-2346
5400 IN-46, Nashville, IN 47448
Emporium 31 – 1 317-865-1865
11 Declaration Dr, Greenwood, IN 46143
Uncle John's Flea Market – 1 219-696-7911
15205 Wicker Ave #9367, Cedar Lake, IN 46303
Emporium 40 Flea Market – 1 317-241-1865
1225 S High School Rd, Indianapolis, IN 46241
Vendor City – 1 765-450-7374
537 S Reed Rd, Kokomo, IN 46901
Treasures Indoor Flea Market – 1 317-831-9154
13615 E Allison Rd, Camby, IN 46113
Shipshewana Trading Place – 1 260-768-4129
345 S Van Buren St, Shipshewana, IN 46565
Trader Buck's Flea Market – 1 317-362-0911
150 S Girls School Rd, Indianapolis, IN 46231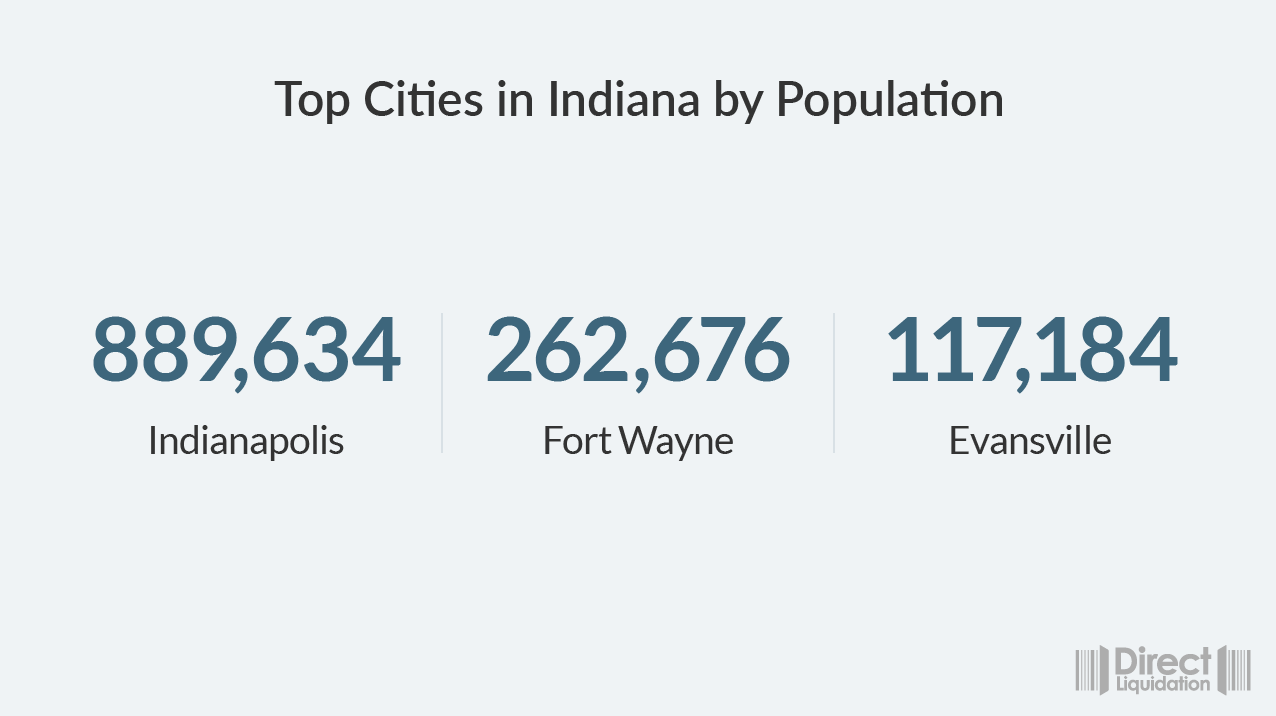 Top Tips for Starting a Liquidation Resale Business in Indiana
When starting a new business in Indiana, it's always wise to research potential grants that you may qualify for. Check out the available grant list for Indiana and investigate if you are eligible for further funding if you are a member of a minority community.
Networking is an essential aspect of business growth at any stage. Create connections wherever possible by attending local forums, Facebook groups, business associations, and even flea markets and bazaars in your area. You may be surprised by how willing other business owners are to share their advice, and their guidance can be incredibly beneficial.
Make use of both online and physical tools to streamline your business operations. Automation can help you process your orders faster. Additionally, online tools can assist you in optimizing your pricing, organizing your listings, and even preparing shipping labels for every sale. Always seek ways to automate your business operations to scale your business.
Be sure to comply with all legal and tax requirements to avoid legal complications. Remember to register for and use an Indiana Sales Tax Permit to avoid paying unnecessary taxes when purchasing stock.
Consider shipping costs when calculating the prices for online orders (where applicable) and explore ways to reduce them. Sourcing items in bulk by the truckload is an excellent way to lower inbound shipping costs. Working with liquidation suppliers who ship from Indiana, ideally those offering self-pickup options within the state, such as Direct Liquidation, can also help you minimize shipping expenses.
Conclusions
Indiana is a good place to start a liquidation resale business because of its large and diverse population, which provides a broad customer base for resale products.
Indiana has a relatively low cost of living, which can increase profit margins.
The state has a robust transportation network, making it easy to transport goods, and it is centrally located, which can make it a distribution hub.
Finally, Indiana has a favorable business climate with low taxes and regulations, which can make it easier to start and maintain a business.
Check out the liquidation merchandise Direct Liquidation has available right now, shipping from Greenfield and McCordsville, Indiana.